Basic information about accounting and tax files and how to convert them
About financial and accounting data files
Accounting, tax and file types are group of files, that are used for storing and exchanging of financial data either for personal, small business, or corporate use. File types in this category include accounting databases, tax return files, bank transactions and others.
The most popular accounting and tax software include Quicken, QUickBooks, QuickTax, Turbotax, Microsoft Money and others.
You can check all accounting and financial data file formats sorted by name in our Accounting, financial and tax file type category, that you can access from the main page on the left category bar.
How to convert accounting and other financial data files
Accounting and tax files can usually only be opened in their respective software, that created them or has support for them. Open exchange formats can be usually opened or imported in most accounting or tax software. The same software has usually the capability to export the accounting and tax files, although often only to open exchange file formats.
Simply check our database for the accounting or financial data file extension you are looking for and in the table below its description you will see a table with software, sorted by platform and actions, that is able to perform a specific action with the accounting and tax files, such as open, export, convert, etc..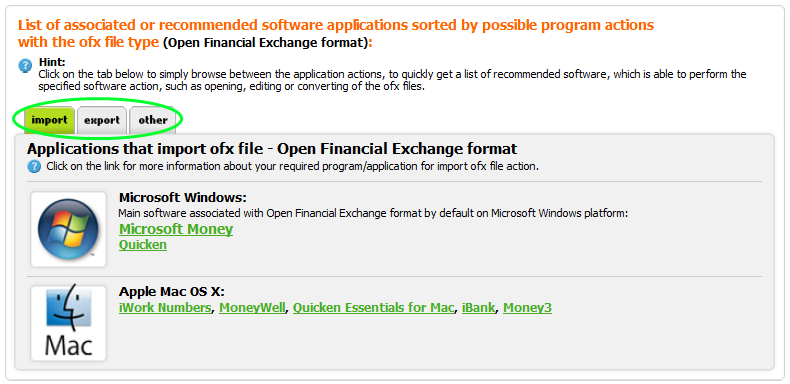 You can also click on each software to open its own web entry on our website, that often contains additional useful information about it, such as developer, website, reviews or other useful articles.
Information about how to open accounting and financial files can be found in another of our articles - Basic info how to open accounting and tax files.