Basic information about CAD and 3D graphic files and how to convert them
About 3D graphic files, CAD/CAM/CAE
3D graphics
3D computer graphics file formats are graphics files, which use a three-dimensional representation of geometric data, that is stored in the computer for the purposes of performing calculations and rendering of 2D images or animations.
Such images may be used for real-time viewing or later display. 3D computer graphics are using many of the same algorithms as 2D computer vector graphics in the wire-frame model and 2D computer raster graphics in the final rendered display. In computer graphics software, the distinction between 2D and 3D is occasionally blurred, as 2D applications may use 3D techniques to achieve effects such as lighting and primarily 3D applications may use 2D rendering techniques.
The most popular 3D graphics applications are 3D Studio MAX, Blender, Cinema 4D, LightWave 3D, Maya or Rhino 3D.
CAD/CAM/CAE
The term CAD/CAM/CAE is a abbreviation of Computer-Aided Design (CAD) and Computer-Aided Manufacturing (CAM) and Computer-Aided Engineering. The term CAD/NC (Numerical Control) has equivalent meaning in some industries.
CAD/CAM software are using CAD drawing tools to describe geometric data used by the CAM portion of the program to define a tool path that will direct the motion of a machine tool to machine the exact shape of the object that was drawn.
The most popular CAD/CAM software are AutoCAD, Alphacam, ArchiCAD, STAAD.Pro, Catia, NX and more.
You can check all CAD or 3D graphic file formats sorted by name in our 3D graphics, CAD-CAM-CAE file type category, that you can access from the main page on the left category bar.
How to convert 3D graphics or CAD files
3D graphics and CAD files can usually be exported or converted in the application that created them, or by specialized software.
Simply check our database for the 3D graphic or CAD file extension you are looking for and in the table below its description you will see a table with software, sorted by platform and actions, that is able to perform a specific action with the 3D graphics, such as open, export, convert, etc..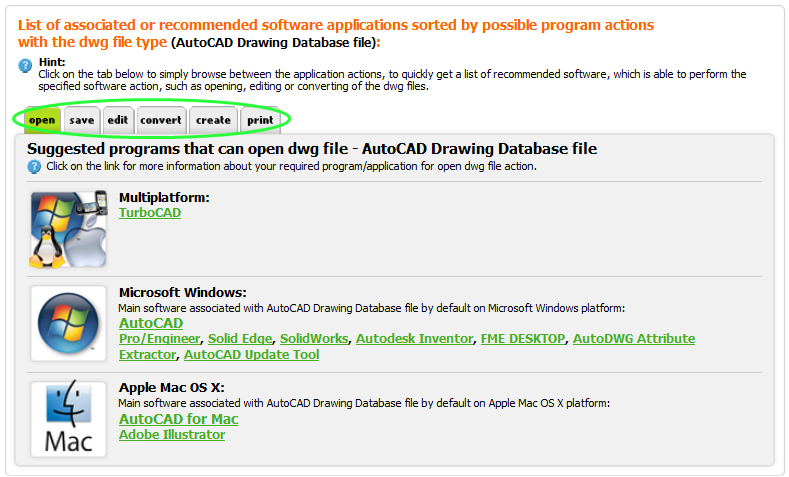 You can also click on each software to open its own web entry on our website, that often contains additional useful information about it, such as developer, website, reviews or other useful articles.
Information about how to open CAD and other 3D graphic files can be found in another of our articles - Basic info how to open CAD and other 3D graphic files.
Online convertors
Alternatively you can also always try to use some specialized converting web service, such as ZAMZAR, to convert your 3D graphics of CAD files.