Basic information about disk image files and how to convert disk images
About disk images files
In general a disk image file contains the complete contents and structure representing a data storage medium or device, such as a hard drive, floppy disk, CD, or DVD in a single file. A disk image is complete sector-by-sector copy of the source medium for perfect replication of the structure and content of the storage device. Historically, the first file types of disk images used, were floppy disks backups. Some file formats are also using special functions such as encryption, file splitting or data compression.
The most used and widespread disk image formats are:
ISO - ISO binary image file - Binary image of CD/DVD in ISO 9660 standard, which defines a file system for CD-ROM media.
BIN - Binary disk image file - Binary file is often used as CD/DVD backup image files, file format is very similar to ISO.
NRG - Nero or Nero Burning ROM image file - Used by NERO burning and multimedia suite and nrg file format uses a variation of the Interchange File Format (IFF) different from ISO.
MDF - Alcohol 120% disc image - very often used format, file originally created in Alcohol 120%.
UIF - Universal Image Format - developed and used by MagicISO, compression image file format for CD/DVD backuping.
ISZ - UltraISO Image Format - developed by EZB Systems, compressed CD/DVD image that can be also password protected.
DAA - PowerISO Direct-Access-Archive - DAA CD/DVD image with supports for many special features including compression, password protection and multiple volumes splitting.
You can check all disk image file formats sorted by name in our Disk image file type category, that you can access from the main page on the left category bar.
How to convert disk images
Disk images are created and used for many purposes. Some applications can simply open them so users can view and edit their contents. Other application can mount the disk image and use it in its virtual drives and mimic the behavior of the original disk inserted in the physical drive. Also burning software is able to use the disk files and burn their copies on new disks. Some of those tools are also able to convert the disk images to another disk image file format.
Simply check our database for the disk image file extension you are looking for and in the table below its description you will see a table with software, sorted by platform and actions, that is able to perform a specific action with the disk files, such as open, convert, burn etc..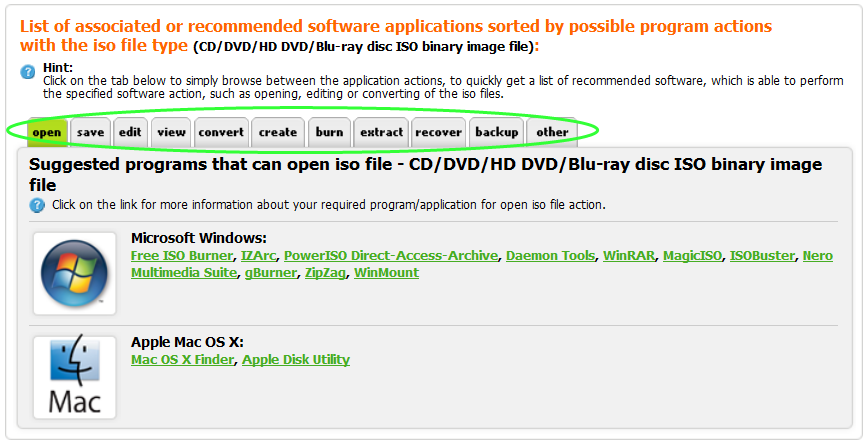 You can also click on each software to open its own web entry on our website, that often contains additional useful information about it, such as developer, website, reviews or other useful articles.
Information about how to open disk image files can be found in another of our articles - Basic info how to open disk images.