Basic information about video files and how to convert movie files
About videos files
Video and multimedia files are a huge group of file formats, which contain digitally capturing, recording, processing, storing, transmitting, and reconstructing a sequence of still images representing scenes in motion and of course captured or recorded audio. This means movie, film, video and other multimedia files are basically data container formats, that are used for audio-with-video playback. Even if there is a large number of video existing, only some formats made breakthrough and are used a standard for computers, multimedia equipment, cinemas, home theaters, portable players or other devices.
The most used video file formats today are:
AVI, a common movie, computer video container file format. AVI is abbreviation for Audio Video Interleave format developed by Microsoft and its based on Resource Interchange File Format (RIFF). Audio or video content can be compressed with a wide variety of video or audio and video codecs and can be stored in an .avi file, but the codecs (DivX, XVID, MP3, AAC) it self must be installed in operating system and supported by the multimedia device (DVD player, portable player etc.).
MPG (MPEG), a video format developed by Moving Picture Experts Group. MPEG is an ISO standard used by many multimedia devices (DVD players, Blu-RAY, portable players, computers).
VOB, a DVD Video object file. A .vobfile is a container file which includes most of the movie data, including the video and audio streams, along with subtitles and any other DVD menu features. DVD uses the MPEG-2 compression.
MP4, a MPEG-4 multimedia file format based on ISO standard MPEG-4. The MPEG-4 file format, as defined by the MPEG-4 specification, contains MPEG-4 encoded video and advanced audio coding (AAC)-encoded audio content.
M2TS, a Blu-Ray MPEG-2 stream. The M2TS container format is based on the standard MPEG-2. Blu-ray are using transport streams, instead of DVD's program streams, to store video, audio, and other data.
MOV, a Apple QuickTime multimedia container format that can store one or more tracks of data such as video, audio, text, and effects.
3GP, a standard for the creation, delivery and playback of multimedia over 3rd generation, high-speed wireless networks.
MKV, a Matroska video-audio multimedia file, which is an open standard container format that can hold an unlimited number of video, audio, picture or subtitle tracks inside a single file.
You can check all Video file formats sorted by name in our Video file type category, that you can access from the main page on the left category bar.
How to convert video files
Video files are commonly converted between various formats with the use of special applications designed to perform this task called video converters.
Simply check our database for the video file extension you are looking for and in the table below its description you will see a table with software, sorted by platform and actions, that is able to perform a specific action with the video files, such as open, edit, play etc..
Under the convert tab you can check for any convertors in our database that can convert video files to another video format.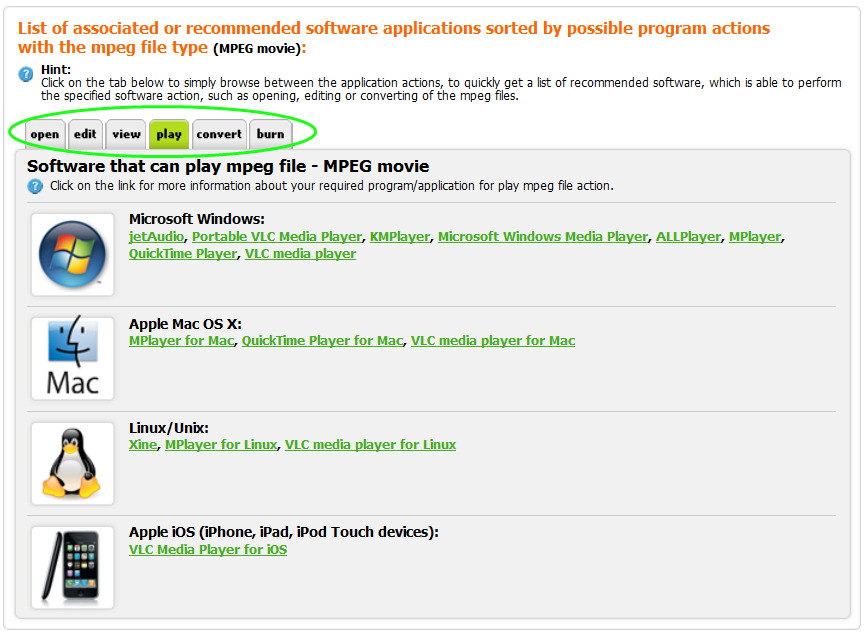 You can also click on each software to open its own web entry on our website, that often contains additional useful information about it, such as developer, website, reviews or other useful articles.
Online convertors
Alternatively you can also always try to use some specialized converting web service, such as ZAMZAR, to convert your video files.