Basic information about databases and how to open database files
About databases
Database is a collection of logically related records or files consolidated into a common pool that provides data for one or multiple uses. Databases can be classified according to types of content: bibliographic, full-text, numeric, and image. The data in a database is organized according to a database model. A database model or database schema is the structure or format of a database, described in the formal language supported by the database management system. Common database models include hierarchical, network, relational, entity-relationship, object-relational, or object models.
The most known type of databases are SQL database servers like Microsoft SQL server, MySQL, PostgreSQL, Firebird, SQLite, Oracle, IBM DB2. The other common group of database systems contains Microsoft Access, Microsoft Visual FoxPro, dBASE, FileMaker and other personal databases.
You can check all database file formats sorted by name in our Database file type category, that you can access from the main page on the left category bar.
How to open database files
Databases can usually be opened in the same database system that was used to create them. Sometimes these programs also have support for opening different database format.
Simply check our database for the database file extension you are looking for and in the table below its description you will see a table with software, sorted by platform and actions, that is able to perform a specific action with the database, such as open, edit, create, etc..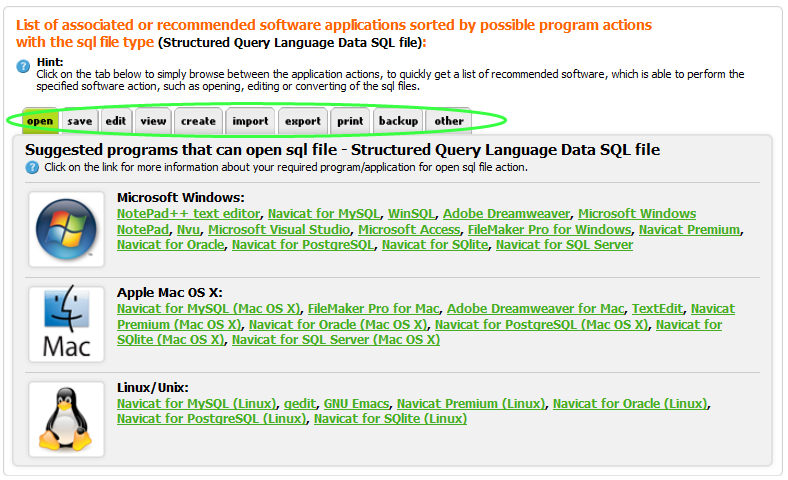 You can also click on each software to open its own web entry on our website, that often contains additional useful information about it, such as developer, website, reviews or other useful articles.
How to open unknown database files
More information can also be found in our how to identify unknown file formats article.