Basic information about archives and how to open and extract compressed files
About archives and compressed files
An archive file type is a collection of computer files that have been packaged together for backup, to transport them to some other location, so that more hard disk storage can be made available, or for some other purpose. An archive can include a simple list of files or files organized under the original directory or catalog structure (depends on how the particular compressing program supports archiving).
File compression is a programming method in which large files are compressed using compression algorithm into smaller files, which are after supported by a specific compression software.
This is a very useful method, if you want to email several files or folders which are large in size. You just need to compress the files in a particular folder and send it via email. To access those files, the recipient of the files will need to have the same software with which the files have been compressed.
The most popular archive and compression utilities are WinZip (ZIP file extension), WinRAR (RAR file extension), 7-zip (7z file extension), Windows Cabinet (CAB file extension [Microsoft]) and many others.
You can check all Archive file formats sorted by name in our Archive file type category, that you can access from the main page on the left category bar.
How to open and extract archive files
Archives, or compressed files in general, can be usually opened and extracted with the use of a specialized program that can compress and decompress archives. Some applications support only its own file format, while other support large number of archive file types.
Simply check our database for the archive file extension you are looking for and in the table below its description you will see a table with software, sorted by platform and actions, that is able to perform a specific action with the archive files, such as open, extract, repair etc..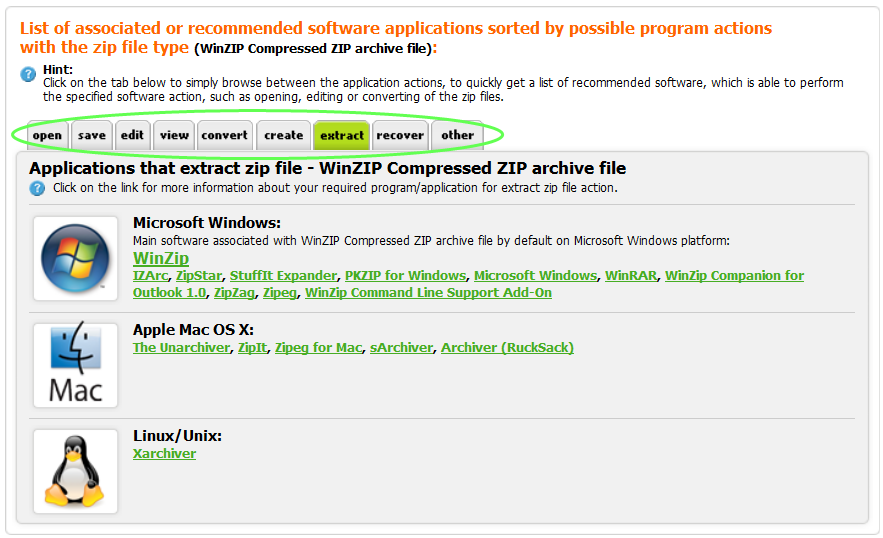 You can also click on each software to open its page on your website, that can contain additional information about it, such as developer, website, reviews or other useful articles.
How to open unknown archive file
If you want to open archive file with file extension that is not recognized by your compression tool by default you can try the following and open the file. If the file is really archive in common compression algorithm you will be able open and extract its content. Otherwise an error will occur and tell you that the archiver is not able to open the file.
Try to use the File → Open... action, that is available in most programs and select All files (*.*) option in the browse menu, that will show even files that are not supported the application by default. If the file is common archive file, you will open it regardless of its file extension and extract its contents.
More information can also be found in our how to identify unknown file formats article.