Basic information about spreadsheets and how to open workbook files
About spreadsheets and workbooks
A spreadsheet is a computer application or program, which simulates a paper, or accounting worksheet. It displays multiple cells that together make up a grid consisting of rows and columns, with each cell containing alphanumeric text, numeric values or formulas. A formula defines how the content of that cell is to be calculated from the contents of any other cell (or combination of cells) each time any cell is updated. Spreadsheets are frequently used for statistical or financial information because of their ability to re-calculate the entire sheet automatically after a change to a single cell is made.
Visicalc is usually considered the first spreadsheet program, and it helped turn the Apple II computer into a success and greatly assisted in their widespread application. Lotus 1-2-3 was the leading spreadsheet when MS-DOS was the dominant operating system on the market. Microsoft Excel now has the largest market share on the Windows and Macintosh platforms but many other spreadsheet applications are being used or were developed in the past. Other popular spreadsheet programs include IBM Lotus 1-2-3, Apple Numbers, OpenOffice.org Calc, Gnumeric, Quatro Pro and other.
You can check all spreadsheet file formats sorted by name in our Spreadsheet and Workbook file type category, that you can access from the main page on the left category bar.
How to open workbooks and spreadsheet files
Common spreadsheet or workbook formats can be usually opened in most Office suites. For a specialized spreadsheet files you will need to use the original program capable of handling the file type.
Simply check our database for the spreadsheet or workbook file extension you are looking for and in the table below its description you will see a table with software, sorted by platform and actions, that is able to perform a specific action with the spreadsheet files, such as open, edit, create, etc..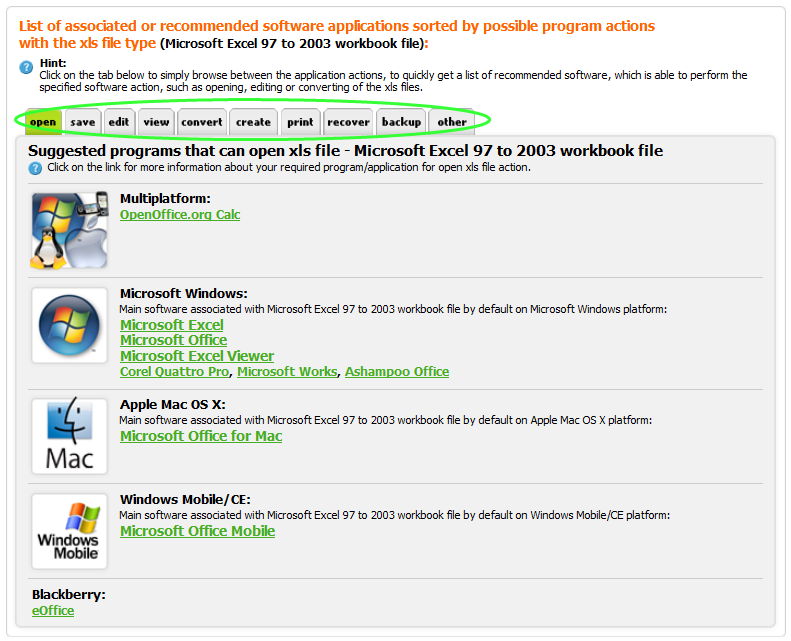 You can also click on each software to open its own web entry on our website, that often contains additional useful information about it, such as developer, website, reviews or other useful articles.
How to open unknown spreadsheets or workbook files
More information can also be found in our how to identify unknown file formats article.