Introduction

Whilst few duplicities of small files do not bother anyone. The longer you have your computer, the more files and data you will eventually gather. Copies of documents, music collections, pictures from holidays, all that might end duplicated.
This usually happen when you backup your data, copy them, move them, then forget about them and repeat the process. You might be surprised how much space these duplicities can take up. Particularly huge music or digital photo collections commonly contain duplicities.
Finding and removing duplicities is a great way to optimize your data libraries or backup storage. Luckily, there are utilizes that can help you find and remove duplicate files and in this article we will show you some.
Great programs for duplicate file finding and removal
Duplicate File Detective
Duplicate File Detective is a very sophisticated duplicity finder with plenty of features and powerful selection of options. It offers many filtering and preview functions that allows users to quickly find and compare matched file duplicity finds. Probably one of the best software of the market. It is a commercial software, but there is a 15-day trial version available for download.
Duplicate File Detective website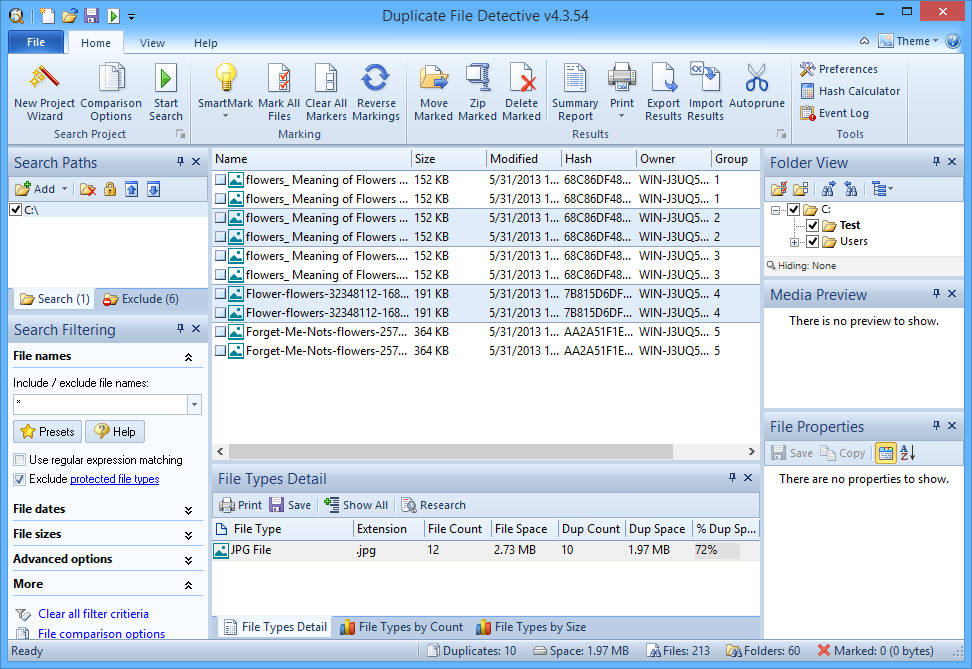 Duplicate File Detective screenshot
Auslogics Duplicate File Finder
A free utility from Auslogics with which users can easily and quickly find duplicate files. You just set up several searching parameters and location where the program shall look up for duplicities and it will automatically search for them. The program however lacks any preview capabilities as well as file comparing functions.
Auslogics Duplicate File Finder website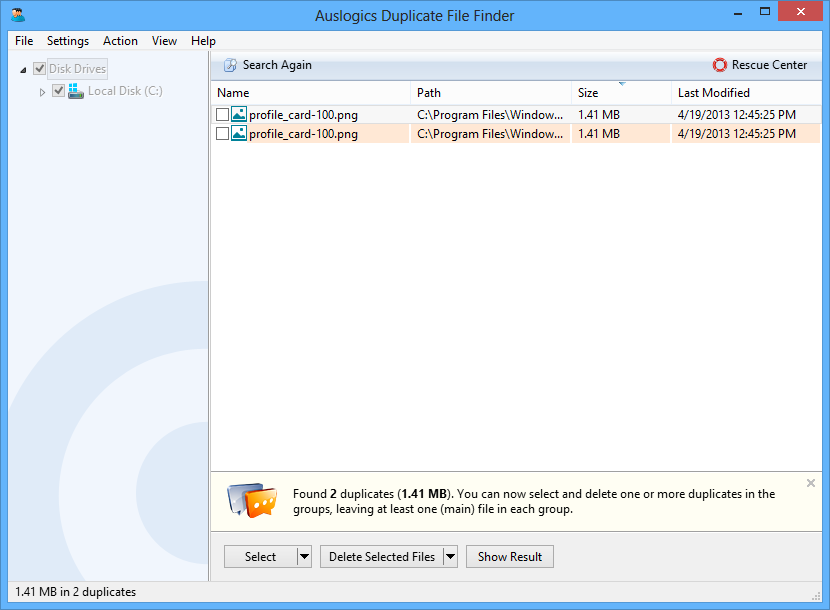 Auslogics Duplicate File Finder screenshot
Anti-Twin
Anti-Twin is rather basic, but free and fully working duplicity file finder. It works especially well for pixel-by-pixel comparison of digital pictures, but it works for other files as well. Great advantage is that it is available in many languages.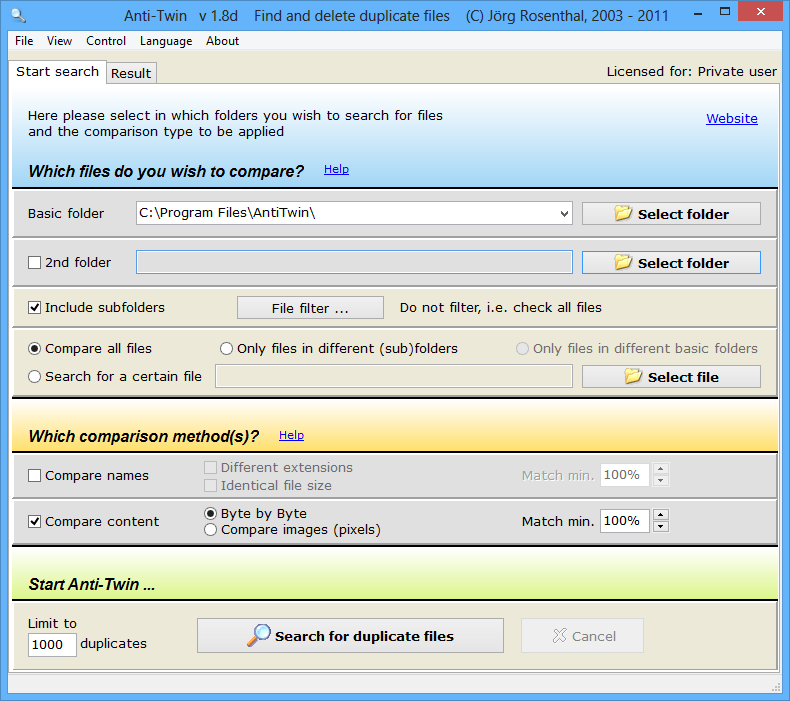 Anti-Twin 1.8d screenshot
As you can see, there are many parameters that can be set, but the GUI does not try to impress you.
Image Deduplicator
As it name indicates, this small utility is aimed at finding duplicate images. It basically scans set of pictures (or whole library) and finds duplicities or very near exact copies of images. In case of near exact match, it will show you previews of both and option to pick which one shall be removed. Image Deduplicator can also match same pictures that are in different resolutions or image formats. It's a freeware.
The program can also act as plugins for some file managers like Total Commander, or Free Commander.


Image Deduplicator 1.5 screenshot
Duplicate Cleaner
Really great duplicity file finder that comes in a Free and Pro (commercial) version. It searches for duplicities based mainly on file name and file size similarity, however in case of pictures or music files it checks for some tags and metadata to improve the results. It works on both local and remote storage. Overall the program is very smooth and works very quickly.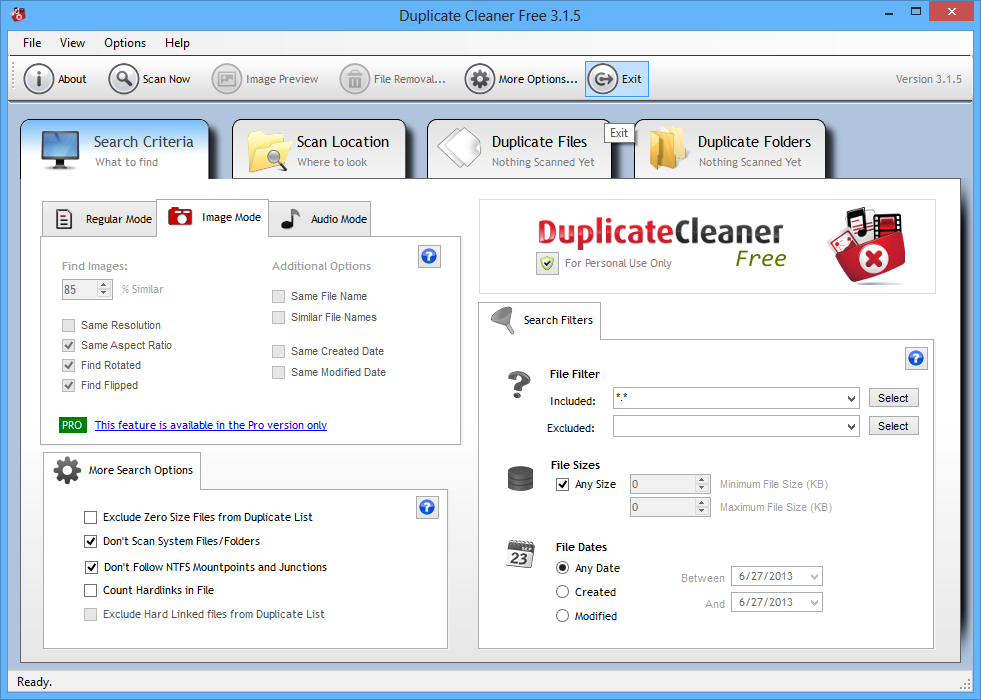 Duplicate Cleaner Free screenshot
File Duplicity finders For Mac
Gemini
One more thing. There are of course file duplicity finders on Mac platform. One of the better programs is called Gemini. Like most Mac apps it has practical and good looking design. It has many filter and paramater settings and can work on your local, or even remote storage. It can also look for duplicities in your iTunes and iPhoto libraries.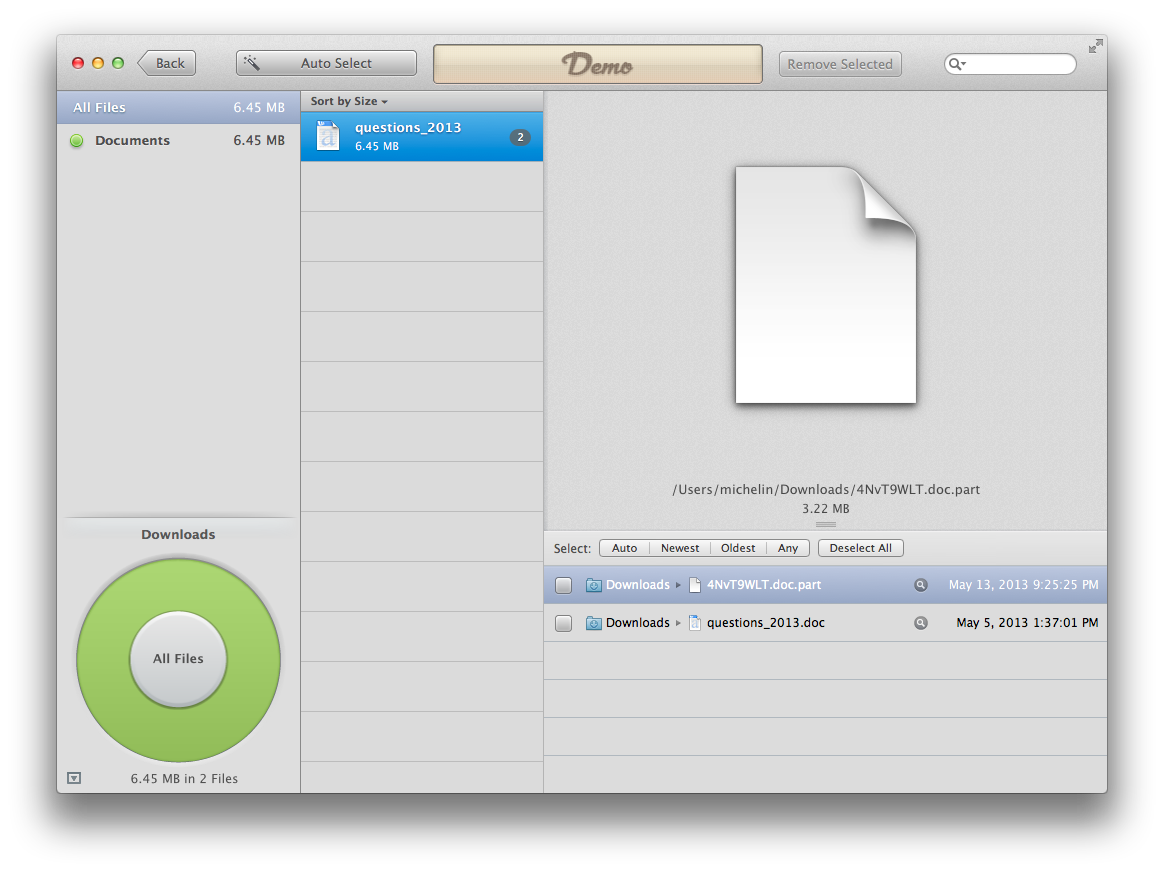 Gemini 1.5 screenshot
MacKeeper
If you own MacKeeper utility bundle you should already be aware of its Duplicate Finder cleaning utility. It is rather simple, yet efficient program with which users can quickly find duplicite files. It compares files internally and can detect even renamed duplicities.


MacKeeper Duplicate Finder utility screenshot
2021 update: You can find review of current Duplicate Finders tools in Best Mac Duplicate Finders: Affordable, Fast & Easy to Use (Updated for 2021) article by Andy Lee.
Do you know some other noteworthy or better programs for finding duplicite files?
Let us know in discussion below the article.