Audible is one of the largest provider of digital audiobooks. These audiobooks (AA or AAX format) are DRM protect and can only be played back on "audible ready" devices. So it can happen that cannot playback your legally purchased books on other devices - and that sucks.
Whilst Audible offers its media players for most desktop (Windows and Mac OS X) and mobile operating systems (iOS, Android, Windows Phone and Blackberry), there are still devices and platforms (Linux) that do not support the format. That's the reason why people want to convert their AA audiobooks to the most common audio format MP3.
Burn Audible audiobooks to a CD with iTunes
Because Audible audiobooks are directly downloaded to iTunes, the program no problems with AA format, and you can easily play the AA format. There is also option to burn your audio collection to a DRM-free CD which you can later convert to MP3 or other audio format with some grabbing tool.
There is extensive walkthrough for both Windows and Mac platforms about how to do it, on Audible websites in its help section. You can check it out on the links below.
CD Burning of Audible Content with iTunes (Windows)
CD Burning of Audible Content with iTunes (Mac)
Convert AA to MP3 with Aimersoft DRM Media Converter
For everyone else, there are software utilities that can, or claim that they can, to remove the DRM protection from Audible audiobooks and convert it to something else.
The catch is that most trial versions have restriction on the duration of converted songs. Whilst songs have just few minutes, audio books usually have hours, so a 1 minute long footage is rather useless. That means you can only successfully convert it with full version of these programs. But it does not hurt to try the trial version first to see if it really works for your audiobooks and how is the audio quality of the converted file.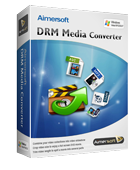 To reliably convert AA to MP3 we recommend the Aimersoft DRM Media Converter. It is a reliable conversion software with great support for various multimedia formats - including DRM protected files like Audible AA.
The software is very user friendly, and you just have to specify the location of your DRM protection files and browser to them with the Add.. button. Then just select the output path and and start the conversion.
Should you have any trouble, there is really great step-by-step user guide on Aimersoft website.