Guide: make your own comic books!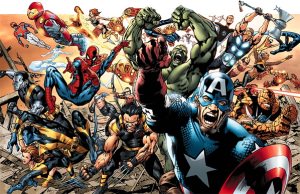 Comic books are a popular printed medium that first appeared in the first half of the 20th century.
Thousands of comics from various fantasy worlds were released and probably everyone of us held and read at least one such piece.
Even in the age of digital books and internet, many people still collect and read comic books. In past years, digital version of comic books gained quickly in popularity, because users can easily read them on their smart phones or tablets.

In this article we will show you one the easiest way how you can make your own digital version of comic books that you can share with others.
How to create your own comic ebooks
Scan the comics!
The first thing you will need to do, is to scan every page from a comic book and save it to your computer. Make sure auto-crop function on your scanner is active and you have optimal DPI and scan quality set. The better the quality of the scans, the larger will be the final ebook.
This may not seem important to file made up from a few images, but in case of large ebooks it may easily stack up to very large file size.
If you have some older scanner without an auto-crop function, you may need to open each file individually in some graphic editor and crop bad edges and fix any issues and errors that might have happened.
In any case, the most important thing to do, is to save the scans with filenames ending with 000, 001, 002, 003, 004 etc. and in JPEG format with JPG file extension. A reliable sequence of images is needed, so various viewers will be able to seamlessly open your comic ebook and show it in proper order.
So the best way would be to name the pictures simply as 000.jpg, 001.jpg, 002.jpg, 003.jpg etc.
Make your ebook!
Now, let's make the comic book. Create a new folder and name it after the title of the comic. Copy all the images you have scanned in the previous step to this directory.
The next step is to compress the whole folder with either WinZIP or WinRAR, depending on which program you have installed, and create an archive.
The last step is just to rename the extension of the archive to commonly accepted endings. If you have created a RAR archive, rename the file extension from rar to cbr and if you have used WinZIP, rename the extension from zip to cbz. And that's all. There is no fundamental difference between those two formats, so it's just your personal choice.
And that's it!
Now that your comic ebook is ready, you can check it out in any popular viewer, such as CDisplay, and share with your friends!