Windows can't open your file? Do you search for the right program that opens that file?
Look for information about any file extension and its associated programs directly from Windows using
our popular and free File-Extensions.org Search utility.
File-Extensions.org Search
To help you easily find the information about file extensions that you are looking for, we created a free simple utility that offers you quick access to the File-Extensions.org database and its associated software directly from your Windows or Windows Explorer.
download link (version 0.2b, release date: 21th April 2014)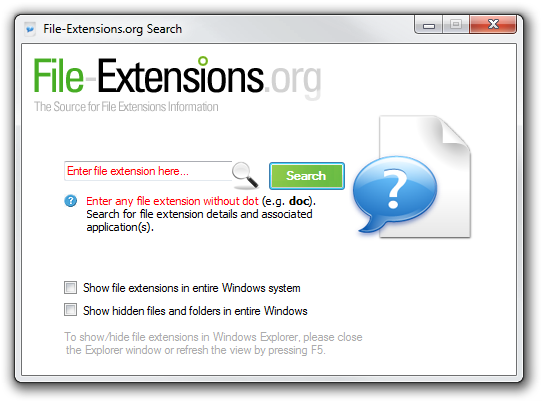 File-Extensions.org Search app for Windows screenshot
Features:
Install and uninstall function.
Easily find the information about any file extension you are looking for and its associated program(s) able to open it.
Search directly for extension information from a simple Windows dialog window.
Auto parse file extension from filename and search by double-clicking on any unknown/unassociated file
or by a new option in Windows shell-context menu by clicking the right mouse button on any file.
Simple enable or disable visibility of file extensions in entire Windows system.
Auto-update function when a new version will be available.
System requirements:
Any computer compatible with Microsoft Windows 8, Windows 7, Windows Vista or Windows XP SP3 with .NET Framework.
Size: 2.2 MB
License: freeware
Language versions: English, Deutsch, Spanish, French, Russian, Czech
Click to download File-Extensions.org Search here