How to associate a certain file format to a program in Windows
In the latest versions of Microsoft Windows operating system, association of programs with certain file files has become even easier. If you want to quickly associate a file type, lets say AVI with a certain media player, just follow these few steps, which will show you how to associate a file format with a program in Windows operating system. The following control panel functions are available in Windows Vista and Windows 7 editions only.
Step 1: Open the Default programs control panel
To find the control where you can change the association of programs with certain file types just click on the Start → Default programs buttons to launch the Default Programs control panel.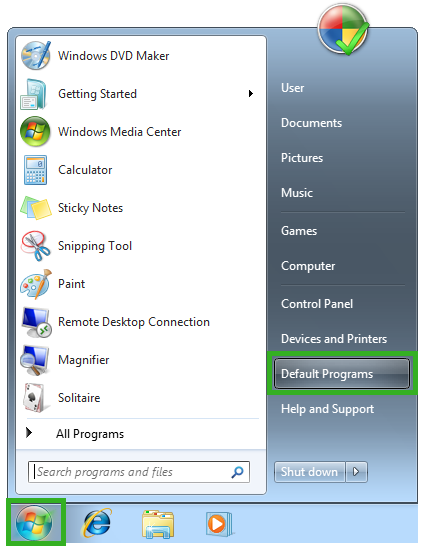 Step 2: Open the Set Association panel in Default Programs control panel
In the Default Programs control panel click on Associate a file type or protocol with a program to launch the Set Association panel, where you can perform the change.

Step 3: Choose the file format for the association change
In the Set Associations control panel you can see all file types used in your computer with their associated default program, that opens them. In our example we were looking for AVI file type, so we did scroll through the file types to find it. When you find your desired file format, just select it and click on the Change program... button which will launch the Open with menu, much like if you right-click on one of these files in Explorer and selected the Open with option from the popup menu.

Step 4: Associate the file type with certain application
In the familiar Open with menu you can change which program you want to use the specific file format (in our case the AVI video file). Just select the program you want to use, check the Always use the selected program to open this kind of file option and click on the OK button.
It is advised to use one of the Recommended Programs, even though you can find more programs in the Other Programs category, but they are usually unable to properly work with the file type. Be careful when selecting the right program as choosing wrong program (like Notepad) could cause association problem in the future.