About Nokia Ovi Store
Much like iPhone, Windows Mobile or Android users, Nokia users also have access to their application store, called Nokia Ovi Store.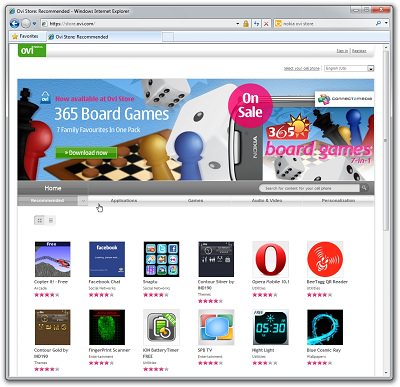 Nokia Ovi store screenshot. Click on the image to enlarge it.

The Nokia Ovi Store, much like its Windows Marketplace, Google Market, iTunes store counterparts, contains large number of smart phone applications. For Nokia phones the apps take mostly form of Symbian or Java installation packages. Some application costs money, while many are available for free. The common problem is, that you can't just easily download the apps to your computer and transfer it to your computer, which can be especially troublesome, if you don't have mobile internet connection and because of that can't use the store directly.
This little guide will show you, how to download free apps from the Ovi Store and transfer them to your Nokia smartphone, even if your phone doesn't have direct mobile internet connection. For obvious reasons it wont work on paid apps, games or themes.
How to download free app or theme from Nokia Ovi Store
First thing you need to do, is to login to the Nokia Ovi Store. If you do not have your own account yet, you will have to create one. Once you are logged in, browse through the store and find the desired app, you want to install to your Nokia Phone.
Downloading the app from Ovi store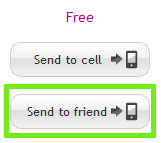 When you found the app or game in the Nokia Ovi Store you want to download, right click on the Send to friend button, as shown on the image to the right, and select the Copy the link option, which will copy the link to clipboard.
After that paste the link to your browser and change the ending of the copied link from "/send-to-friend" to "/download". That will let you normally download the app to your computer.
The applications, games or theme packages can be in different file formats. If the files are in JAR, SIS, SIXS or in case of themes NTH file format, you can just simply transfer them to your Nokia smartphone and install. If they have different file extension, such as JAD, SIS.DM or SISX.DM its going to be a little complicated.
If you have downloaded files with JAD file extension, you have to open it with notepad and find the line, that starts with "MIDlet-JAR-URL:". There is a URL address written in this line, simply copy it and paste in your web browser and download the JAR file, which you can transfer and install in your Nokia smartphone.
If you have downloaded files with SIS.DM or SISX.DM file extension, the situation is a little more tricky. You need to open and edit the SIS.DM or SISX.DM files in some text editor, preferably something better than Windows Notepad and delete the first 3-4 readable lines including empty spaces, up to the first "z" or up to the HEX 7A 1A 20 10 sequence. Then just rename the file extension to SIS or SISX, ie. delete the .DM part of the file extension. After that, you can install them normally in your Nokia phone, after you have transferred them over.
Be sure to backup your SIS.DM or SISX.DM files before you delete any lines in it, so you can start anew if something goes wrong and you delete too much out of the file.
And that's it, now you know how to download Nokia Ovi Store apps directly to your computer.