About Windows Gadgets
The Windows Gadgets are mini-applications visible on the sidebar of your desktop that usually perform some easy task or contain handy features or information, such as computer performance, local weather, calendar, news, RSS notifiers and more.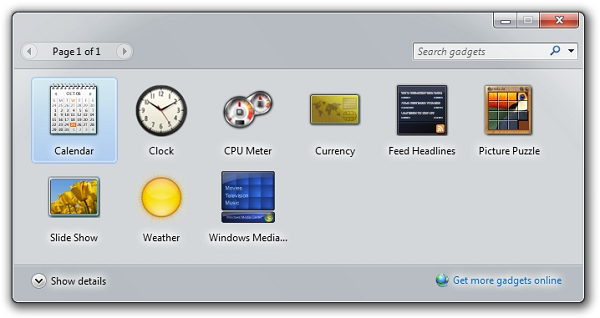 Many users have several such gadgets installed on their computers at the same time. You can get Windows desktop gadgets from many sources but on top of those already installed with Windows, you can get more directly on Microsoft Websites, such as Windows Live Gallery.
How to install Windows Gadgets
If you have found a windows gadget on internet you want to add to your sidebar, follow the few easy steps below to install them.
Download the Windows Gadget you want to install. It should have the .gadget file extension, but it is possible that its compressed in RAR, ZIP or other format. In that case extract the archive to get the .gadget file.

Open the downloaded .gadget file and select the Install option in the next window. If you have downloaded some unofficial Windows Gadget, a "Publisher could not be verified" warning may be displayed, but that usually does not present a problem if you got the gadget from trusted source or website.

After the gadget is installed, it should appear on your sidebar. You can now right-click on it, and customize any settings available to tailor it for your needs.