How to manage and change default programs in Windows
Many programs, when installed, change the default association configuration in Windows to their favor. They make themselves the default application for that file type instead of a previously installed application, something users can usually notice on icons of most multimedia files, that change depending on what program is set as default for their associations.
With latest versions of Microsoft Windows operating system, managing and changing default programs for associations has become even easier. If you want to quickly set your preferred application as default program for associations of certain file types, lets say you want Windows Media Player to automatically open AVI files, just follow these few steps, which will show you how to manage and change default programs in Windows operating system. The following control panel functions are available in Windows Vista and Windows 7 editions only.
Step 1: Open the Default programs control panel
To find the control where you can change the association of programs with certain file types just click on the Start → Default programs buttons to launch the Default Programs control panel.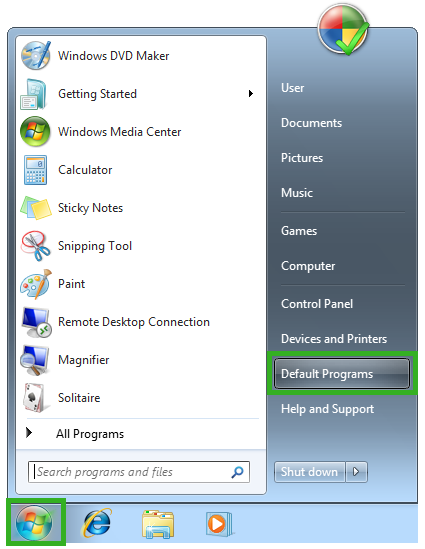 Step 2: Open the Set Default Programs panel in Default Programs control panel
In the Default Programs control panel click on Set your default programs to launch the Set Default Programs panel, where you can perform the change.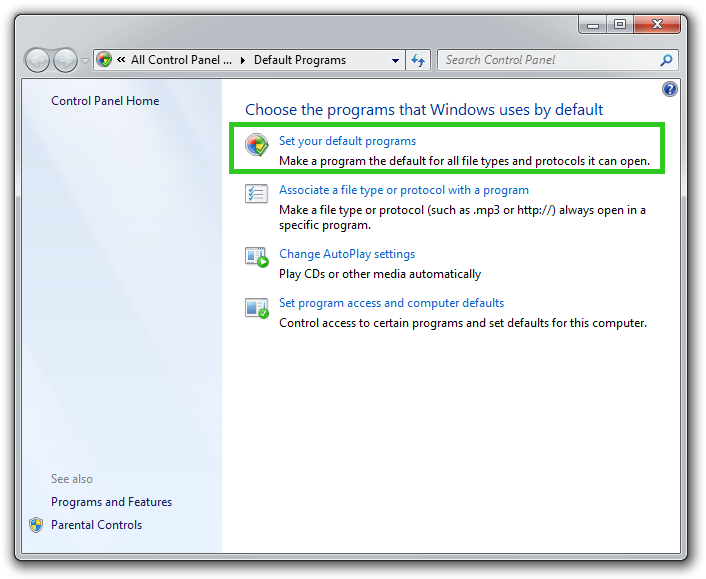 Step 3: Select the program for default changes
In the Set Default Programs panel you can see various applications installed on your computer, which can have one ore more defaults set for it. Usually its programs which have same purposes ie. media players, web browsers and such, and compete for the rights to work with certain file types or protocols.
After you have chosen the program you want to adjust, you are presented with two options. Either Set this program as default, which associates the program will all of its possible file formats, or you can manually select, which format the program should work with in the Choose defaults for this program option. If you select all, then you are finished and the application will be now default for all its supported file types. The other option is explored in the following step.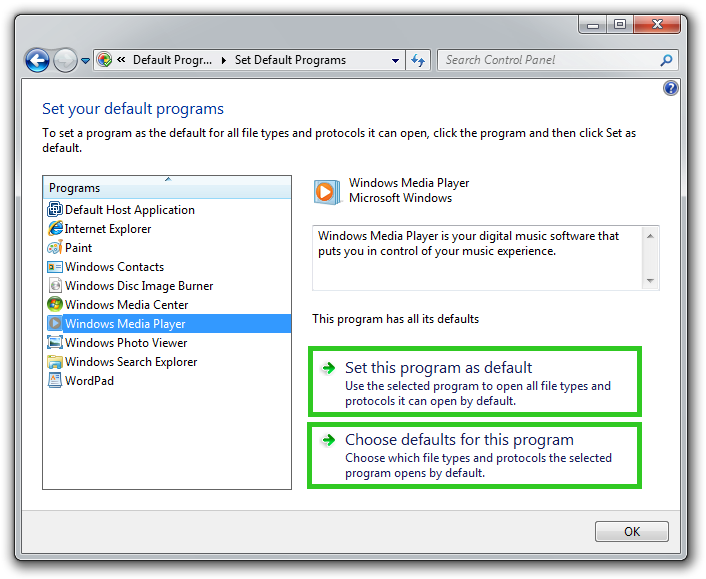 Step 4: Set associations for a program
In the Set Program Associations panel you can exactly define for which file extensions will the program be used as defaults. You can for example define only one file extension for the program to be default and other one for another program. Something like AVI files being opened in Windows Media Player and MKV files in VLC Player for example. You can also use the Select All option, which does the same as the Set this Program as default in the previous step.