Is Windows 10 spying on me?
Windows 10 is the most internet heavy and cloud-centric operating system from Windows OS family. Nowadays a lot of users are always connected to the Internet and some services in the system take advantage of it
Microsoft included various on-line background activities known as Diagnostics Tracking Service to latest Windows 10 that regularly send some of the information from user's computer to Microsoft servers.
The company claims that this information will be only used to improve performance of system and improve user experience with Microsoft's online services, such as Bing or Cortana.
Not really, but....
What kind of data is collected by Diagnostics Tracking Service?
The list is rather long, including your name, email address, preferences and interests, location, browsing and search history, phone calls and SMS data, device configuration and sensor data, voice, text and writing input, and application usage, IP address, network status, etc.
When are the data collected by Diagnostics Tracking Service?
with every program or service installation
with every use of voice input features like speech-to-text
when you open a file
when you write some text
Additional information about Windows 10 Privacy Statements and data collecting are available on Microsoft's website. So read them carefully.
Every user has to agree to Windows 10 EULA license agreements before they actually install the system. This means you actually agree with a lot of data transfers from the start. For some people this may be a big privacy violation and a huge slap in the face that they have to send any data to Microsoft that can easily leak to other companies or even the governments.
Luckily for us, most of these unwanted features can be disabled.
How to prevent Windows 10 spying activities?
There are several ways how you can stop unwanted activities in your Windows 10. Majority of advanced users can disable offending features by PowerShell scripts and manual Windows Registry editing.
Many of such scripts and command line syntax examples are available from windows-10-tracking project stored on GitHub.
However, for common users it is easier to use some specialized Windows 10 tweaking tool. We will list some of the most popular below.
Just be careful with any changes in your system because they can easily break stuff and corrupt your registry settings. Use them at your own risk.
DisableWinTracking
DisableWinTracking is project that can also be found on GitHub. It is small program with a very simple GUI with tools that allow to adjust some Windows options to protect your privacy. Basically, its a GUI for the previously mentioned scripts and registry changes.
Download it ► Run as Administrator ► check option boxes you want ► click on Get privacy! button and wait a few second and your privacy will be much more protected.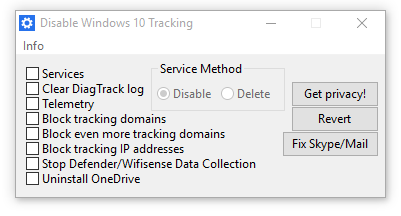 Disable Windows 10 Tracking
Destroy Windows 10 Spying
Another utility that has a little more options that DisableWinTracking tool. It allows users to remove spy activities from Windows 10 as well as Windows 8 and Windows 7.
Download the tool and open it. Casual users can simply click on "Destroy Windows 10 Spying" button in main tab of app, more advanced users can even tweak some options in "Settings" and "Utilities" tabs.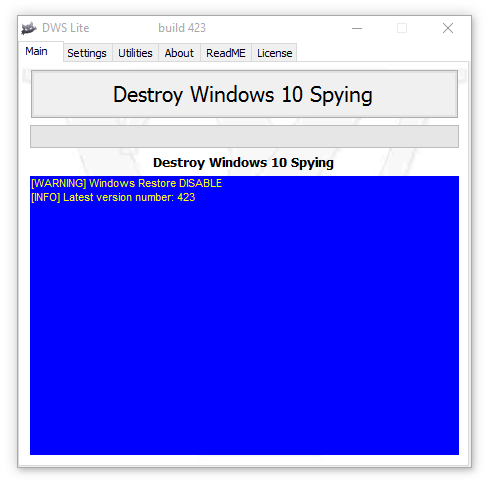 Destroy Windows 10 Spying main window
Download Destroy Windows 10 Spying
DoNotSpy 10
Is one of the most powerful Windows 10 spy activity remover available on internet, that recognizes more than 40 Windows potential spying services and can disable them, including:
Telemetry
Biometrics
Handwriting Data Sharing
Handwriting Error Reporting
Application Telemetry
Inventory Collector
Steps Recorder
And much much more
The DoNotSpy 10 is distributed as a freeware with ad-support or as donationware without advertisements.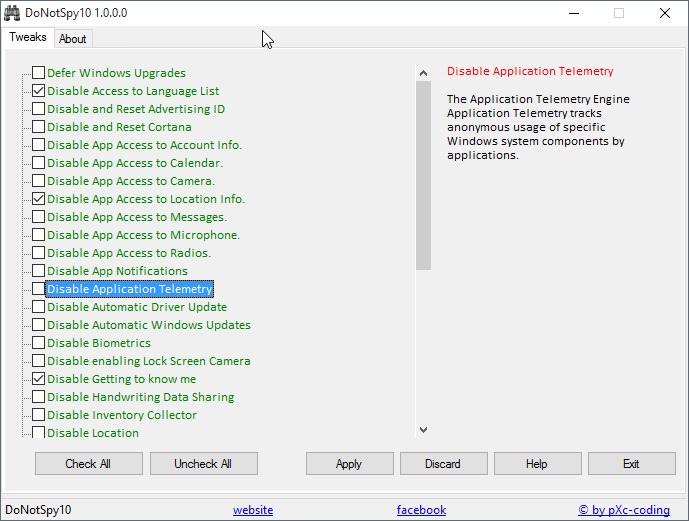 DoNotSpy 10
Ultimate Windows Tweaker 4 for Windows 10
Complete solution for tweaking security and privacy in Windows 10 and some previous versions with well over 200 other options which are clearly categorized to several groups and tabs.
With this program you can for example disable: Telemetry, Biometrics, Advertising ID, Bing search, Cortana, Windows Update sharing, Feedback requests, password Reveal button, Steps Recorder, Inventory Collector and Application Telemetry and more.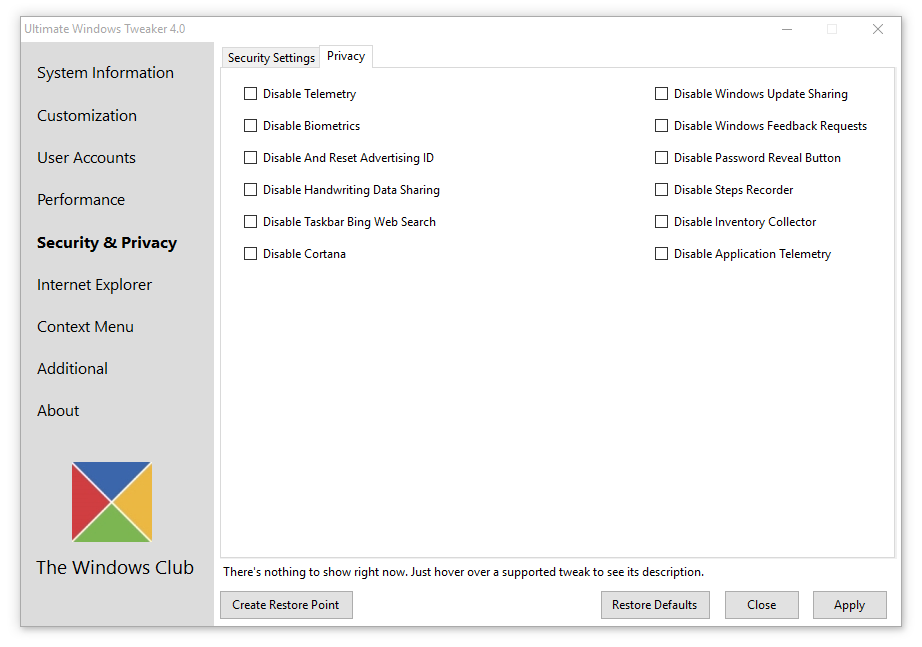 Ultimate Windows Tweaker 4 for Windows 10