Home > Apps > Multiplatform
File extension list filtered by software name
RECOIL
Found 251 file extension associations related to RECOIL and 215 file formats developed specifically for use with RECOIL.
Platform, operating system:
Multiplatform
Go to: RECOIL description
Developer: Piotr Fusik and Adrian Matoga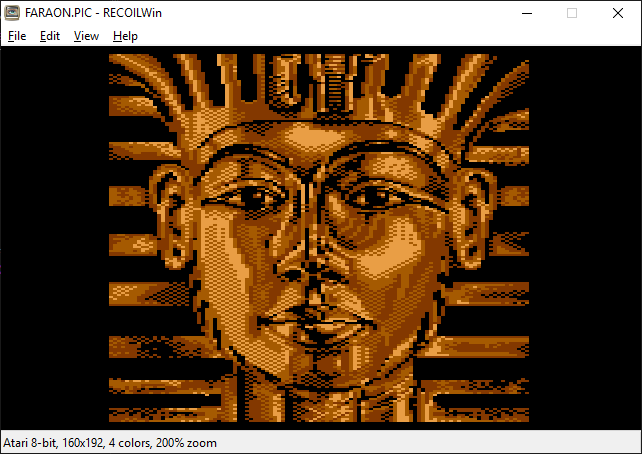 RECOIL
Developer / company: Piotr Fusik and Adrian Matoga
RECOIL is a viewer of pictures in native formats of classic computers: Amiga, Amstrad CPC, Apple II, Atari 8-bit, Atari Portfolio, Atari ST, Atari Falcon, BBC Micro, Commodore 16, Commodore 64, Macintosh 128K, MSX, Oric, SAM Coupé, TRS-80, TRS-80 Color Computer, ZX81 and ZX Spectrum.

RECOIL works with the following file extensions:
Note: You can click on any file extension link from the list below, to view its detailed information. The list of extensions used or otherwise associated with the application may not be complete, because many common file extensions on our website, such as jpg (pictures) or txt (text files), can be opened by a large number of applications, or are too general file format. However most, if not all directly associated file extensions should be listed with its appropriate program. Although its likely, that some file extensions may be missing from the list of associated file extensions with the application, yet they can be opened, be part of, or otherwise be associated with the program.
RECOIL default file extension associations

.256

.3

.a4r

.aas

.acbm

.afl

.all

.ap2

.ap3

.apc

.apl

.app

.apv

.art

.art

.atr

.bb0

.bb1

.bb2

.bb4

.bb5

.bbg

.beam

.bg9

.bgp

.bkg

.bl1

.bl2

.bl3

.bml

.bru

.ca1

.ca2

.ca3

.cci

.ch4

.che

.chr

.chs

.cin

.col

.cpr

.cpt

.cut

.cwg

.dc1

.del

.dg1

.dgc

.dgi

.dgp

.dgu

.dhr

.dhr

.din

.dlm

.dlp

.dol

.dph

.dr

.drg

.drl

.drp

.du1

.du2

.duo

.eci

.ecp

.esc

.fd2

.ffli

.fgs

.fli

.fp2

.fpt

.ftc

.fun

.fwa

.g09

.g10

.g11

.gcd

.ge5

.ge7

.gfb

.ghg

.gig

.gih

.god

.gr7

.gr8

.gr9

.grf

.grp

.gun

.ham6

.ham8

.hbm

.hci

.hfc

.hgb

.hgr

.him

.hip

.hir

.hlf

.hlr

.hpc

.hpm

.hr

.hr2

.hrs

.ice

.icn

.ifl

.ige

.ihe

.ilc

.ild

.imn

.ing

.inp

.int

.ip2

.ipc

.ir2

.irg

.ist

.jgp

.kla

.kpr

.ldm

.leo

.lp3

.lum

.map

.max

.max

.mbg

.mch

.mci

.mcp

.mcpp

.mcs

.mg8

.mgp

.mic

.mil

.mle

.mon

.mp

.mpp

.nlq

.p

.p11

.p41

.p4i

.pcs

.pi2

.pi9

.pl4

.pl5

.pl7

.plm

.pmd

.pzm

.qs4

.rap

.raw

.rgb

.rgb8

.rgbn

.rip

.rm0

.rm1

.rm2

.rm3

.rm4

.rys

.sc2

.sc5

.sc7

.sc8

.sca

.scc

.scs4

.sge

.sh3

.sham

.shc

.shp

.shp

.shr

.sif

.spc

.spr

.sr5

.sr7

.sr8

.srs

.sxs

.tip

.tpi

.trp

.tru

.txe

.txs

.vbm

.vzi

.wig

.wnd

.xga

.ximg

.xlp

.yjk
Common file extensions used by RECOIL

.pic
Other file extensions associated with RECOIL
.4bt

.4mi

.4pl

.64c

.a64

.acs

.agp

.cdu

.ch6

.ch8

.clp

.dd

.doo
.drz

.epa

.fnt

.gg

.hr

.iff

.img

.info

.kfx

.lbm

.mil

.mis

.msp
.neo

.pc1

.pc2

.pc3

.pgc

.pi4

.pix

.pla

.pnt