File-Extensions.org | MicroOLAP Technologies LTD. details
Found 2 related programs.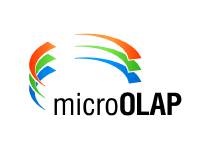 A privately owned software company
MicroOLAP Technologies LTD. website:
MicroOLAP Technologies LTD. [external link]
MicroOLAP Technologies is a privately owned software company with the R&D office in Chernogolovka, Scientific center of the Russian Academy of Sciences, Moscow district, Russia.

Our key directions include software solutions for database connectivity components and administration tools, high-performance network monitoring technologies and solutions, GIS related components and tools and many more.

All of MicroOLAP's software is available for download on the most popular download sites, and it has consistently won top honors, including 5 cows on TUCOWS, 5 stars on ZDNet, SoftSeek editor's pick, and many other awards.