File-Extensions.org | Roxio details
Found 9 related programs including: Roxio Creator NXT, Roxio Toast Titanium, Easy CD Creator, Roxio Video Copy & Convert, Roxio WinOnCD Media Suite.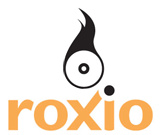 Roxio is a division of Sonic Solutions, best known for its burning software.
Roxio website:
Roxio [external link]
Roxio was original founded in 2001 but later acquired by Sonic Solutions. Roxio's main focus is development of burning software, with its flagship products Roxio Creator for PC and Roxio Toast for Mac. Roxio also offers products for data back-up and recovery.
CineVision 1 associated file extension

A video editing software

Easy CD Creator 11 file extension associations

A CD and DVD mastering software

Easy Media Creator 1 associated file extension

A tool used to create, share and enjoy movies, memories and music

Roxio Creator NXT 28 file extension associations

Roxio Creator is set of tools used to burn CDs, DVDs and Blu-ray discs

Roxio Popcorn 6 file extension associations

A DVD transcoder for Mac

Roxio RecordNow Music Lab 7 file extension associations

A digital music manager

Roxio Toast Titanium 19 file extension associations

Roxio Toast 11 Titanium makes disc burning, DVD copying and video conversion as easy as drag, drop and go

Roxio Video Copy & Convert 1 associated file extension

A video converting tool

Roxio WinOnCD Media Suite 1 associated file extension

An old, discontinued media sutire by Roxia