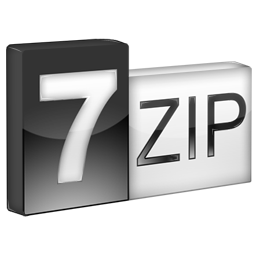 7-Zip is one of the many modern compression tools available on internet. It is the default program for 7z format that is more and more common on internet in recent years especially in P2P networks, most likely thanks to its great compression ratio.
Compared to its competitors on market like WinRar or WinZip (both shareware), 7-Zip is completely free software without any bothersome pop-up windows and registration reminders that you can encounter in other programs.
You can download the program for free from the developer website or its Source Forge page.
The program is mainly aimed for Windows platform, but there are currently also unofficial packages for Mac OS X, Amiga, DOS, Solaris and various Linux Distributions including Debian and Ubuntu. There are seems to be unofficial WinCE version for mobile platforms.
Language support
7-zip default installation contains 79 language packs that completely translate the programs with all GUI elements. These can be quickly changed via Tools → Options... → Language menu. So it is most likely, that the program is available in your language as well.
7-Zip file Manager
The main program of 7-Zip includes all the common operations available in Windows Explorer. You can copy, move, delete files and folders as well as create new ones. A little inconvenient is the lack of drag and drop function when moving files.
Obviously, the main function of this program is to compress and decompress files. Well, the main interface is rather clean and simple and didn't change much through the years. The buttons and functions are self-explanatory and the program overall is very user friendly even to beginners. It is not as pretty as some Mac OS X apps, but the important thing is to get the job done.
7-Zip offers everything a modern archiver should. Easy way to compress your files and folders to different formats, add new files to existing archives, encrypt archive with AES-256 method, changing various compression levels, making SFX (self-extracting) archives and of course split archives to several volumes (parts) for easier manipulation.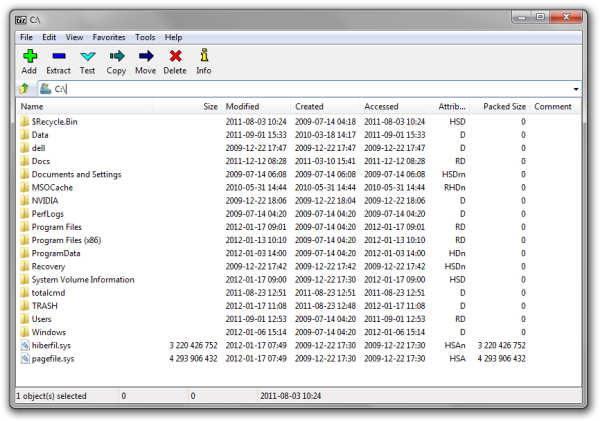 Default window of 7-Zip File Manager.
Compression
By default 7-zip uses 7Z archiving format for its compressed files. However users can also create TAR, WIM or ZIP files. 7Z and ZIP offer additional option to choose between various compression methods, with LZMA being the default one.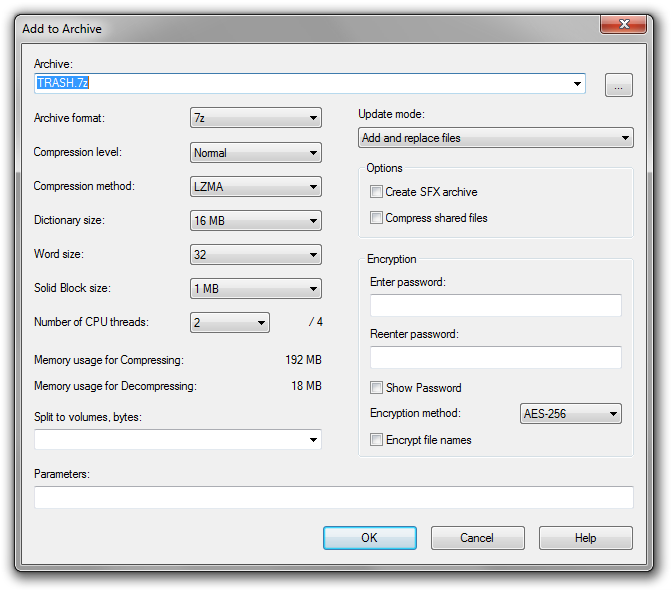 Various compression options and settings available in 7-Zip.
Compression Ratio
Compared to other archivers, such as WinRAR or WinZIP, it seems that 7-zip has a lot more higher compression ratio than its competitors and is probably the current leader in this area. The compression process is a bit slower, but the difference in compression to lets say ZIP format is great and is definitely worth it.
Format support
7-Zip can unpack majority of compression format, including ARJ, CAB, DEB, ISO, LZH, RAR, DMG, VHD and more. Most likely, it is able to work with any archive you can encounter these days.
You can change the default Windows associations of supported archive formats at any time in the Tools → Options... → System menu.

Changing default 7-Zip file type association.
Windows Context Menu implementation
Like any other modern compression utility, 7-Zip is directly implemented in Windows Context menu, that allows users compress their folders and files or decompress their archives with simple right click, selecting 7-Zip and choosing one of the several presented options.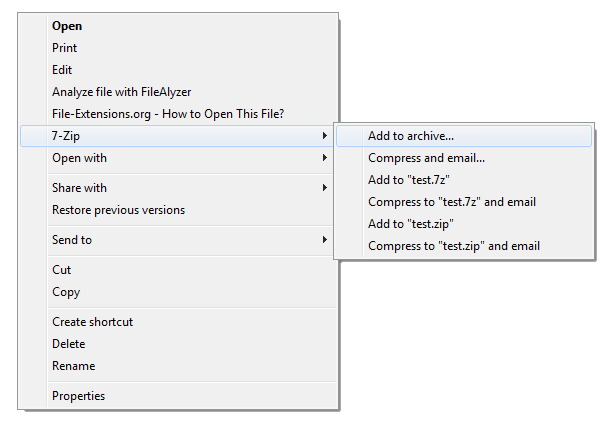 7-Zip in Windows context menu.
Final Conclusion
If you are looking for solid and FREE compression utility that can handle vast majority of current file formats, give 7-Zip definitely a shot. Thumb up from us.