Basic information about bitmaps and how to convert raster images
About bitmaps files
Bitmap, raster graphics file formats are generally photo or picture images consisting of pixels in a grid. Each pixel in the image contains information about the color to be displayed.
Bitmap images have a fixed resolution and cannot be resized without losing image quality. Most known bitmap-based formats are JPG, GIF, TIFF, PNG, BMP or DJVU. Professional photographers use RAW image file formats. Most bitmap images can be converted to other bitmap-based formats very easily by many graphics converters and viewers. Bitmap images tend to have much large file sizes than vector graphics and they are often compressed to reduce their size.
You can check all Bitmap file formats sorted by name in our Bitmap file type category, that you can access from the main page on the left category bar.
How to convert raster images
Bitmap files are commonly converted between various formats with the use of special applications designed to perform this task called graphic converters.
Simply check our database for the bitmap file extension you are looking for and in the table below its description you will see a table with software, sorted by platform and actions, that is able to perform a specific action with the the the the bitmap files, such as open, edit, print etc..
Under the convert tab you can check for any convertors in our database that can convert bitmap files to another file format.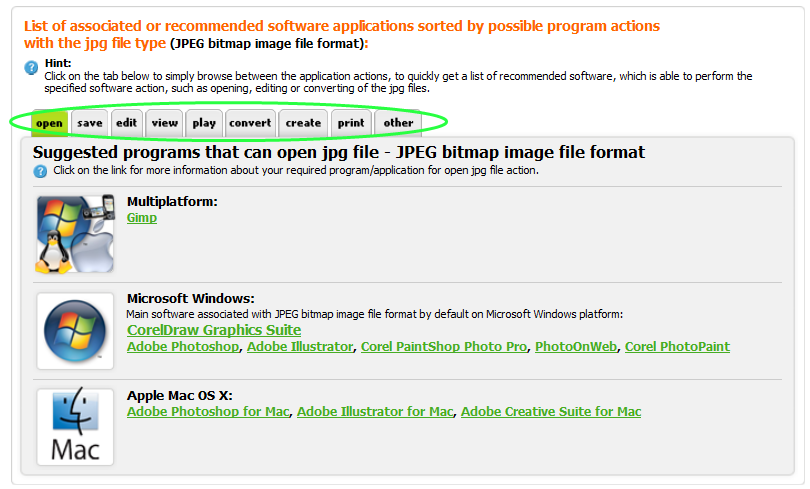 You can also click on each software to open its own web entry on our website, that often contains additional useful information about it, such as developer, website, reviews or other useful articles.
How to convert bitmap graphics if there is no convertor available ?
If there is no bitmap graphics application or graphic editor in our database under the convert tab , it either means there exists none, we have found none, or nobody did send us information about it.
However, most graphic editors can also save or export bitmap graphics files to different formats. You can simply try to use the File → Save As.. option in editor that is capable of opening your bitmap graphic file and save it to another bitmap graphics file format.
Information about how to open bitmap graphics can be found in another of our articles - Basic info how to open bitmap or raster images.
Online convertors
Alternatively you can also always try to use some specialized converting web service, such as ZAMZAR, to convert your bitmap files.