Basic information about plain text format and how to open text files
About text files
A Text file is a type of computer file, which often stores plain text information in ASCII format. ASCII (American Standard Code for Information Interchange) is a character-encoding scheme based on the ordering of the English alphabet. The ASCII standard allows ASCII-only text files to be freely interchanged and readable on Unix, Macintosh, Microsoft Windows, DOS, or other platforms. ASCII codes represent text in computers, communications and other devices that use text.
Modern character-encoding schemes, that support many more characters than did the original, are based on ASCII. Text files have a plethora of file suffixes, but the most used file extension to identify a simple text file is TXT or TEXT (Microsoft Windows) and the MIME type used for it is "text/plain" (MAC OS X, Linux).
You can check all Text file formats sorted by name in our Text file type category, that you can access from the main page on the left category bar.
How to open common text files
Plain text files can be simply opened and edited in any text editor available across all platforms. At the bottom of each file extension site on our website, there is a table with associated software and actions it can perform.
Simply check our database for the text file extension you are looking for and in the table below its description you will see a table with software, sorted by platform and actions, that is able to perform a specific action with the text files, such as open, edit, print etc..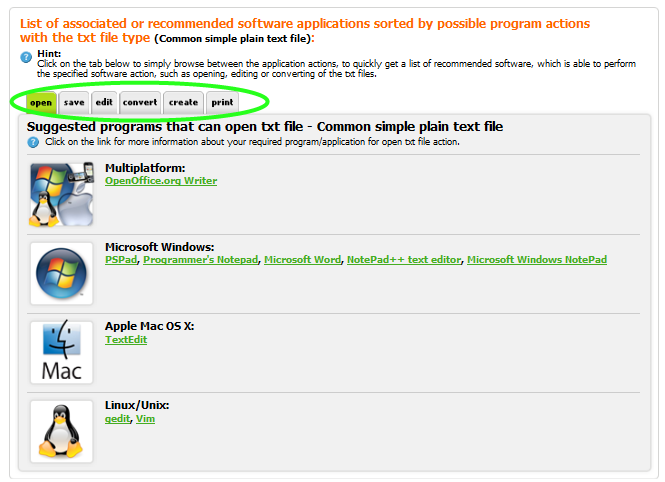 You can also click on each software to open its page on your website, that can contain additional information about it, such as developer, website, reviews or other useful articles.
How to open unknown text file
If you want to open a text file with file extension that is not recognized by the text editor by default you can try the following and open the file. If its a file in plain text format you will be able to read, edit or print it. Otherwise you will see gibberish stuff in the text editor. If that's the case, the file was not in plain text format.
Try to rename the current file extension of the file to TXT which should associate the file in any text editor you have currently installed. Alternatively you can try to use the File → Open... action, that is available in most programs and select All files (*.*) option in the browse menu, that will show even files that are not supported the application by default. If the file is in common text file, you will open it regardless of its file extension and will be able to read or edit the content.
More information can also be found in our how to identify unknown file formats article.