Introduction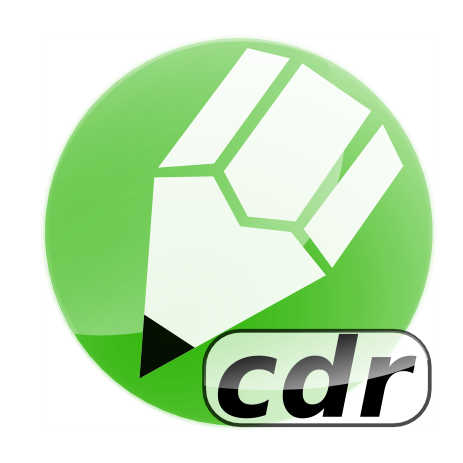 CorelDraw's CDR vector format is sophisticated proprietary image format used in many brochures and other high quality graphic or DTP materials. But what if you got one CDR image and have no way to open it ? What if you really like one CDR image, but the program you need it for does not support CDR format? Considering CorelDraw is pretty expensive product, and the format is proprietary you do not have many choices that won't cost you any money. Luckily there is UniConvertor from sK1 project, where the authors managed to reverse engineer some of the older versions of CDR format.
So let's take a peak how you can easily and for free convert CDR vector files to AI, SVG or other formats so you can view it, or use them in other program without buying any of the expensive programs.
UniConvertor
UniConvertor is a universal vector graphics convertors. It is a command line tool which uses sK1 object model to convert one format to another.
UniConvertor is probably your best bet if you want to convert CDR files to some other vector graphics file format. It works reliably on *.cdr files created with CorelDraw X4 and older, but you can probably get solid results even from the latest one. It's free and simple utility with plenty of supported formats.
There are versions for Windows as well as various Linux distributions, which you can download from the developers sK1 Project website. You can find the links below the article.
How to convert CDR to other vector formats
Simply install the program and launch it. Select the CDR image file you want to convert, pick the format (in our case SVG) and just convert it. The new file will be saved in the same folder as the original, with same name and its original file extension in name and new extension added.
The program supports conversion to AI, SVG, CGM, WMF vector graphic format as well as PDF, PS or PLT printing formats.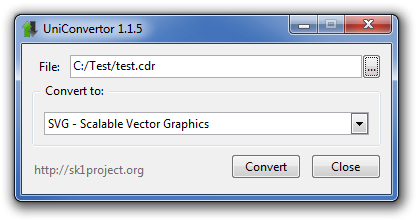 If you for example convert file test.cdr to SVG format you will get test.cdr.svg file. So don't be confused by the two dots, the first one is in file name.
Uniconvertor Conversion options
Uniconvertor is able to convert these file formats:
CorelDRAW ver.7-X3,X4 (CDR/CDT/CCX/CDRX/CMX)
Adobe Illustrator up to 9 ver. (AI postscript based)
Postscript (PS), Encapsulated Postscript (EPS)
Computer Graphics Metafile (CGM)
Windows Metafile (WMF)
XFIG
Scalable Vector Graphics (SVG)
Skencil/Sketch/sK1 (SK and SK1)
or. Acorn Draw (AFF)
To these file formats:
AI (Postscript based Adobe Illustrator 5.0 format)
SVG (Scalable Vector Graphics)
SK (Sketch/Skencil format)
SK1 (sK1 format)
CGM (Computer Graphics Metafile)
WMF (Windows Metafile)
PDF (Portable Document Format)
PS (PostScript)