Introduction
Watching 3D movies is gaining in popularity with each year and is certainly not limited to cinemas and movie theaters. You can easily watch 3D movies comfortably at home if you own modern 3D TVs and have your own set of 3D glasses.
So it may happen that you want to watch your new movie on your 3D TV and you need subtitles for your language. You can easily find subtitles nowadays in many formats (.srt, .sub, .ass), but they are not typically in available 3D format.
Subtitles and 3D movies
Vast majority of media players will playback 3D movies with standard subtitles, but the subtitles themselves will not have 3D effect. The problem is that 3D movies are basically split to two frames, one for left and one for right eye (or top/bottom) and standard subtitles are viewed in the center of 3D movie.

Wrong: Standard 2D subtitles in 3D movie
So you will need to convert your standard (2D) subtitles to a 3D format. Only this special type of subtitles does not break the 3D perspective when watching movies. This is because such subtitles will be shown for each eye separately and thus work well with 3D glasses.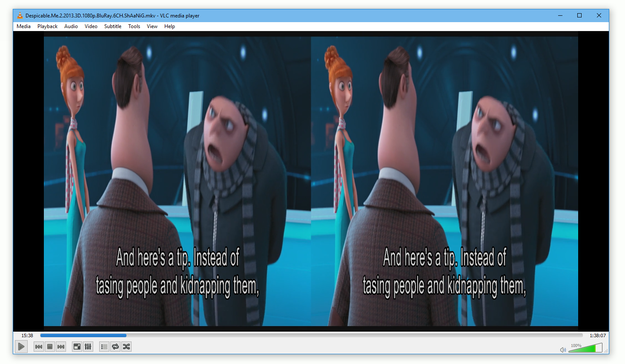 Correct 3D subtitles in 3D movie
So what are your options for conversion of standard 2D subtitles to 3D format? Let's see.
How to create 3D subtitles with 3D-Subtitler
Creating 3D subtitles is not that hard as it would seem, you just need a proper tool for it. One of such tools is for example the 3D Subtitler, an popular and somewhat easy to use tool for Windows that gives users all the tools needed to convert some of the common subtitle formats (for example SRT format) their 3D counterparts (IDX/SUB or SUP).
And of course you will need the original subtitles, which you can download for example from websites like subscene.com or similar.
Users of VLC player may also use the now standard function of downloading subtitles from opensubtitles.org archive.
When you have both of these ready, launch 3D Subtitler and let's begin.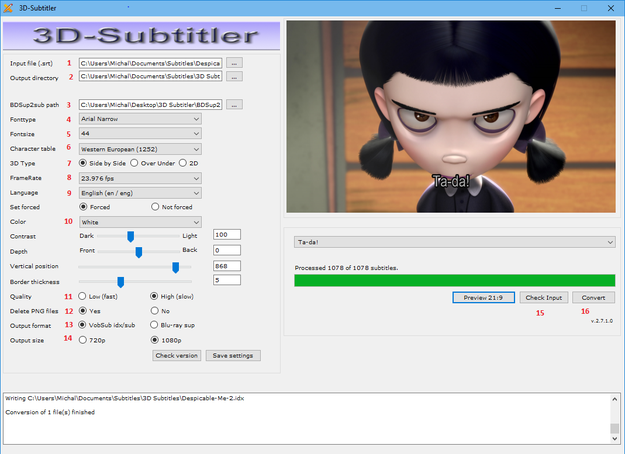 3D Subtitler tool for Windows
Select your input file (.srt) ► click on box with ... and navigate to the .srt subtitles you want to convert
Output directory ► click on box with ... and navigate to folder, where you want 3D subtitles to be stored
BDSup2Sub path ► click on box with ... and navigate to BDSup2Sub tool (by default same folder as 3D Subtitler)

BDSup2Sub is written in Java and thus you will need a Java Runtime installed to computer. Normally, it it should be included in archive with 3D Subtitler and also may be available as stand-alone program.

Fonttype ► select your preferred font
Fontsize ► select font size
Character table ► important for languages with special characters
3D Type ► select type of your 3D movie (Side | Side, Over — Under)
FrameRate ► select framerate of movie
Language ► select subtitles language
Color ► select subtitles color
Quality ► quality of subtitles (High is strongly recommended)
Delete PNG files ► select Yes
Output format ► VobSub supports computer media players, like VLC Player, Blu-Ray sup home theaters and media centers. VLC also support .ass 3D subtitles format.
Output size ► It depends on 3D movie resolution
When all the settings are set up ► click on Check Input button
If all your settings are correct, you will be able to proceed with the Convert button
It may take few minutes to prepare your 3D subtitles, depending how long they are.
How to create 3D subtitles with Subtitle3D.com online service
A viable alternative to some conversion software is to take advantage of some 3D online service and convert your subtitles comfortably from your web browser. One of such websites is called Subtitle 3D, but you may probably find other similar on-line services as well.
First thing you need to do is to navigate and select your source .srt subtitle file so it can be loaded for the conversion. After that you have to set up several parameters, including character encoding and language.
The second part covers settings for the future 3D subtitles. You have to select a 3D video format (usually Side | Side, Over — Under) and also the output format (.ssa, .ass, .sub) depending on your media player (not all players support every subtitle type). And last and not least, you have to define parameters such as font type, font size, outline, 3D depth and more.
The Convert Subtitle button will start the process and you will be able to download your 3D subtitles.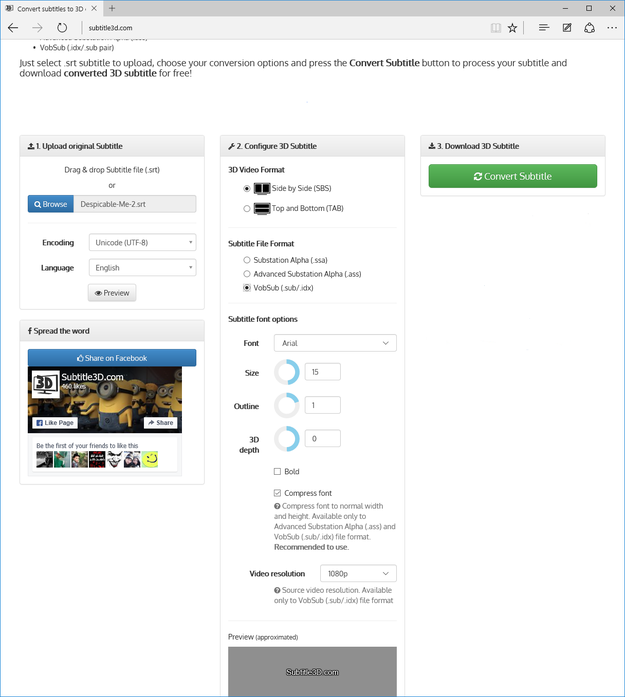 Subtitle 3D online service