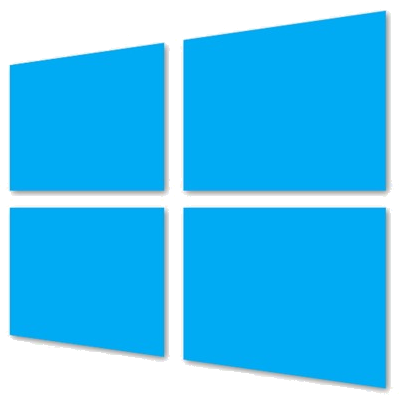 Microsoft Windows 8 operating system is the first Windows version after 17 years that won't have classic start menu. It was replaced by new graphical user interface (previously called Metro) that merges user interface of classic desktop computers with smart mobile phones and tablets.
However, this was not good news for many conservative users, because they still want to keep their "old-school" interface with start menu in desktop Windows 8.
How to get back start menu to Microsoft Windows 8
To get the start menu back, you have to use utility called Start8. It is simple utility from Stardock, which customize Metro to old Start like style and as bonus it could enable the boot to to the Desktop version of Windows 8.
Start8 works with Windows 8 Consumer Preview as well as final release of Microsoft Windows 8.
Download and install Start8 application from Stardock
Start8 is available for free download on Stardock website. Only requirement is a registration of your e-mail to Stardock database. After the download is finished, run the Start8 Setup program. It is wizard like process, where you simply set installation folder and the setup unpacks Start8 files. After that it starts background processes that include Start Menu in left down corner of Windows desktop.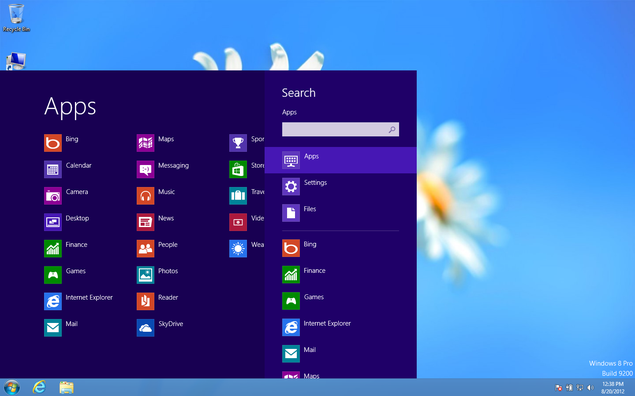 Microsoft Windows 8 with Start Menu
How to boot directly to desktop user interface in Microsoft Windows 8
By default, Windows 8 starts with new Metro GUI. However many users still use classic desktop applications instead their Metro variants and it is more comfortable for them to boot directly to the Windows Desktop or disable new Windows 8 style UI (previously called Metro). This feature can also be enabled in Start8.
Start8 options
If you click the right button on Start Menu in Windows 8, you will be able to change some Start8 options. One of them is called On login go to the desktop, which allows users to set booting to the Windows Desktop after power on, or restart the computer. You can enable this feature by checking this option.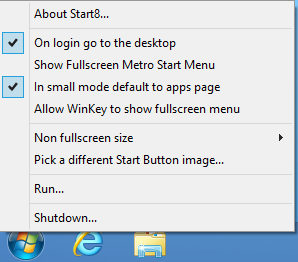 Start8 options
Skilled users can also use pick a different Start menu button image... option to change Start menu icon. Some Start icons are bundled with Start8, another are available on the Internet. You can also create your own icons.