ISO image is an archive file (disk image) of optical disc (CD, DVD, Blu-Ray) using ISO (International Organization for Standardization) format. ISO image is unattached format, that merges series of files into one single file according to a definite format. ISO images typically use .ISO file extension. The name ISO is taken from the ISO 9660 file system used with CD-ROM media.
How to burn ISO
This guide describes how to burn ISO image in Linux distribution Ubuntu, that is using Gnome Desktop. Gnome Desktop is used in many other Linux distributions and therefore this guide is usable with them.
Step 1
Click right mouse button on the ISO image and select Write to Disc option in the popup menu.
Step 2
Gnome Desktop will start the Write to Disc application.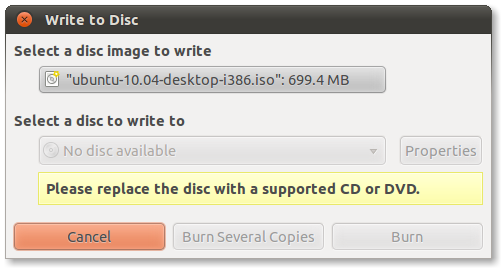 Step 3
Insert an optical disc to your disc burner and click on the Burn button to start burning the ISO image.