Did you ever found a strange .mdx disk image on web and wondered in which program it is supposed to be opened? Or how can you burn them? Do not despair, in this small tutorial we will show you, how to burn .mdx files with Astroburn.
What is MDX ?
MDX file format is a proprietary disk image file format developed by the creators of Deamon Tools emulation software and Astroburn burning software. MDX (short for Media Data eXtended) is very similar to Alcohol120% MDS/MDF format, with the main difference being, that it is a single file, incorporating all the features otherwise found in separate .mds and .mdf.

Astroburn is easy to use burning and grabbing software that supports MDX format. It comes in two version Lite and Pro. Lite can only burn, while Pro (paid) version has a lot more features like disk grabbing, disk image conversion etc. And it is also able to create MDX image from physical disc.
How to burn MDX image
If you only need to burn a .mdx file, Astroburn Lite will be enough. It's free for download, so just visit its website, download and install it.
Once you launch Astroburn you will see the same window like on other screenshot below.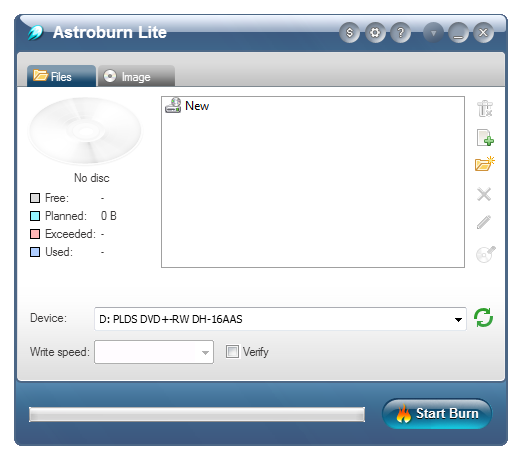 First check the size of your .mdx file and decide if you want to burn it on a DVD or CD disk. A .mdx file with size less than 700 MB fits nicely on CD, anything larger needs to be burned on DVD disk.
When you insert a new media into your drive, the program will automatically recognize it and offer best burning speed. In our case we inserted an empty CD, because our image fits on it easily.
After your media is recognized, click on the second tab called Image, because you want to burn MDX image, not just plain data.
Once in Image tab, click on the Browse icon next to Image file path box and select .mdx file from your hard drive.
If your .mdx file is truly in Media Data eXtended image format, you will see its details below the path box.
Should your .mdx file be not an actual image (there is more formats with MDX file extension), you won't get an error immediately, but there won't be any details. So that's actually a good sign that there is not something right about your "MDX" image, and it probably isn't Media Data eXtended file at all.
Anyway, if everything is alright, the situation should look pretty similar to what you can see on another screenshot below.
To make sure that your disk will be properly burned, check the Verify box. That will start verification process once the burning operation is finished, to check for possible errors.
Now recheck everything again and when ready click on Start Burn button to burn the .mdx file.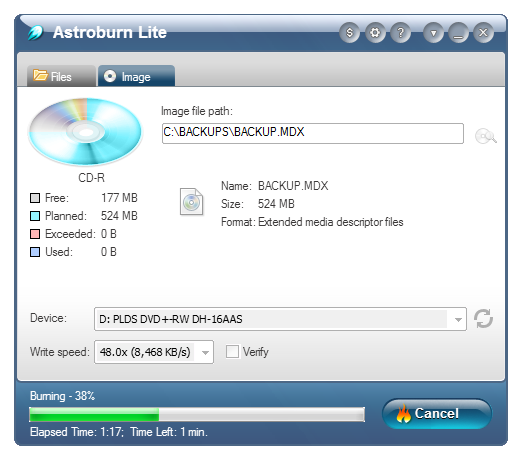 Now just wait until burning is finished.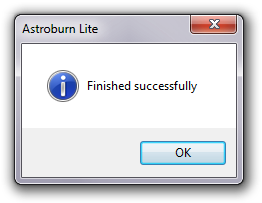 Astroburn does not only support MDX format, but also most other common disk image formats including ISO, MDS, BBT, CCD and more.