Google Android is the popular operating system for smart mobile phones and tablets. Google Android is based on Linux operating system with Google's graphical user interface for comfortable work with the mobile device. Many functions of this operating system are shared with Google's services such as Gmail, Google Calendar etc.. Google Android has very large support of mobile device producers such as HTC, LG, Samsung, Sony Ericsson or Motorola.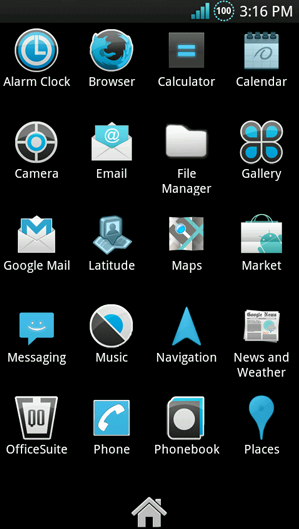 Google Android main menu
Google Android on-line update service
Google Android has its own on-line update service, that provides updates and new versions of operating system to the mobile device, but mobile phone producers often customize Android with their applications or interface and it slows down the tempo of updates and distribution of new operating system versions. Because Google Android is open platform, many users start to distribute their own customized versions of Android for specific mobile devices. This customized ROMs are distributed on the Internet, not through on-line update service. Installation of those ROMs requires specialized update software, that is able to install ROM to the mobile device.
Software Update Tool LR
One of the popular update applications for Android mobile devices is Software Update Tool LR. Software Update Tool LR supports installation of compiled ROM images with file extension BL0 and ROM images in Journalling Flash File System 2 format with file extension JFFS2.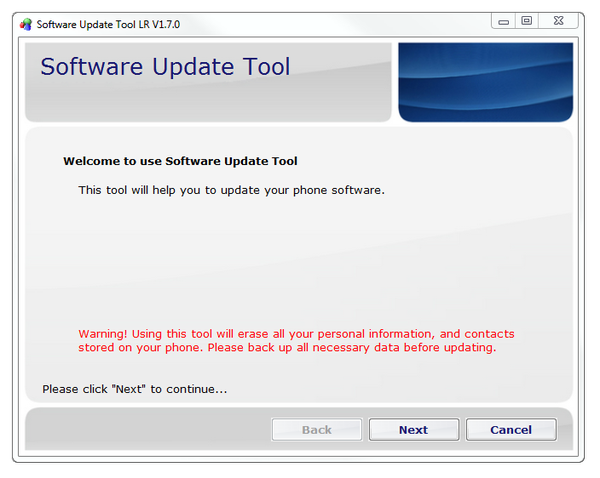 Software Update Tool LR main screen

How to install Android ROM by the Software Update Tool LR?
Installation of new Android ROM to the mobile device by the Software Update Tool LR is quite simple.
Download and install Software Update Tool LR to your computer.

Download the new Android ROM for your mobile device, Software Update Tool LR supports BL0 or JFFS2 ROM image files.

Connect the mobile device via USB cable to the computer in service update mode. This mode is started differently for each mobile device. The instructions how to run Android mobile device in service update mode is for example in instructions guide for it.

Start the Software Update Tool LR and choose button next.

On the next screen locate the NB0 or JFFS2 image file. In update option box choose Erase user data option.

Finally choose option next.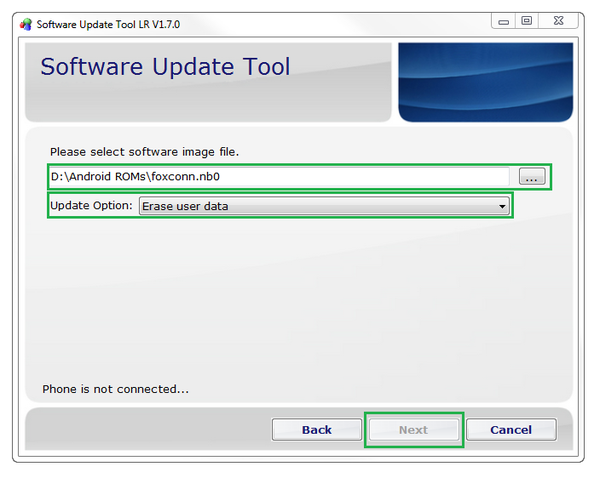 Software Update Tool LR settings window

If is everything all right, Software Update Tool LR will install the new ROM into mobile device. After the installation is finished, the mobile device will reboot and start the new installed Android operating system.
Important notice: Before you perform any ROM installation or customization of the mobile device, back up your important data (contacts, SMS, MMS, e-mail messages, photos) to save location. Installation of Android ROMs outside official Google on-line update channels or mobile producers update channels is not supported and its on your own risk. All modifications you do, are with your own responsibility and we take no responsibility for any possible data loss or damage to the mobile device, should it happen during the installation of an unofficial ROM into your mobile device.