About Adobe Flash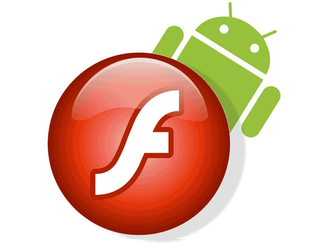 Adobe Flash is a popular multimedia platform for creating animations, interactive web pages or for embedding videos. Adobe Flash works with raster and vector graphics, text, drawings and also with audio and video. Developers of Adobe Flash describe it as Rich Internet Application (RIA).
Because Adobe Flash requires high performance processor or graphic card, at first it was used only on desktop computers and notebooks. Current microchip manufacturers create processors for mobile platforms with such performance that they are capable to work with Adobe Flash.
Adobe Flash is viewed in a web browser through application called Adobe Flash Player, that is developed for Microsoft Windows, Mac OS X and Linux. Recently, Adobe Flash Player for mobile platform Google Android, was developed. However it only supports Android version 2.2 or above, that is downloadable from Android Market.
About Google Android
Google Android is an open platform which most mobile phone developers customize for their Android based smart phones. This causes slower actualization of the Android OS to higher versions and many phones still run older Android 2.1 Eclair, that is not capable of Adobe Flash support.
Experienced Android users, that develop custom modifications for Android, customize Flash Player for Android 2.2 to work with Google Android 2.1 Eclair. This customized Flash Player installation cannot be downloaded from the Android Market, but is available on many Android specialized forums.
The archive is called flash_for_21.zip and contains the flash_for_21.apk file. The APK file extension is used for the native installation archive file format of Android applications.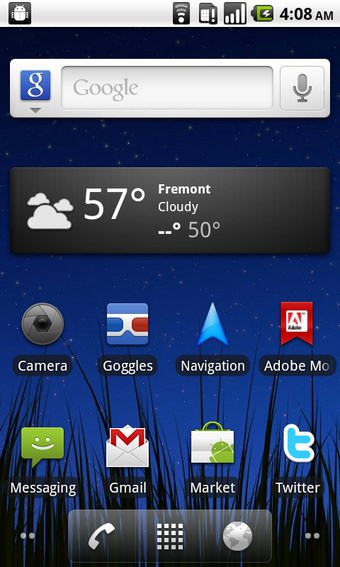 Google Android main screen

How to install Adobe Flash Player to Android phone?
Download the flash_for_21.zip archive and extract the flash_for_21.apk file from it.

Install some file manager, such as the popular Astro file manager, from the Android Market into your mobile phone.

Connect mobile phone via USB cable and choose the Connect the phone to computer option.

Select Settings option in mobile phone menu → choose Application option → check the box with option unknown sources (this option sets application installation from other sources not only from the Android Market).

Copy the flash_for_21.apk to the memory card, stored in your mobile phone (Google Android sets only memory card as Mass Storage Device, internal memory is natively blocked to explore by explorer or file manager in computer).

Disconnect the mobile phone and open Astro. Astro, by default, opens a window, that shows all files stored on memory card.

Choose the flash_for_21.apk file and select Open App Manager option.

Android will open the flash_for_21.apk file and show a window with information about the installation package.

Choose Install option and wait for the installation process to be finished.

Reboot the mobile phone, launch the web browser and open websites with Adobe Flash that you should now be able to see.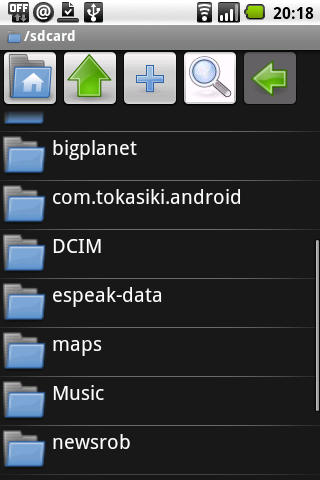 Astro file manager for Android
Important notice: Adobe Flash for 2.1 is not official Adobe Flash Player for Android 2.1. It is NOT supported by Google or Adobe. Some users report malfunction of this plugin, some are satisfied and report full functionality. Function depends on the type of mobile phone and installed Android system core.

Those instructions can be used to install Android applications from other sources without using Android Market, but applications, that are not installed from Android Market are not certified by Google to work properly on Android.
All installations you do via unofficial channels, are on your own responsibility and we take no responsibility for any possible data loss or damage to the mobile device, should it happen during the installation of an unofficial application installations into your mobile device.