About PSD files
A Photoshop graphics, file with the file extension PSD, is a proprietary file type used by Adobe Photoshop. The .pds files contain graphic data and settings for most graphical options available in Adobe Photoshop. Things like pictures and bitmaps, color spaces, spot colors, alpha channels, texts, transparency, ICC profiles, layers and other great features used by the program. Compared to other graphical formats like JPG, GIF or PNG, the PSD format is pretty complex and its not supported by classical Windows software.
How to open PSD files ?
Well the best solution of course is to use Adobe Photoshop, which is part of Adobe Creative suite. But not everyone is willing to buy rather expensive software, only to open and edit couple of images. Below is a quick overview about the most popular and FREE software that can open, edit or convert Photoshop documents.
Free applications able to open files with PSD file extension
IrfanView
IrfanView is a very fast, small, compact and innovative FREEWARE (for non-commercial use) graphic viewer for Windows 9x, ME, NT, 2000, XP, 2003 , 2008, Vista, Windows 7. It has many useful features and is localized in a lot languages. IrfanView is a great tool for viewing the PSD files and converting them to other file formats, it cannot save in PSD file format though.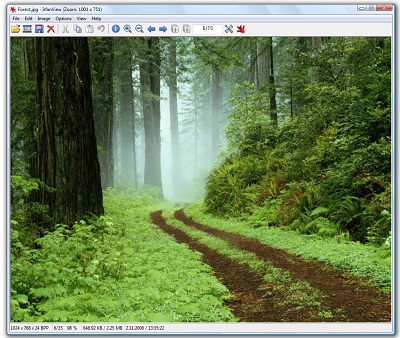 IrfanView screenshot. Click on the image to enlarge it.
GIMP
GIMP is a versatile graphics manipulation package. GIMP is an acronym for GNU Image Manipulation Program. GIMP is freely distributed program for such tasks as photo retouching, image composition and image authoring. It has many useful features and capabilities and can be used as a simple paint program, an expert quality photo retouching program, an online batch processing system, a mass production image renderer, or an image format converter. GIMP is both expandable and extensible. It is designed to be augmented with plug-ins and extensions to do just about anything. The advanced scripting interface allows everything from the simplest task to the most complex image manipulation procedures to be easily scripted. GIMP is written and developed under X11 on UNIX platforms. But basically the same code also runs on MS Windows and Mac OS X.
GIMP supports the PSD file format by default, and is able to open and work with Adobe Photoshop documents.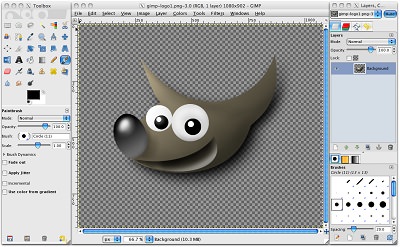 GIMP screenshot. Click on the image to enlarge it.
Paint.NET
Paint.NET is free image and photo editing software for Windows. It features an intuitive and innovative user interface with support for layers, unlimited undo, special effects, and a wide variety of useful and powerful tools. An active and growing online community provides friendly help, tutorials, and plugins.
To work with the PSD file format in Paint.NET you first have to download a proper plug-in, which adds support for that file type. By default Paint.NET is not supporting Photoshop documents.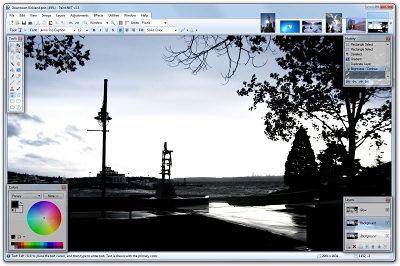 Paint.NET screenshot. Click on the image to enlarge it.
FastStone Image Viewer
FastStone Image Viewer is a fast, stable, user-friendly image browser, converter and editor. It has a nice array of features that include image viewing, management, comparison, red-eye removal, emailing, resizing, cropping, retouching and color adjustments.
FastStone Image viewer can open files with the PSD file extension, but is not able to save in the PSD file format.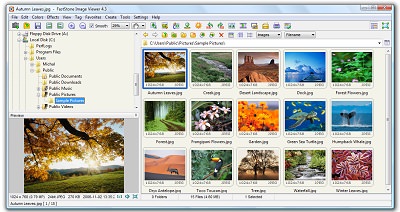 FastStone Image Viewer screenshot. Click on the image to enlarge it.