Apple iOS 7 operating system for iPhone, iPad and iPod Touch was introduced 10th June 2013 on Apple WWDC (Apple Worldwide Developers Conference). Now it is available as pre-release version for developers, whilst it will be release for common users in September 2013.
iOS 7 will have many new functions and improvements as well as completely new design by Sir Jonathan Ive - a chef designer (Senior Vice President of Industrial Design) at Apple, Inc.

iOS 7 compatible models:
iPhone 4
iPhone 4S
iPhone 5
iPad 2
iPad with Retina display
iPad Mini
iPod Touch 5th generation
For installation of IOS 7 before official release you will need an Apple developer account and registered UDID (Universally Device Identifier) number of your device. If you want to know your UDID number → Connect your device to computer → open iTunes → click on your device → on summary tab click on Serial Number and you will see your UDID.
Maintain news and improvements in Apple iOS 7 operating system
Content:
Lock screen
Slide to unlock pull box known from iOS 1 (iPhone 1) was removed. Now you swipe your finger to right everywhere on lock screen. You are also able to swipe down the notification center, or swipe up the new control center.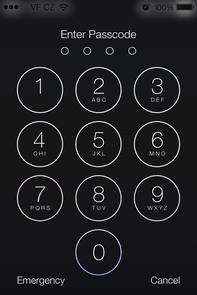 Apple iOS 7 lock screen
Home screen
Standard matrix of icons 4x4 (iPhone 4, 4S) or 4x5 (iPhone 5) is maintained, but icons of main applications are graphically simpler with modern look. iOS 7 contains various new animations and parallax lines for simulation of 3D effects on a display.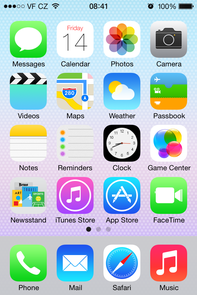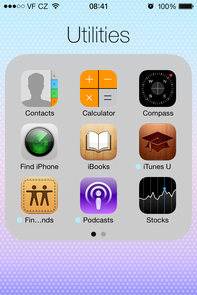 Apple iOS 7 home screen
Notification Center
Notification Center now contains three tabs Today, All, Missed. Today tab can contain information from calendar, reminders, stocks etc. All tab stores information and notifications from apps and Missed tab contains filtered notifications from apps that are waiting for processing.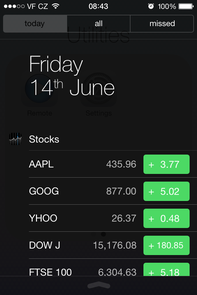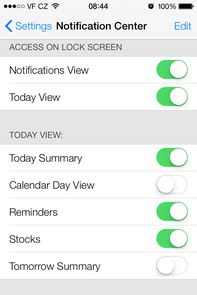 Apple iOS 7 notification center and notification center settings
Control Center
Control Center is new improvement of iOS system. It is used for fast access to common features, like on/off buttons of WiFi, Bluetooth, Airplane mode, Do not disturb, lock screen, display adjustment control, audio player control, AirDrop, AirPlay, flashlight, alarm, calculator and camera.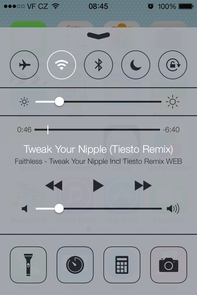 Apple iOS 7 control center
Multitasking
Switching between applications are now visualized as cards with application preview. You'll switch off application by swipe up with a preview card.
Apple also added a new feature for developers, which enables background actualization of information in the app. This feature called Background App Refresh can be enabled, or disabled by user, because background actualization can reduce battery life.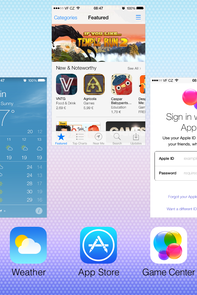 Apple iOS 7 multitasking
Main applications
Main applications like Messages, Calendar, Photos, Notes, Reminders, Music, App Store, iTunes Store are also completely redesigned with various modern graphics elements.
Spotlight search is not on the separate tab of home screen, but it is available after you shortly swipe down by your finger on the home screen.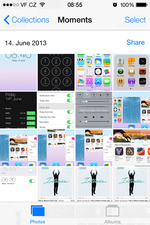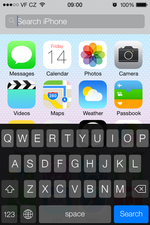 Apple iOS 7 App Store, Music, Album, Spotlight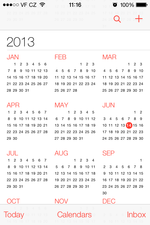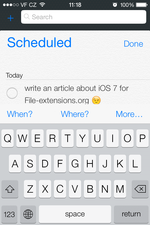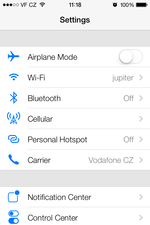 Apple iOS 7 Messages, Calendar, Reminders, Settings
Safari
Safari is also redesigned as other main iOS apps. It contains new smart address bar with suggestions from Google search. Also switching between tabs are faster and more user friendly than the old Safari in iOS 6. It is also associated with iCloud Keychain and Password Generator services.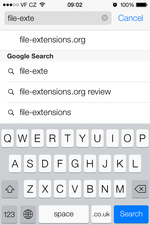 Apple iOS 7 Safari web browser
Camera
Camera app is completely redesigned. You can swipe left or right to change camera modes (Video, Photo, Square, Panorama). Also various photo filters are available and can be used in live preview of photo (only on iPhone 5).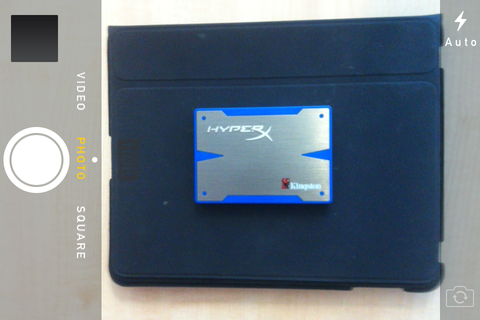 Apple iOS 7 Camera app
iOS in the Car
In iOS 7 compatible car is iOS device able to run the Home Screen and apps on the car multimedia display and you can manage your iOS device with touch on display, or Siri assistant. Apple now cooperating with Honda, Mercedes, Ferrari, BMW, Nissan, Infiniti, Kia, Volvo, Jaguar, Acura, Chevrolet and Opel.


Apple iOS in the Car
Other news in iOS 7
FaceTime contains full audio-only VoIP integration, you can use it for calling from iOS to iOS device.

Keychain is a part of iCloud service that allows users to store and protect passwords, logins, credit card numbers etc.

Password Generator is used to generate passwords for logins and services on the Internet and in the device.

Contacts stored in Blocked list cannot contact you with phone call, SMS, iMessage and FaceTime.

AirDrop is data sharing services known from Mac computers and now is available also for iOS, but only for devices with 5 GHz WiFi support (iPhone 5, iPad).

New keyboard layout, with color adaptation for application environment.

Better cellular data management with restrictions for applications and data counter separately for every application.

Activation lock protects iPhone against wiping by thieves. Without your Apple ID is iOS device only expensive brick.

New Maps features as turn-by-turn walking directions, night mode for maps and maps bookmark syncing.

iTunes Radio is a new feature that create a private radio station from your favorite songs. This private radio can be shared with other iOS users.
As noted in the beginning of the article, Apple iOS 7 is now in beta testing and various features are still not available and will be added, or modified in other testing releases so that everything will be ready for final release in September 2013.