League of Legends replay files (.rofl)
League of Legends is a highly popular online battle arena video game by Riot Games available for Microsoft Windows and macOS. Like many competitive games, it offers native replay function which is great, but on the other hand brings a lot of complications especially for less tech-savvy users.
This article covers the basics about LoL replay and is mainly targeted on players that are new to LoL and have trouble with playing replays, especially older ones.
Contents:
How to replay your own LoL replays
The very first thing you should probably do is to setup the default location which you can do in the Settings ► Replays menu as you can see on the screenshot below.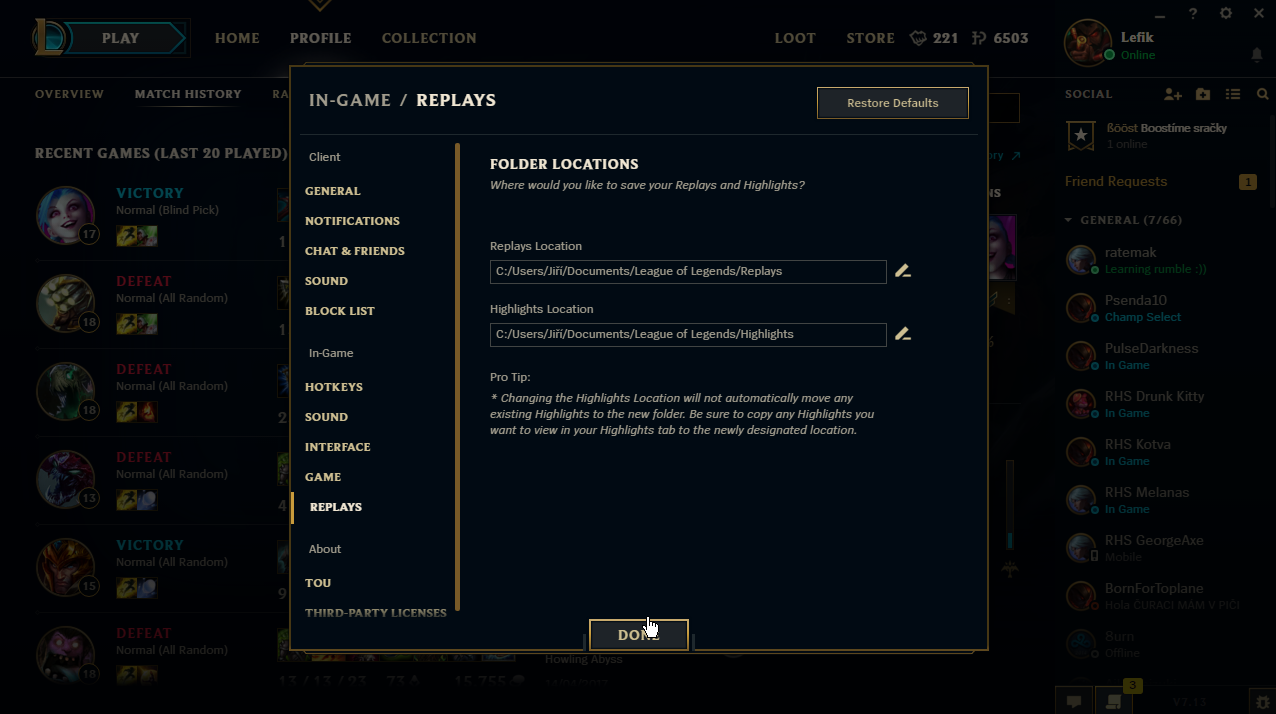 League of Legends in-game settings menu
Once this is set up, you can check out your profile select the Match History menu which will show you your last 20 game replays. You can download the replay from the servers with the small download icon.
However, the annoying limitation is that you can only download replays saved in the last version of your game client, meaning you cannot normally replay matches from build 7.10 if you are already on build 7.11 and later.
All this means there is no way to download replays that expired and they are forever lost unless you have made manual backup earlier.
If you want to manually share replays of some of your spectacular pentakill matches, check the default folder and copy / send the .rofl file via e-mail it to your friends.
Still the game client will only allow you playback of the replay if your game version matches. This leads many people wonder how to watch old lol replays, something we will cover in the last section of this article.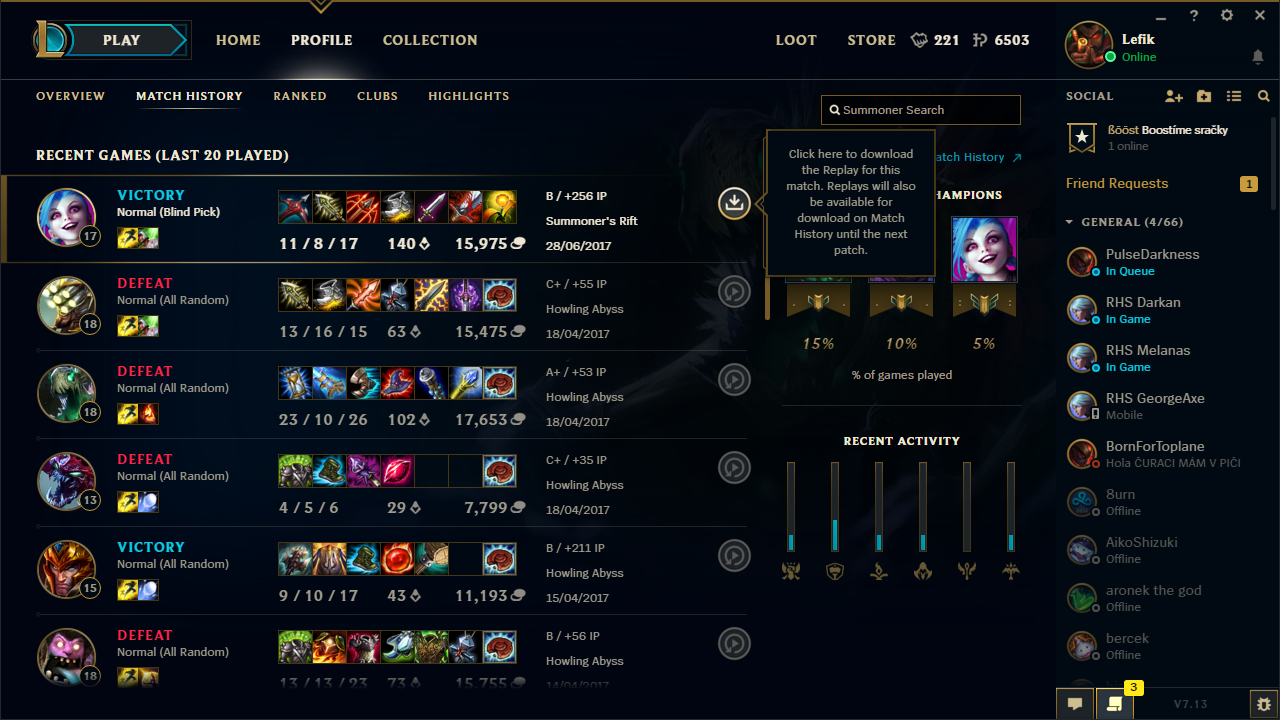 Default Match History menu in LoL client
How to replay shared LoL replays
In case you need to replay .rofl files that were send to you, for example by a friend you can do it easily if you follow these few steps.
Watch LoL replays via drag and drop
1. The very first thing you have to do (if you already did not) is to create desktop shortcut for your LoL client. Locate the releases folder in your game folder, for example:
"C:\Riot Games\League of Legends\RADS\solutions\lol_game_client_sln\releases\0.0.1.180\deploy"
2. Now create a desktop shortcut of the main executable "League of Legends.exe" (right-click on the file ► Send to ► Desktop (create shortcut). and drag it to your desktop. In older versions of Windows you need to drag the new shortcut to the desktop.
Typical location of League of Legends executable

It's best to rename it to something else (like LOL Replays) to distinguish it from the original desktop icon that was placed during the client installation.
3. Once this is done, simply drag and drop the replay on the shortcut icon and the replay should start shortly.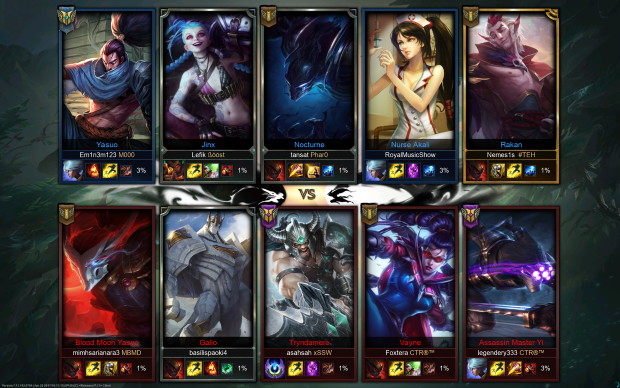 Successful launch of shared LoL replay
Note: This will work only if the replay has same game version as your client. If you encounter any trouble, that particular replay is most likely expired, but many things can go wrong, so you may try alternative approach with customized shortcut for launching LoL replays.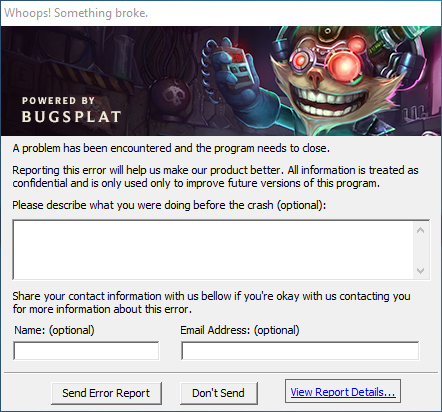 BugSplat error generated
Watch LoL replays using customized shortcut
In case you got a BugSplat error windows, there is an alternative way to launch the replay, but requires manual tweak of the shortcut.


League of Legend Shortcut Properties
When you open the properties of the desktop shortcut for replays, you need to add the exact path to your replay in the Target: Box in the Shortcut tab of the Shortcut Properties window.
The Target: information typically contains "path to executable" and you need to add "path to .rofl file" after it, so you will end with "path to executable" "path to replay" in the box.
For example our test replay is located in "C:\Users\Me\Documents\League of Legends\Replays\EUN1-1566886705.rofl" and thus we had to add this string after the default path to the executable.
And that's it. Now you can just double-click on the shortcut to directly launch the replay. The drawback of this method is that you need to change the shortcut for every replay you want to watch.
How to replay expired LoL replays
The problem many LoL player face is that you cannot easily watch old replays in newer version of the client. A workaround for this exist, but it relies on using old versions of the game client and you will not find every version of the client for download.
The best thing to do at the start is to first discover the version of the .rofl replay you want to playback. Simple open your the .rofl file in any text editor (Windows NotePad will do) and search for the "gameversion" string that covers the version.
Our sample .rofl file is from version 7.13 as yo can see in the highlighted section, so to watch it we would need client of the same version, which is not a problem now (July 2017) but might be a problem in future when a new patch is released.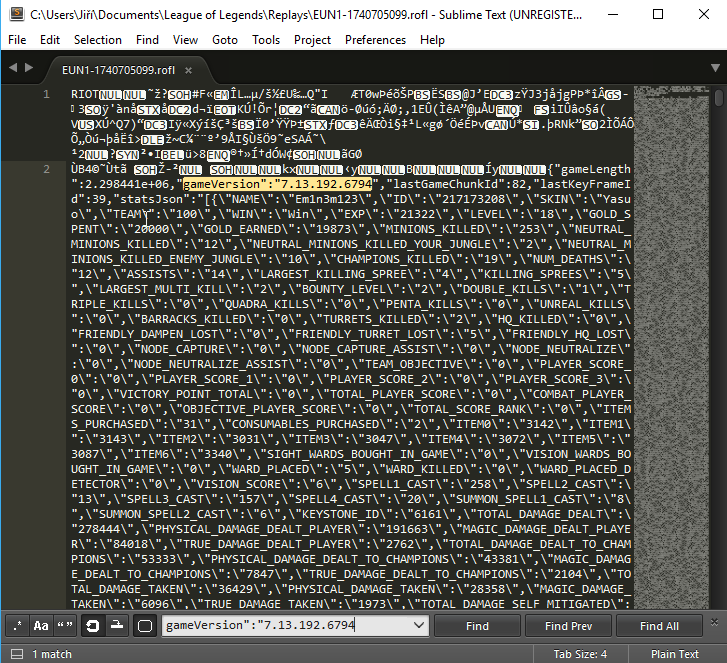 Searching for GameVersion in sample replay
Once you know the version (patch) needed, you need to obtain that particular version. This is usually a bundle with the executable that needs to be replaced in your LoL files, however the main problem lies with the finding of some particular patches.
Great source of patches is found on SkinSpotlights, but for others you will have to search on the Internet, but it might be that some versions can be never found.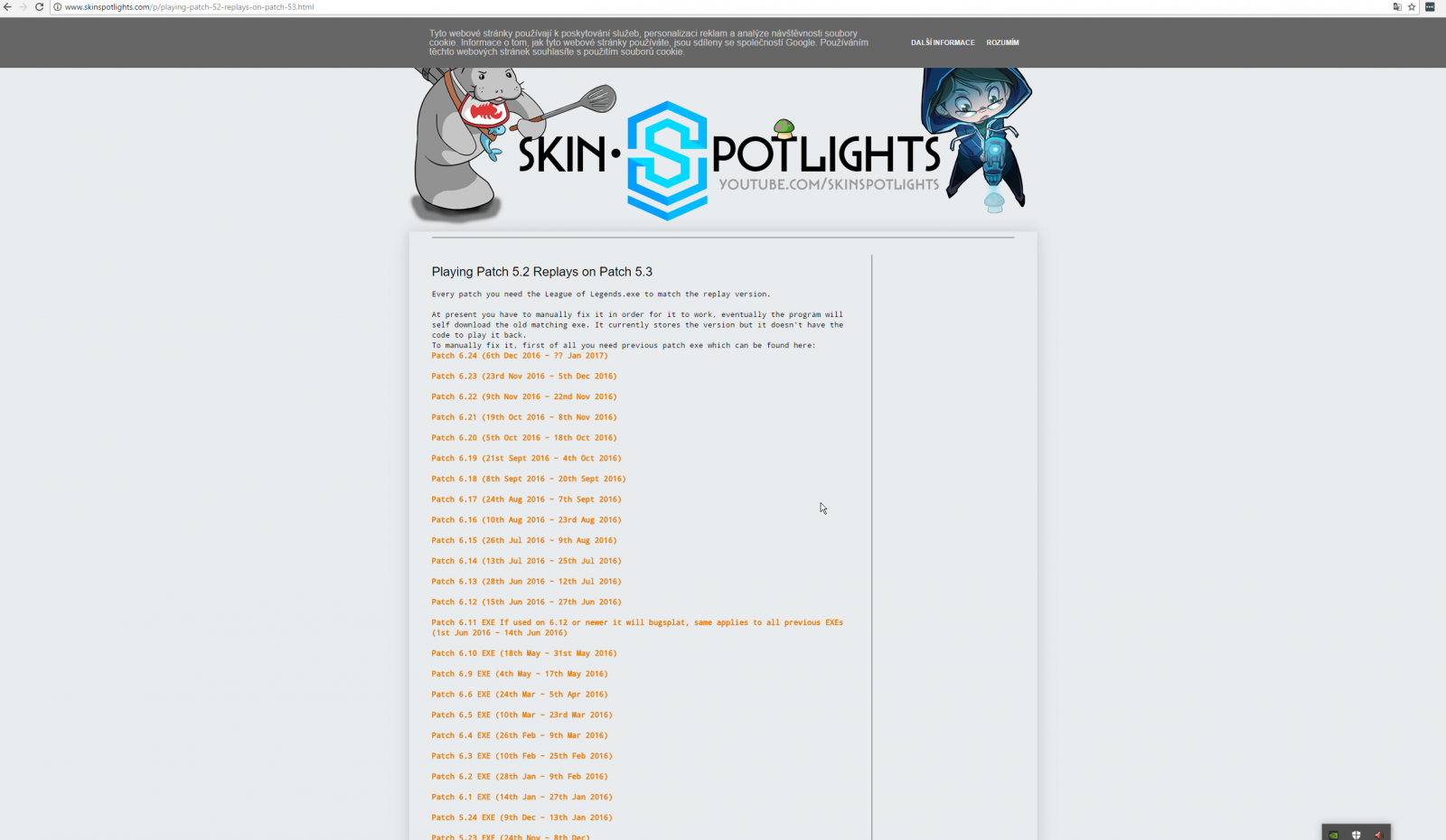 List of LoL patches available on SkinSpotlights website
Never forget to make backup of your client files so you can easily revert all the changes you have made and avoid errors reinstall.
If you know some source with different versions of patches for LoL, please share it with other players in the discussion below.
And that's pretty much everything there is about the replays. Enjoy Leagues of Legends.
One more thing...
In case you already did not, checking out the popular LoLReplay 2 software might be worthwhile, especially if you like watching and sharing replays with your friends.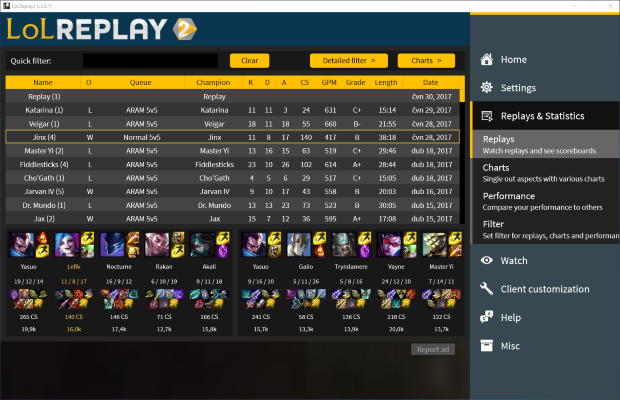 LolReplay 2 screenshot