Apple Mac OS X Lion
Lion is the eighth generation of the Unix-based operating system for Apple Mac computers and servers, called Mac OS X. Lion includes about 250 new features and updates. Many of new Lion's features are similar to functions integrated in the iOS operating system for iPhone, iPad or iPod Touch. Lion was released 20th July 2011 and Apple reported over 1 million downloads on the first day of its release.
Lion is distributed exclusively through Mac App Store. DVD installation mediums will be distributed only with new Macs. In August 2011 Apple will start distribution of the Mac OS X Lion USB installation flash disks. Unlike Microsoft Windows, Mac OS X is distributed in one package with all features of the system.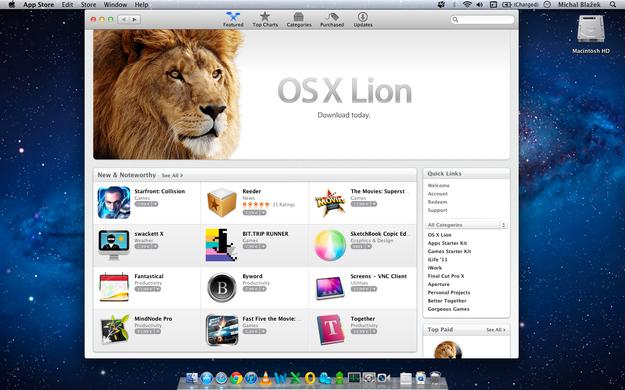 Lion System requirements
Lion installation from the App Store requires Apple Mac computer with Mac OS X 10.6 Snow Leopard installed and Intel Core 2 Duo or higher processor, 2GB RAM and 7GB free hard drive space. Snow Leopard is required because Mac App Store won't work with earlier version of Mac OS X. Users, that have Mac OS X 10.5 Leopard will also need to buy the previous Snow Leopard update.
Lion installation and Lion Recovery
Installation of Lion takes about half an hour. Through the installation process Lion creates a hidden partition for system recovery. Partition contains clean system backup and application called Lion Recovery. Lion Recovery is the one of new features integrated in Lion, that helps users to restore the system. Lion Recovery also contains Safari browser. Safari is useful for contact the Apple support or search for helpful advices on Internet. To run Lion Recovery press and hold Command + R keys during startup.
New features in Lion
Login screen
When Lion boots up, you are welcome by new login screen that is similar to Microsoft Windows 7. In this login screen you can also shut down, restart, or sleep your Mac.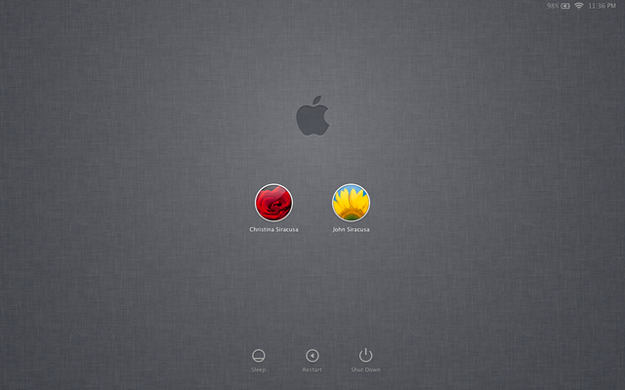 Apple Finder and new window look
Other Lion's new features are visible for example in the Finder. Finder is default file manager in Mac OS since 1984. Finder window has more modern and customized graphics look, than older Mac OS X.
Apple programmers also removed scrollbars, which are now shown only if the user is scrolling like in iOS system. Lion windows can now be resized by dragging on any edge. This function has replaced right down corner of the window, that was only part, where user could customize size of window in older Mac OS.
Finder also gets new improvements. Search now allows multiple search criteria to be specified without creating a smart folder and offers suggestions. Files can be grouped by various attributes. When you copy a file to a directory that also contains a file with the same filename, Finder will give you the option to replace the original file, or keep both files.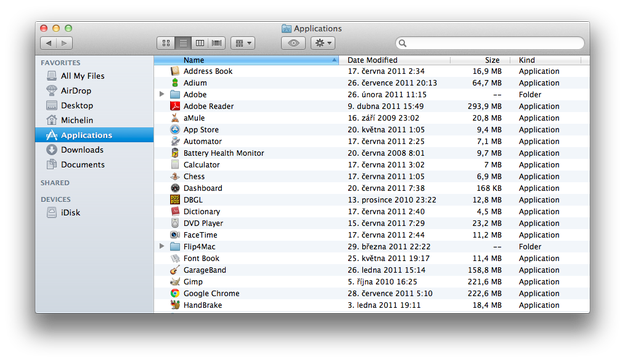 New multi-touch gestures
Long-term Mac users can be little confused because Apple integrated new multi-touch gestures and modified old gestures. New utilities, such as Launchpad and Mission Control, are started with new Lion gestures.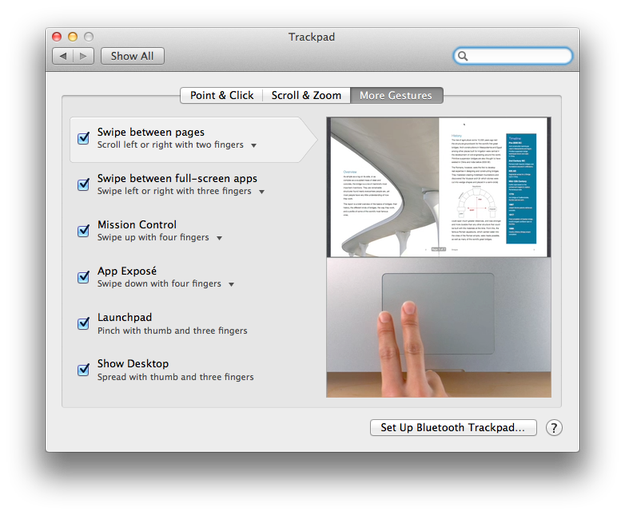 Launchpad
Launchpad gives users instant access to all applications installed on Mac. It is very similar to iPhone's or iPad's applications launch interface.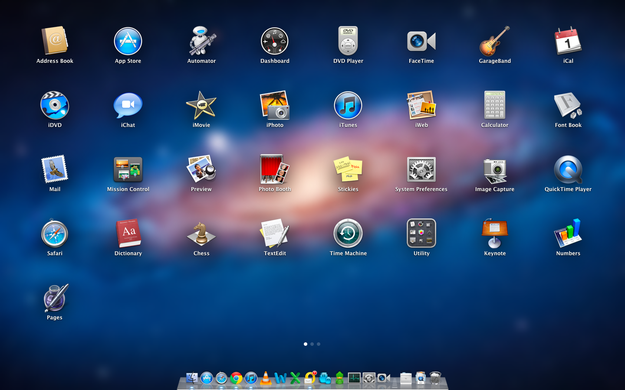 Mission Control
Mission Control replaces the "All windows" Exposé feature. It gives an overview of all running applications just like "All windows" but groups windows from the same application. At the top of the screen it offers quick access to the Dashboard, Spaces, and running full screen applications.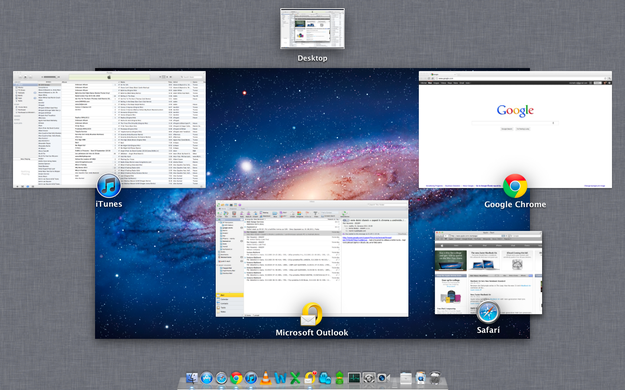 Full screen mode
Apple Mail, Safari, iCal and other applications were updated and gained Full Screen function. Now all supported applications display a new button at the top right of application window. This button will switch applications to full-screen mode from windowed mode. Full-screen mode is more comfortable for work and users can swap between full-screen applications with simple multi-touch gesture.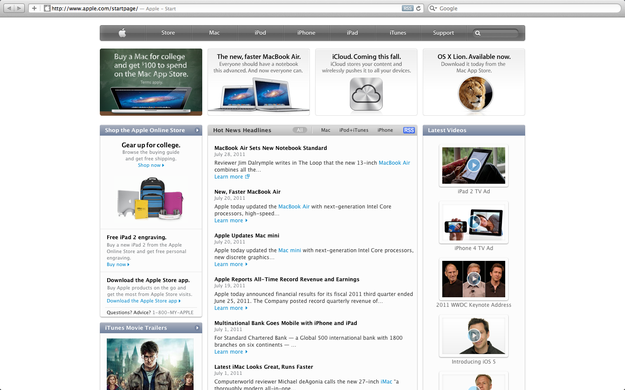 Auto Save and Resume
For better management of documents, Apple integrated useful Auto Save and Resume functions. Auto Save automatically saves unfinished documents and thus freeing users from manual saving. With it you can also easily undo recent changes or you can lock, or duplicate them. Resume function start applications in the same state as they have been closed.
Apple AirDrop
Many users were upset with difficult configuration of the network sharing. Apple AirDrop is comfortable solution for this problem. Users can send files wirelessly to any any other Mac computer around him. AirDrop doesn't require any setup or special settings. AirDrop is basically P2P (peer-to-peer) WiFi connection between participating Mac computers.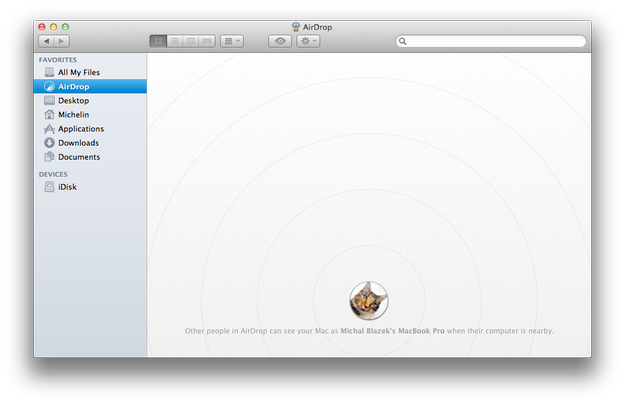 FaceTime
Apple also integrated their FaceTime application. In Snow Leopard, FaceTime is available in the App Store. It enables video calls to other Mac computers, iPad 2, iPhone 4 or the latest iPod touch.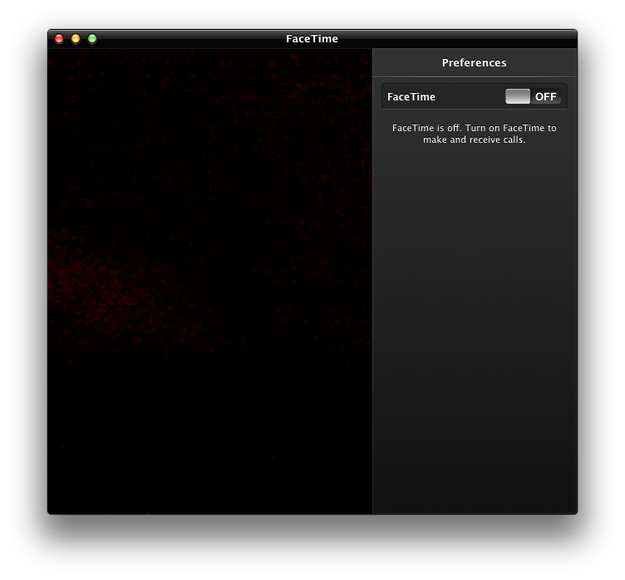 Dropped Features
In addition to new functions and applications some default parts of system were removed from Lion, such as Front Row, Adobe Flash Player, Java Runtime Environment, Rosetta and iSync. Adobe Flash Player and JRE are available to download from developer's websites.
There is one more thing...
Mac OS X Lion has far more changes and new features, but those that we have described above, are the most visible to all common users. Other changes will be appreciated by more advanced users and programmers. Some news are also applied only to optimize the core of operating system.
Some users inform about some overheating problem with the computer after they installed Mac OS X Lion. This problem occurs often when Safari browser is viewing content in Adobe Flash. The bug is probably caused by the Adobe Flash Player, which is not yet fully compatible with Mac OS X Lion. Adobe is going to solve this problem in near updates of Flash Player for Mac OS X.