TIP: How to save a .cdr file in different CorelDRAW version

CorelDRAW is used by many companies and graphic editors and is one of the most popular vector graphics software available on market, because it is easy to learn, somewhat user-friendly and generally not that complicated compared to Adobe programs.
With every new version of the program, new features and functions are added which is all great, until it creates issues and problems when graphics projects (.cdr files) are transferred between different versions of CorelDRAW, most notably from newer format to older version.
This can be easily remedied using the save function in CorelDRAW, but many newer users miss this function and do not even know it exists.
How to open new version .cdr file in older version
The problem with opening .cdr files in older version is one of the most occurring issues for CorelDRAW users. Typically happens when some friend or colleague sends you CDR graphics made in latest version of CorelDRAW, but you are still stuck with the older version.
In case you do not have the means to upgrade (or don't want), the only viable solution would be to ask them to send you the project in a required version.
Unfortunately, no CorelDRAW converter exists, so the only option is to use the program itself to resave CDR graphics to a format used in one of the previous editions..
How to save CorelDRAW graphics between versions
You can easily produce older versions of newer CorelDRAW graphics if you have access to one of the newer (or latest) version of the program, albeit at the cost of some unique functions and features that might have been added and do not exist in the older version. These might include new fonts, graphics effects, macros and other stuff that has been added to a newer version of CorelDRAW.
To create .cdr file in previous format, simply follow these few steps.
Open your .cdr file in (for you) latest version of CorelDRAW
Click on the File ► Save as.. function
Once the Save Drawing dialog appears, select the version you need your graphics to be saved in and just Save the file as you can see on the screenshot below.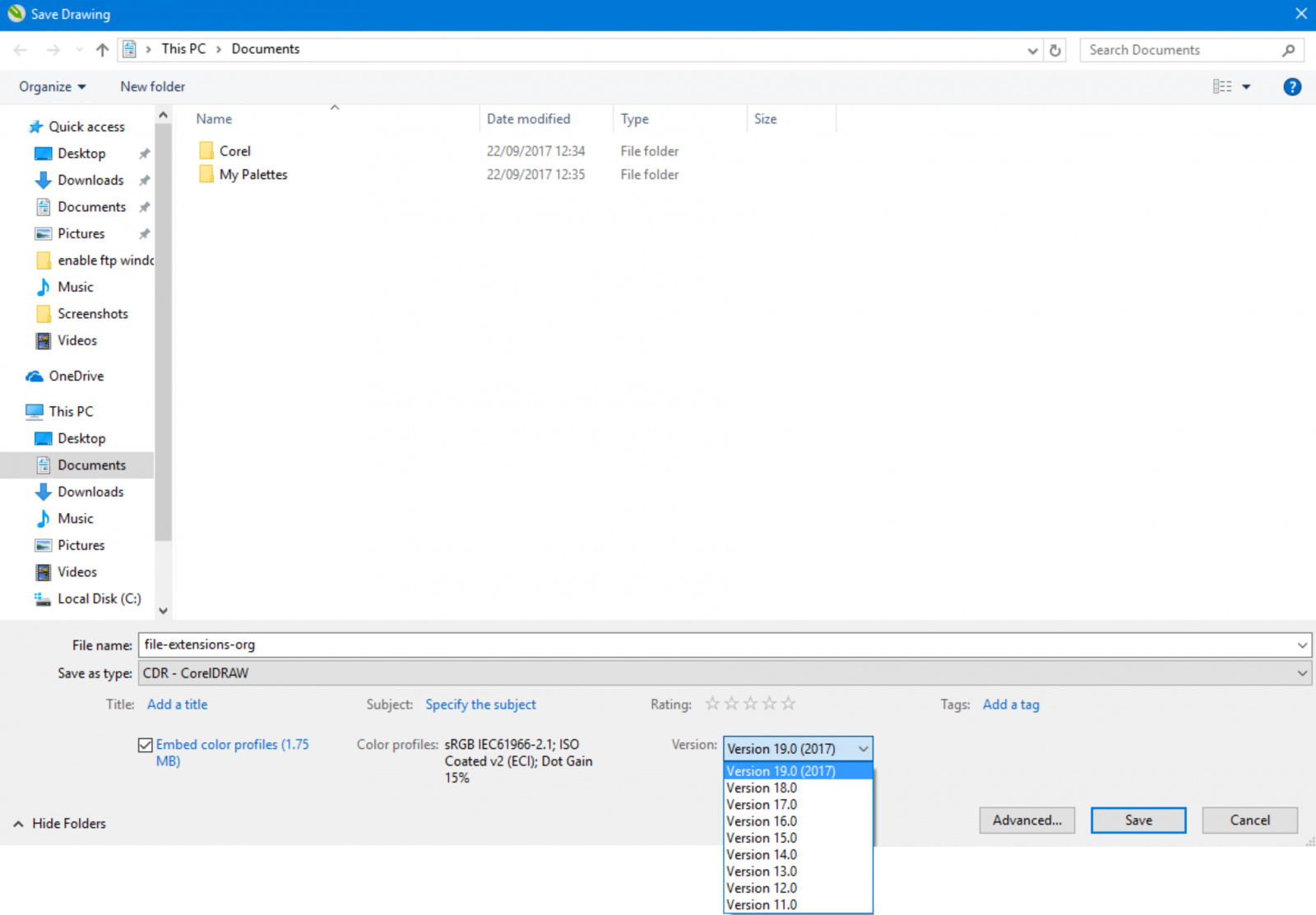 At the time of writing this article, the latest version of CorelDRAW is 19 (x9) and the oldest one supported is version 11. If you need even older version, you will have to use several versions of CorelDRAW and gradually re-save your files to older version until you reach the one you need. The possible feature and effect loss might be tremendous though.
To make sure that the conversion did not change or otherwise alter the graphics, it's usually good to produce a simple PDF copy of the original, so the recipient can compare both version and see if everything is alright.