StarCraft 2 replays
A StarCraft 2 replay (*.sc2replay file) is saved multi-player (or sometimes single-player) match that can be played in the game by third person. It is a very popular way of sharing great multiplayer matches so new players can learn the game and veteran players can just enjoy watching, or analyze strategies of their friends and foes.
At the end of each match, the user has the option to save replay. A *.sc2replay is pretty small so it can be easily shared via internet. It does only contain set of actions done in the match that the game will use to recreate it.
Where to get StarCraft II replays
StarCraft 2 replay sharing is very popular in it's player community there are many sites that allow you the option to download *.sc2replay files. Here is a small list of one of the major ones:
http://www.gamereplays.org/starcraft2
http://www.gosugamers.net/starcraft2/replays
http://www.teamliquid.net/replay
How to replay saved StarCraft II match
If you have never worked with replays or got one from your friend, you might wonder how to open these StarCraft 2 replays. In order to replay the match saved in the *.sc2replay file you have to first copy it to default replay folder. The default path for Windows is:
C:\Users\[USER]\My Documents\StarCraft II\....\Replays\Multiplayer\
For Mac OS X users:
[USER]/Documents/Blizzard/StarCraft II/Accounts/...../Replays/
So just copy your *.sc2replay file there and you can access the replay in the game via the Replay function.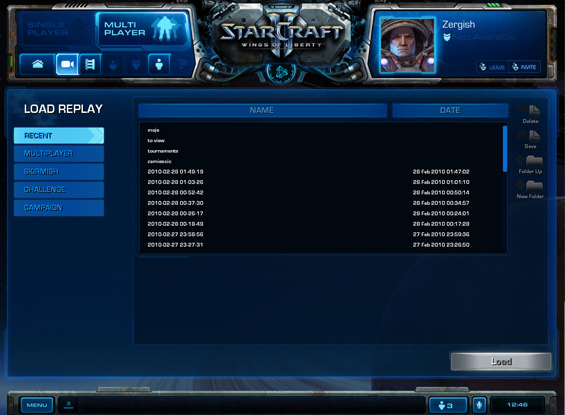 Starcraft 2 replay playback
If you have proper associations set in your system, a simple double-click on a *.sc2replay file can also be used to play the StarCraft 2 replay.
Starcraft II replays compatibility
Replays in StarCraft II are not backwards compatible. That means a replay created in one version of the game cannot be played in another.