ISO disk images

ISO image represents data copy of CD/DVD/Blu-ray optical disc. The name ISO is taken from ISO 9660 file system that originated on CD-ROM discs. ISO images have commonly .iso file extension. This format is supported by various burning applications, optical disc emulators as well as compression utilities.
Many disc utilities and burning applications, like Nero Burning ROM, Alcohol 120%, CDRWIN, PowerISO, MagicISO, Apple Disk Utility use their own proprietary disc image file formats (NRG, MDF, BIN, DAA, UIF, DMG) that can be often opened and burned only in these applications.
However there exist many simple converting tools available on the Internet, which can help you to convert any of these formats to standard ISO image format.
How to convert NRG disc image to ISO
Popular burning utility Nero Burning ROM uses own proprietary disc image format that is identified by file extension NRG. If you have any images stored in Nero image format and don't use Nero Burning ROM, you can use simple converter named NRG2ISO to convert NRG to ISO.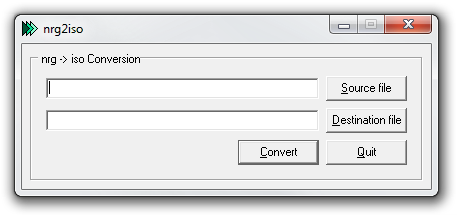 You only have to select the Source NRG file → set Destination file name, click Convert button and wait till the conversion process will be ended.
How to convert MDF disc image to ISO
MDF disc image format is proprietary file format used by commercial burning utility called Alcohol 120%. Alcohol 120% contains many useful features and is used to create exact copies of CD/DVD discs that contain any copy protections. To convert MDF disc image to ISO you can use simple MDF2ISO command line utility.
Run command line → go to the folder where you have stored mdf2iso and type command:
mdf2iso --toc or --cue option \Path\<filename>.mdf \Path\<filename>.iso
TOC or CUE file are important for burning CD/DVD images with copy protection, because they contain special settings to emulate copy protection.
How to convert UIF disc image to ISO
UIF disc image file format is used by disc image manage utility and converter named MagicISO. UIF format is similar to ISO, but it can be compressed by MagicISO internal compression method as well as encrypted and protected by a password.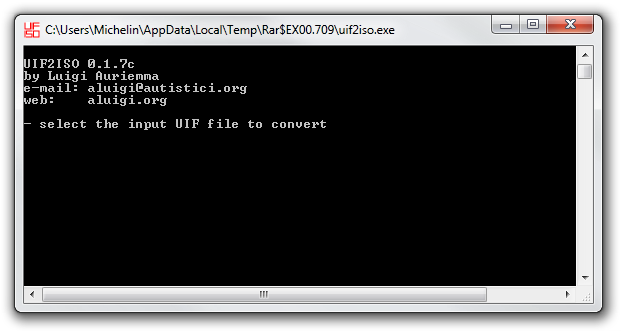 UIF2ISO is s free simple converting wizard that is able to convert UIF to ISO. UIF2ISO navigates you to select source file and name destination file. After these wait until conversion process is finished.
How to convert BIN disc image to ISO
BIN disc image format was introduced with CDRWIN burning software. BIN file format was very popular in first Playstation era, because CDRWIN is able to create backup CD copies of video games for Playstation 1. The BIN format was also popular for distributing disc images through Internet.
A CUE (Cue sheet description) file that is important to burning BIN image on optical media is often distributed along BIN image. However some burning and coversion utilities don't required it.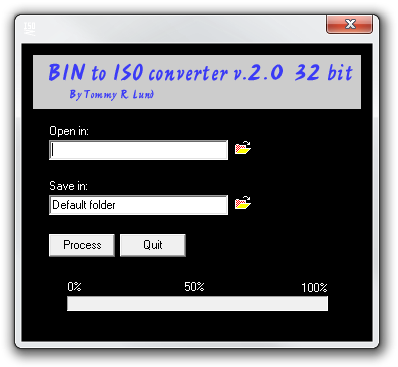 BIN to ISO converter is free easy to use converting utility. You have to only select destination file, click the Process button and wait till the conversion is finished.
How to convert DAA disc image to ISO
The DAA (Direct Access Archive) disk image format is associated with PowerISO disk image managing software. The DAA image archive is z-lib compressed ISO file that can also use password protection and multiple volume splitting.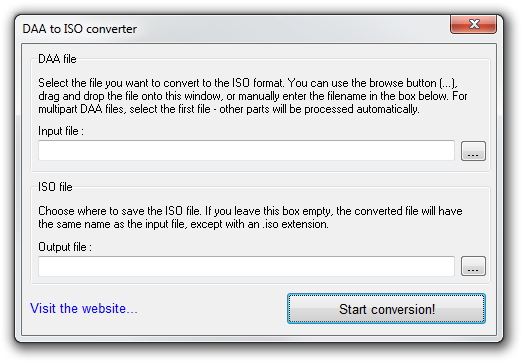 To convert a DAA disk image file to ISO use simple utility named DAA to ISO converter. Simple select a DAA disk image → set name and destination of output ISO disk image and click the Start conversion! button.
How to convert DMG disk image to ISO
DMG image format is native disk image format for Apple Mac OS X. Mac OS X can mount DMG images like other disk connected to system. DMG images are mostly used to distribute applications for Mac.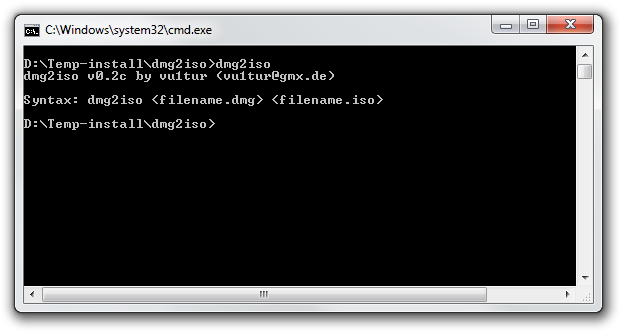 You can use simple command line utility named DMG2ISO to convert DMG disk image to ISO format. Start command line → go to the folder where is stored DMG2ISO and type simple syntax:
dmg2iso \path to file\<filename>.dmg \path to file\<filename>.iso