Today, H.264 is a standard in the field of mobile, internet and HD video. But perhaps its reign is nearing its end, because a new star raises - the highly efficient H.265 HEVC successor video codec.
It looks like the H.265, or HEVC (High Efficiency Video Coding) is going to replace the current family H.264/MPEG-4 Part 10 AVC, which currently dominates virtually all streaming media on the Internet, mobile video and general image in high resolution.
First a little history about H.264
The advent of H.264 was initially quite quiet. The codec has begun its breakthrough with the first Blu-ray discs, and consequently in mobile devices. Apple certainly helped to promote codec, because H.264 was offered in the very first iPhone.
In late 2007 Flash Player finally got the support for H.264 in which until then H.264 and VP6 codecs dominated.
AVC began to creep into home digital cameras and its most typical MP4 video container slowly became the standard on handheld computers. The first smartphones with Android still relied on the older H.263 codec, however as both the performance and quality cameras , nothing could stand in H.264 way.
Today, family of H.264 codecs is used in both movie Blu-rays, as well as by their largest competitors, the Internet video stores.
Compared to its competition, H.264 has one very interesting advantage - even with higher compression (and thus lower bitrate), it offered relatively good image quality. On top of that it has support for high resolution, so thanks to this little codec, 1080p movie trailers and other videos could appear on YouTube. It also meant that online video stores could offer high-quality movies without users needing high-speed internet connection.
The requirements were initially quite high. Encoding and decoding H.264 is computationally very demanding, but soon came much more powerful processors, hardware acceleration and support directly to the chipset that make it much more manageable. Starting with Sandy bridge generation, family Core i3 to i7 from Intel includes hardware codec.
The first step of H.265 development
The development of H.264 was a joint venture of the ITU VCEG and its related groups and ISOC/EIC on behalf of MPEG. Everyone knows MPEG very well, because of the its video technology.
The first version of H.264 was published in 2003, just one year later however, VCEG began to wonder about his successor. Obviously the engineers had incredible insight into the needs of the future. On the peak of multimedia DVD, around the year 2004, they began to think about how will the next generation after H.264 look like and what technology should be developed in following years.
While everyone was crazy about YouTube videos thanks to the ever faster internet connections, engineers were busy designing new algorithms for video that will come in the next decade.
Over time, YouTube began to support the 16:9 aspect ratio, offered first HQ picture and then the HD and especially popularized the new H.264 codec.
H.NGVC is much more efficient than H.264
Working Group ITU meanwhile further developed its original technology and started to call it H.NGVC, ie. Next-Generation Video Coding. Video encoded in NGVC should offer the same subjective image quality as H.264 but at half the bitrate. Internet YouTube video encoded in H.264 with a bitrate of 1 Mbit/s, should therefore work with NGVC codec at at 0.5 Mb/s data stream bitrate.
This certainly represents an enormous saving potential not only capacities and good information not only for internet streaming services, but also for Internet service providers. For example Cisco is going to use the new H.265 codec in its new range of corporate teleconferencing products.
NGVC however, is not a miracle technology from space. Sure, it uses a new and better algorithms and a plethora of internal tools to image and analyze variously compressed, thus achieving the high transmission efficiency, but on the other hand, the greater is the computational burden especially when encoding.
Depending the complexity and compression profile used, the NGVC should achieve computational load half to three times when using H.264.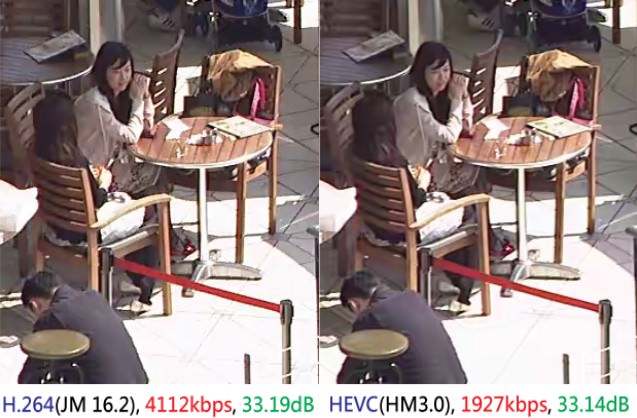 H.264 vs. H.265 comparison

And finally H.265 HEVC
A similar plan was also devised by the MPEG group and so in 2010 the best engineers of both parties put their heads together and finally agreed to synchronously develop the H.265 HEVC standard. In summer 2012 , the two groups agreed on a final rough draft and standardization officials promised that the first H.265 compatible devices will appear on the market in 2013.
Such early introduction on the market would be nothing unusual. Just remember the Wi-Fi 802.11 N standard. When the first wireless routers with its support appeared on the market, it was also formally only a draft standard. And when the bureaucratic approval process was finally completed, none cared about it, because the N standard already dominated the wireless internet.
After last year's "draft", on 25 January 2013 HEVC finally received standardization in ITU and MPEG group representing ISO / IEC him moved to the stage of "Final Draft". This procedure means that the new video format and devices that support it around the corner.
We are still not there yet
Qualcomm, the producer of the Snapdragon chipset, did already show HEVC codec in action at last year's mobile congress in Barcelona and so it surely has something in its sleeves for this year. Mainstream adoption of technology from paper to real devices will still take some time.
There are several reasons for this. HEVC is still in its infancy, therefore it still does not support some of technological expansions as H.264. It also lacks practical experience, so it will be interesting to watch how the major players in internet service business led by YouTube will react.
And this can be a problem, because Google is trying to promote his own VP8/WebM codec and attempts to a create a free standard for internet video. If you are using Chrome web browser with HTML5 active and visit Youtube, you will be using VP8 video.
Another potential competitor for HEVC is of course the free OGG / Theora, which is has absolutely negligible market share and technologically is inferior to its competition. It is however advocated by few web browsers. including Firefox.
A competitive free codec and container project from Google does have many contributors, but still has lower quality than H.264, especially at higher resolutions. Beating the upcoming H.265 will be even harder. The biggest competitor thus will be the existing H.264, because on the field of video codecs it is widespread much like Windows on personal computers. It is also supported by all mobile platform that use it as the underlying technology for video recording. On top of that, it is a standard in the field of HD video, whenever it is on optical Blu-ray disc, or even digital satellite and terrestrial broadcasting.
The replacement of H.264 AVC for the more economical H-265 HEVC may therefore take a little longer and be more gradual. However, if everything goes well, you will one day notice that the delay in loading video is much shorter and the video quality and coloring much better. All this with support for up to 8k UHD video with a resolution of 8192 x 4320 pixels.
H.264 is dead, long live H.265.
Source: wikipedia.org, zive.cz