Do you have your GPS routes in Google Earth's KML file format? Do you need to convert them to common GPS eXchange Format (GPX) for your new GPS Navigation software? No problem at all, we can show you how.
GPSBabel
There is nothing more simpler than to use the great and free software for GPS format conversions known as GPSBabel, that is available for Windows, Linux and Mac OS X platforms.
With this software, you can easily convert your KML files to GPX file format. Simply download the application from their website and install it.
After you launch it, simply choose the input format as Google Earth (Keyhole) Markup Language (that are the files with the KML file extension) and browse to your files. Then select the output format GPX XML (GPX file extension) and name your new files. Customize the Translation Options as you need and perhaps tweak other Options if you need.
Then just Apply, and you should have your .kml files converted to .gpx files, ready to be used in your new device.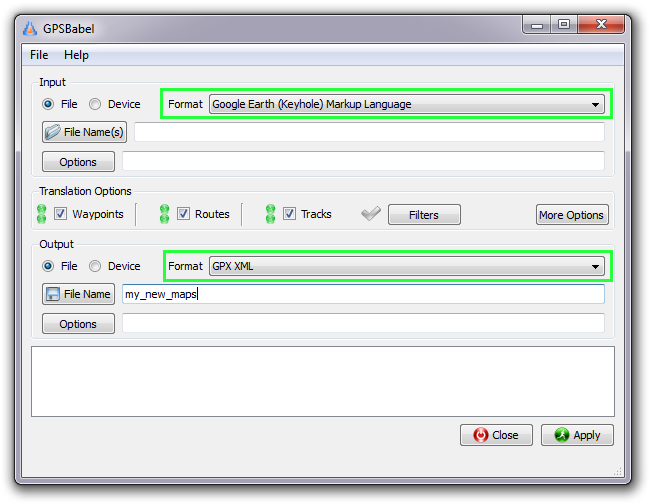 GPSBabel screenshot

GPS Visualizer
Another option is to use a free web utility known as GPS Visualizer to convert your .kml files to the .gpx files.
GPS Visualizer is capable of many conversions directly online, much like some software convertor. Just select your input files (in this case Google Earth's KML) and output format (GPX) with your preferred settings and GPS Visualizer will generate the files for you.