About WhatsApp an​d crypt files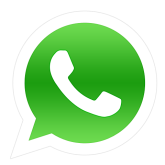 WhatsApp is a hugely successful instant messaging service with over 1 billion users. It is available on all mobile platforms and handles over 55 billions messages each day.
The thing that bothers many of WhatsApp users is the ever changing format for storing chat history. These files could be originally found with the file extension CRYPT (and later CRYPT5, CRYPT7 etc), but eventually with each newer WhatsApp version, the extension was changed first to CRYPT12.
This periodical changing of CRYPT extensions created various problems for users, in the form of accessing older CRYPT chat history backups, when you are looking for something some of your friends wrote you, or eve restoring older CRYPT backups. All in all, a function that probably was developed to protect the user and his data, can be really annoying at the same time.
One of the most searched conversions on our website are those that try to convert CRYPT12 files to the original CRYPT, or to something else that can be easily viewed by users, like TXT, DOC or HTML format.
For this case we have decided to show you, how you can convert CRYPT12 to CRYPT on Android smartphones, because after that it's just a simple step to view your old WhatsApp chat history.
Converting CRYPT12 files to CRYPT on Android
WhatsApp for Android stores its messaging history in an encrypted SQLite database with one of the many CRYPT extensions depending on the version of the app at the time when the file was saved. These are then stored on the SD card.
At first, there were some programs that could easily view or extract the contents of the original CRYPT files, but with each additional version, the encryption algorithm was changes and programs that used to work, simply didn't work unless the developer updated them.
The basic idea is to convert the latest CRYPT12 files to the original CRYPT, which then can work with the viewers that still work with it.
The premise for this is that your Android phone is rooted. Without this, it is not possible and you do not need to read any further because you won't be able to perform any of the newer CRYPT conversions.
Almost every Android device has an unique procedure how to get root permissions. Many these procedures are described on the popular xda-developers forums.
Be careful, the rooting process can corrupt your device and rooted devices also lose warranty from their manufacturers!
Using WhatsApp Tri-Crypt utility to transform WhatsApp CRYPT databases
The WhatsApp Tri-Crypt is a small utility for Android that allows you to decrypt, or recrypt WhatsApp databases. The last version also supports the previously used CRYPT8, CRYPT7 and CRYPT6 databases, but if you need to enable this feature you will need to ROOT your Android device.
WhatsApp Tri-Crypt is available to download on official Google Play store. Download it to your phone and click on application icon.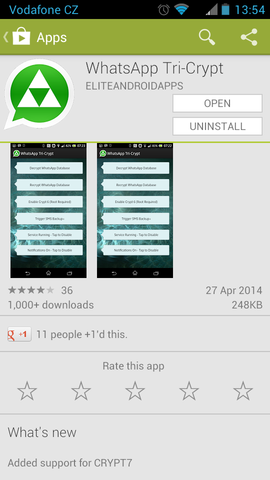 WhatsApp Tri-Crypt on Google Play Store
After you launch the app, you can see that there are several options on a main screen used for different purposes. If you have an older version of WhatsApp that uses original CRYPT, or any later (but now old) formats, simply click on Decrypt WhatsApp Database.
If you have newer version of WhatsApp with you will need to first lick on Enable Crypt (Root Required) function and only after that you can use the Decrypt WhatsApp Database button.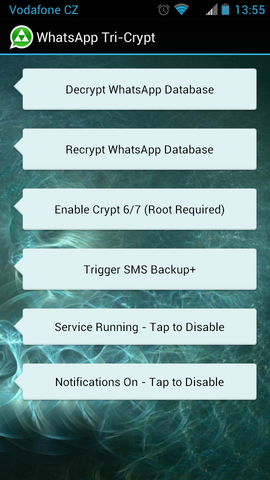 WhatsApp Tri-Crypt on Android
If you are no sure, which version of CRYPT format your WhatsApp messenger uses, open any file manager (Root Explorer, Astro File Manager, etc.) and navigate to "sdcard/WhatsApp/Databases" where you can see files with one of the WhatsApp extension, with the latest being crypt12.
Typically, WhatsApp chat databases look like something this:
msgstore-YYY-MM-DD-N.db.crypt12 - backup database
msgstore.db.crypt12 - main database
The purpose of the WhatsApp Tri-Crypt tool is to for example convert CRYPT12 to CRYPT, so on the SD card can then be found both the msgtstore.db.crypt12 and the converted msgstore.db.crypt file.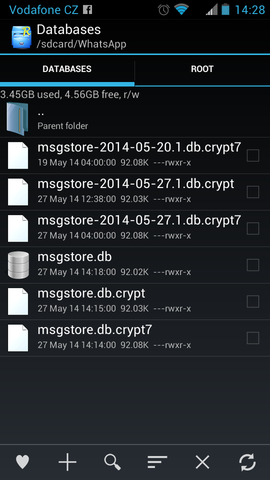 Old WhatsApp msg backups on SD card
WhatsApp Tri-Crypt also contains two other interesting features worth noting:

It is able to automatically convert on-fly every newly created CRYPT12 database backup (msgstore-YYY-MM-DD-N.db.crypt12) to CRYPT file. When desired, this function might be disabled with the Service Running - Tap to Disable button.

It can also Trigger SMS Backup+ popular SMS backup utility and enable it to backup WhatsApp messages to your Google account from newer CRYPT formats.
Converting CRYPT files to something else
Now you can transport msgstore.db.crypt file to your computer and view it using any applications, like Whatsapp Xtract, or in web service like WhatCrypt Tools, that work fine with old CRYPT files.
Personally, WhatCrypt Tools are probably better and more easier choices, because with the Decrypt WhatsApp Database function it's just upload a CRYPT and download a decrypted ZIP. So a great choice for CRYPT to ZIP conversion.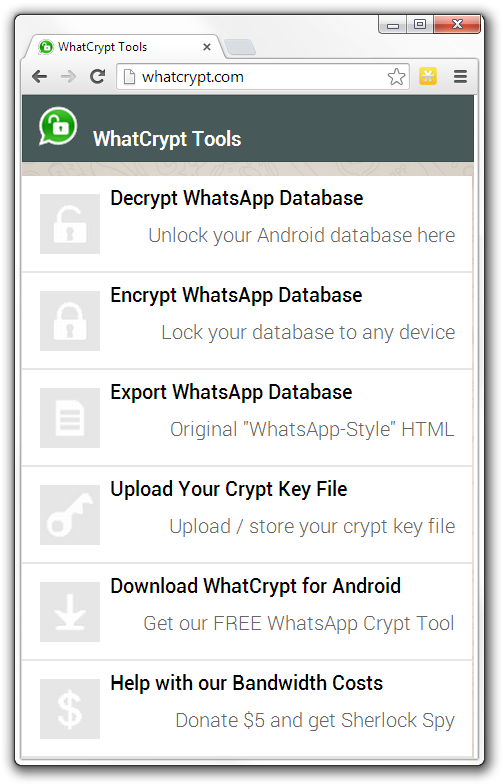 WhatCrypt Tools screenshot
Inside these ZIP files, you can find one or more HTML files, one for each conversation. So if you chat with 10 people, there will be 10 HTML files. There are also some CSS files and other files, so when you open these .html files in a web browser, it will look much like WhatsApp.
With these HTMLs you can do many things, convert them to plain TXT, Microsoft Word DOC etc. depending on what you need. But if you just looking for some texts, opening the HTML in a web browser works just fine.
And that's it. We hope it was not too much cryptic for you...
Update 01/2022
The latest version of WhatsApp crypt files is currently crypt15. Much of what has been written here years ago still apply, but some utilities might not support latest file types. You can always try to rename them to crypt12 and see if that works thought.