There is plenty of games or themes available for BlackBerry users on Internet. They are usually in Java JAD or JAR format. But not every BlackBerry user is using the BlackBerry Internet Service and often wonder how to install those custom themes or games into their Blackberries without it. In this little guide we can show you, how to install the apps you have found on the internet in JAD or JAR file format without the data plan. If you have Internet available in your BlackBerry you can skip those steps and install those files directly from your smart phone browser.
What do I need to install the apps (JAD/JAD) files in my BlackBerry?
Here is a list of things you will need to successfully install your themes or games in JAD/JAR format into your BlackBerry:
PC or Mac with internet access
Link to the website where the game/theme in JAD/JAR format is located
OTA Downloader Software
USB cable to connect your PC/Mac to your Blackberry device
How to install JAD file in BlackBerry?
Download, install and launch the OTA Downloader
Open your web browser and find the website with the OTA link for the game or theme in JAD format
Right click on the link and select Copy shortcut from the menu
Switch to the OTA Downloader and paste the copied link
Click on Download in the OTA Downloader
Once the download is finished, search for the file you have just downloaded
Right click on the folder and select Copy
Connect your BlackBerry device to your computer and enable the Mass Storage Mode
Open My Computer and open your media card memory disk, usually labeled as Removable and Paste the folder
Disconnect your BlackBerry from the computer
In your smart phone go to Media → Explore and locate the folder you have just copied from your computer
When you open the folder, you will see a number of *.COD files and one single *.JAD file.
Click on the *.JAD file and select Install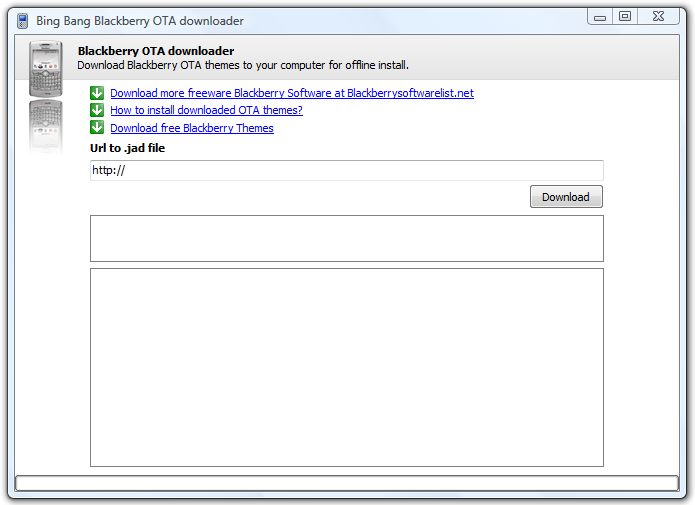 OTA Downloader screenshot.
How to install JAR file in Blackberry?
Download the JAR file to your computer
Browse and locate the JAR file and right click on it and select Copy
Connect your BlackBerry device to your computer and enable the Mass Storage Mode
Open My Computer and open your media card memory disk, usually labeled as Removable and Paste the JAR file
Disconnect your BlackBerry from the computer
In your smart phone go to Media → Explore and locate the JAR file you have just copied from your computer
Click on the *.JAR file and select Install