Why to move the pagefile.sys?
Most users using an SSD disk for system partition usually want to move the windows page file to some other physical drive.
This is because the system constantly reading from and writing to pagefile.sys and the process unnecessary wears out SSD drive drives.
You can easily change the location of Windows page file or even disable pagefile.sys completely using Windows Control Panels.
The best location for your pagefile.sys is on another physical drive to distribute the load. Another partition of the same physical drive won't have positive effect on performance and it would also reduce the wearing of SSD drive so it's not a viable option.
What is pagefile.sys?
Windows page file, in form of pagefile.sys, is basically dedicated storage for system, where it can move portion (page) of computer RAM, should there be not enough free memory available to seamlessly run currently used applications.
For example if you are playing some computer game and at the same time have web browser running, the system will move some of web browsers memory load to page file, so your game has access to more free RAM. That's why changing back to browser would take a little longer.
Where is pagefile.sys located?
The default location of the pagefile.sys file is in root of your system partition. Keep in mind that pagefile.sys is considered a system file, and thus is hidden in Windows by default.
To see it, you have to go to Control Panel → Folder Options and uncheck the box next to "Hide protected operating system files (Recommended)" option.
Folder settings with visible system files and pagefile.sys located in root of C: partition. Click on the screenshots to enlarge them.
How to change pagefile.sys settings?
You can find the page file settings in Control Panel → System → Advanced System settings.
In the Advanced tab under Performance click on Setting... and in another Advanced tab under Virtual Memory click on Change... button, which will finally launch Virtual Memory Setting window.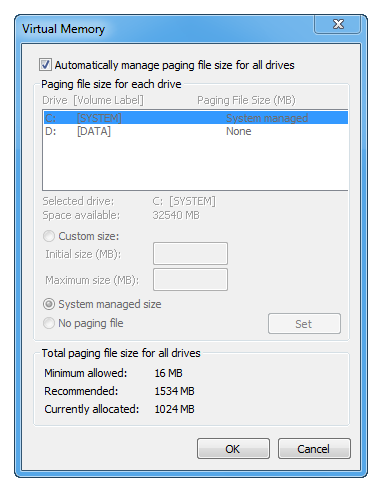 Example of default Virtual Memory settings.
The control panel is exactly the same since Windows 95 and it even remains the in the later Windows 8 and Windows 10 version. It may just have slightly upgraded graphics.
Changing the default location of pagefile.sys
To change the location of you pagefile.sys we have to first disable it on its default location.
1. Uncheck the box next to "Automatically manage paging file size for all drivers".
2. Select "No paging file" for C: partition.
3. And click on the "Set" button.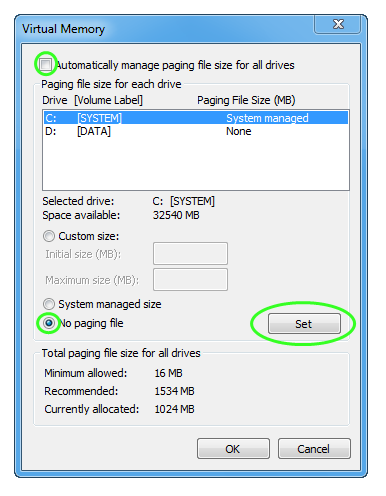 4. A warning window will prompt you to confirm your changes, so click on "Yes".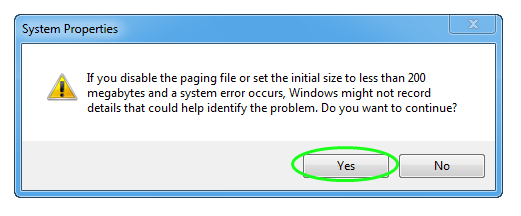 Now its time to change the location of pagefile.sys to another partition.
5. Select another partition you want your pagefile.sys file to be located in.
6. Select "Custom Size:"
7. Define minimum and maximum size of the future pagefile.sys in their respective boxes
8. Click on "Set"
9. Click on "OK"
10. A final information window will appear that you just confirm with pressing on "OK" and afterward restart your computer.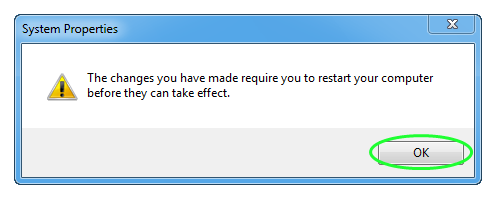 After your computer is restarted, you can re-check if everything is in order and saved properly.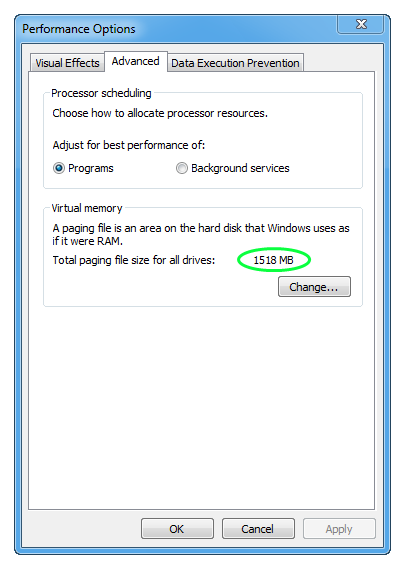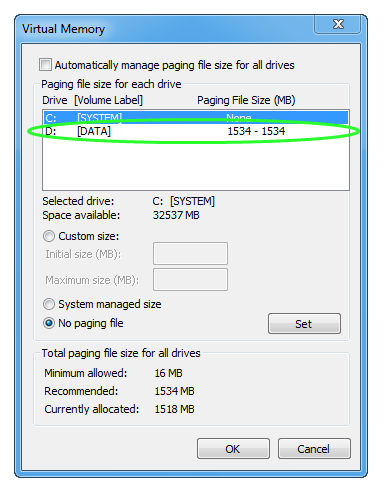 You should also be able to see pagefile.sys moved to another partition.
You can always revert all changes by simply checking again the box next to "Automatically manage paging file size for all drivers".
What's the ideal size of pagefile.sys?
The ideal size of paging file is often discussed in tech forums. If you have plenty of onboard RAM installed (let's say 4-8 GB), pagefile.sys of 1-2 GB size should be enough for most common tasks.
You can never go wrong with the Recommended value, but for high end machines, it can be sometimes waste of disk space.
How to disable pagefile.sys?
You can disable page file by simply turning it off in Virtual memory control panel (steps 1 to 4). There is much controversy about this issue and it is widely discussed in various Windows tech forums. If you have plenty of RAM installed in your system and do not run any high memory demanding applications, you can probably "safely" disable it. However, most IT experts do not advise it as it can occasionally lead to system instability and crash. The safest compromise probably is to just manually reduce the size of page file to minimum like 256 or 512 MB, but not completely turning it off.
Can i delete pagefile.sys?
You can permanently delete page.sys file only if you have turned your Windows Virtualization off (see previous point). When Virtualization is active, the system will recreate the pagefile.sys after each reboot. Also active pagefile.sys file cannot be deleted.