Introduction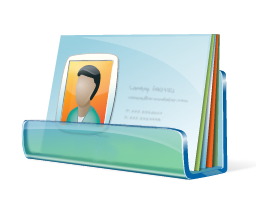 vCard (VCF file extension) is the common standard for electronic business cards as well as simple personal contacts.
Nowadays, it is supported and used in most (if not all) operating systems as well as mobile devices. Windows, Mac, Android, iOS and other use in one or other way format for contacts.
And even those vendors that use their own proprietary format for storing contacts, always offer the option to simple export it to vCard format. This helps users to seamlessly migrate from one vendor to another, or from one program to another and keep their precious contacts intact.
Contents:
About vCard formats
VCF format is basically a specially formatted text file. You can view it with any text editor (such as Windows Notepad) and read the information yourself. There are several versions of this format, with the most common and simple being the version 2.1. The later versions 3.0 and 4.0 contain more data and support more features.
If you are interested, you can find more information about vCard formats on its Wikipedia Entry.
How to open VCF format
Opening vCards in Windows
In Windows operating system, vcf file extension is associated by default with Windows Contacts program. Double-clicking on a vCard file open a properties windows that lets users view the card with option to add it.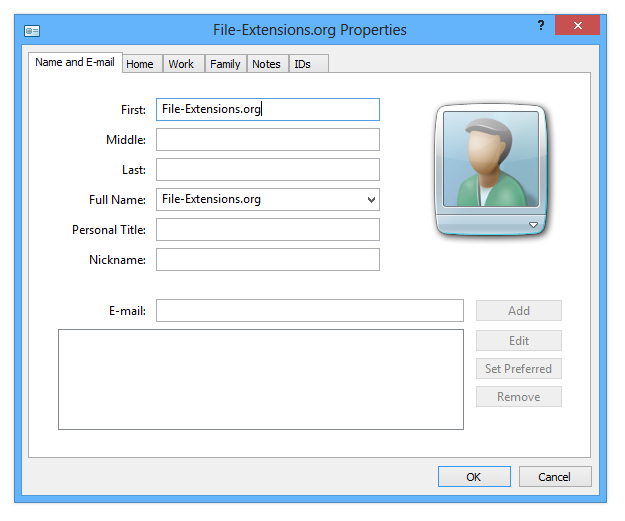 vCard sample in Windows Contacts.
Even in Windows 10 and 8, there are still problems when opening multi-contacts vCard, much like they were in previous versions.
When you open one such file, all of the contacts will be launched one by one after each, so if you are unlucky and open one with 200+ entries you would have to press two hundred times on cancel button...
That's why most programs for Windows that deal with contacts, usually export your contacts into multiple .vcf files, exactly to prevent this.
If you have Microsoft Outlook installed (part of Microsoft Office suite), the VCF format is automatically associated with the program. So opening a .vcf file opens Outlook and imports the contact directly to your contacts. Much like Windows Contacts, Outlook is unable to properly import VCF file that contains multiple vCards.
Opening vCards in Mac OS X
When you double click on a vCard file in Finder, you will be asked whenever you want to add contacts to your Contacts (Address Book). Compared to Windows, Mac OS X has no trouble with multi-contact VCF files.
If some entries were corrupted or could not be imported, you will see "there were problems importing." message as you can see on the screenshot below. That happens when an entry is invalid, missing some key data, or not valid for the importing purposes.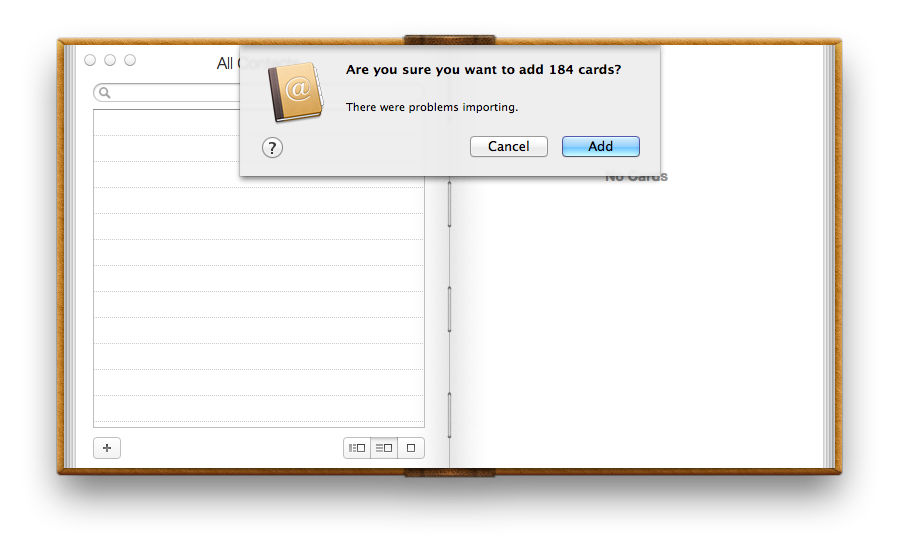 VCF contacts imported to Mac OS X Contacts (Address Book).

How to split or merge VCF format
Splitting one multi-contact .vcf file into individual vCard files
There are programs or devices that do not accept multi-contact vCard files, or only read the first contact. In these cases you have to split your single big VCF file into multiple VCF files ( one vCard file per contact). Luckily, this can be done very easily with a freeware program called VCF Cutter.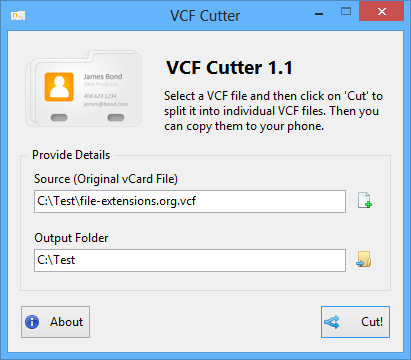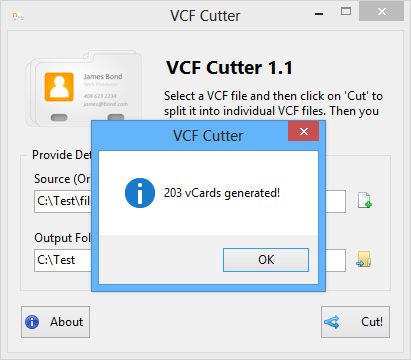 Splitting one big vCard into 203 individual files using VCF Cutter freeware utility.
As you can see on the screenshot below, 203 individual files were saved in the output folder.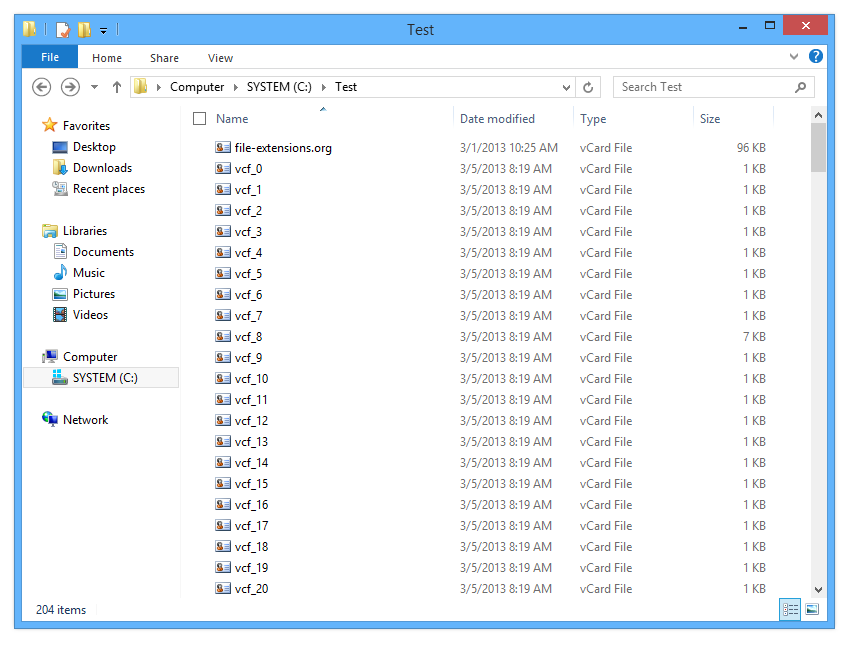 Individual vCards saved in the output folder.
The Address Book on Mac OS X can read VCF files with multiple vCard, so there is no most likely no reason for you to split it if you are on Apple Platform.
Combining multiple .vcf files into single big vCard file
Some programs accept vCard only one each at time, so importing hundreds of them can be pretty tedious work. If the device or application supports reading multiple vCards from a .vcf file however, you can merge all of your VCF files to single one and save you hundreds of clicks.
This can be done in a similar manner on both Windows and Mac OS X / Linux platform. First make sure, all your *.vcf files are copied to a single folder.
Combining VCF files in Windows
Launch the command line in Windows, navigate to the folder with your contacts and type the following command: copy *.vcf contacts.vcf. This will create a single big contacts.vcf file that contains all of your vCards from the folder.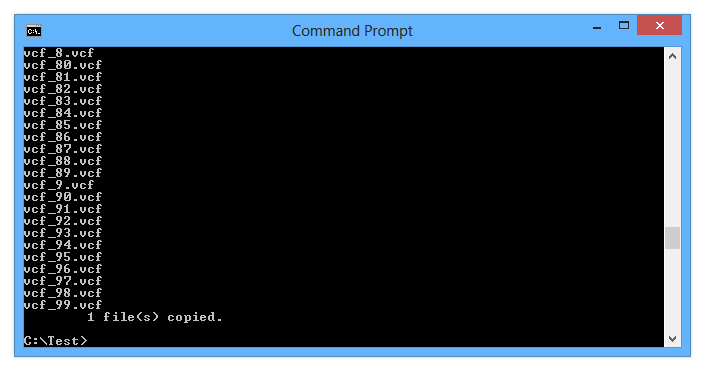 Merging vCards with the command line in Windows.

In the screenshot below you can see the newly created contacts.vcf with increased size, which means it contains all of the entries.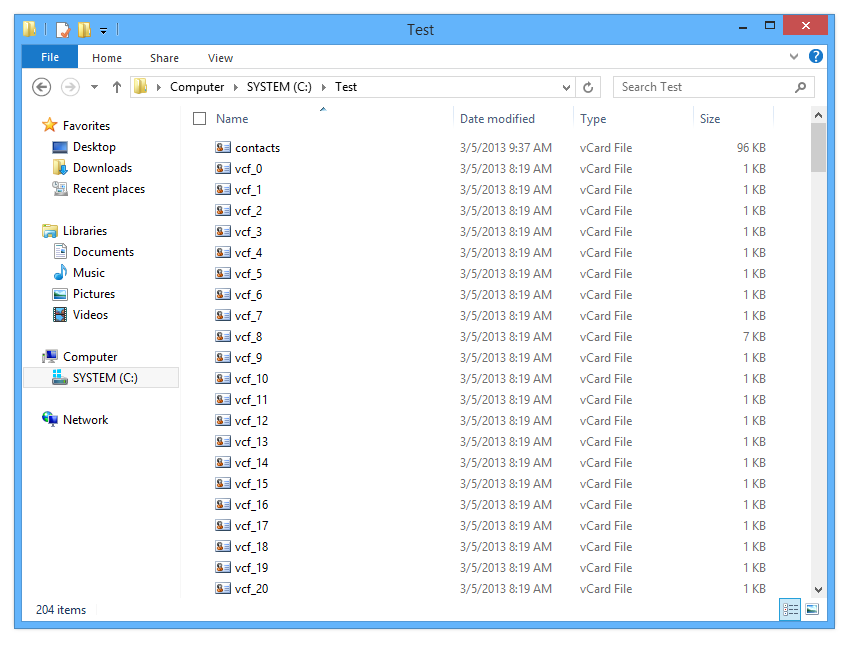 New contacs.vcf file created using command line.
Merging VCF files on Mac
Start the command line in Mac OS X (Applications → Utilities → Terminal.app), navigate to the directory with the saved vCards and type the following command on the line: cat *.vcf > contacts.vcf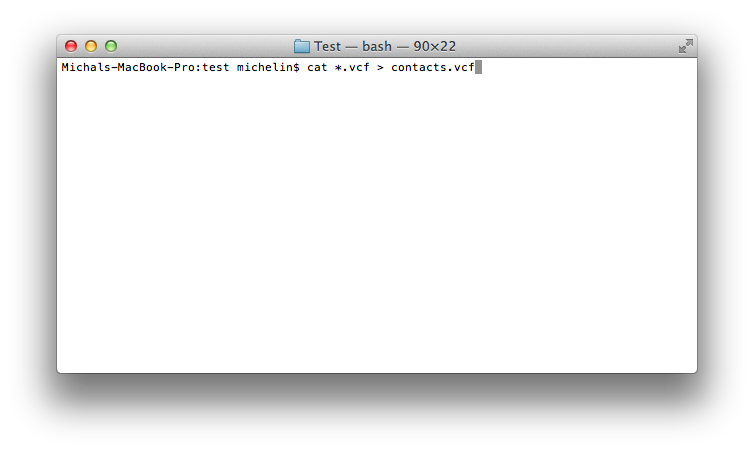 Making one big VCF contacts file in Mac OS X through command line.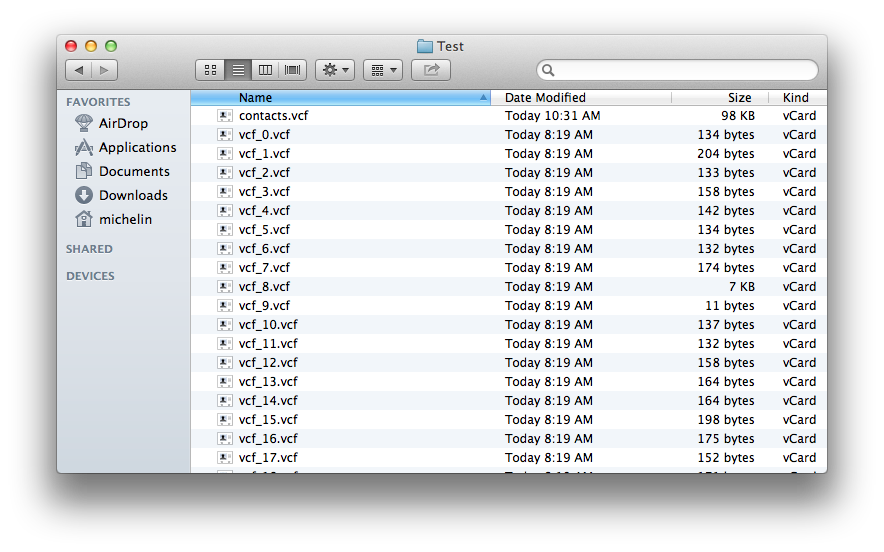 Newly created contacts.vcf visible in Finder.
How to convert VCF format
Converting .vcf file to a .csv file
The most common conversion, is that someone wants to convert their contacts in a VCF file to CSV format. Not only is CSV accepted in a lot of contact managers, but you can also save it in an Excel spreadsheet.
The easiest way ho to convert VCF to CSV is to visit the Online vCard Converter website and using the web tool save your .vcf files to a .csv file.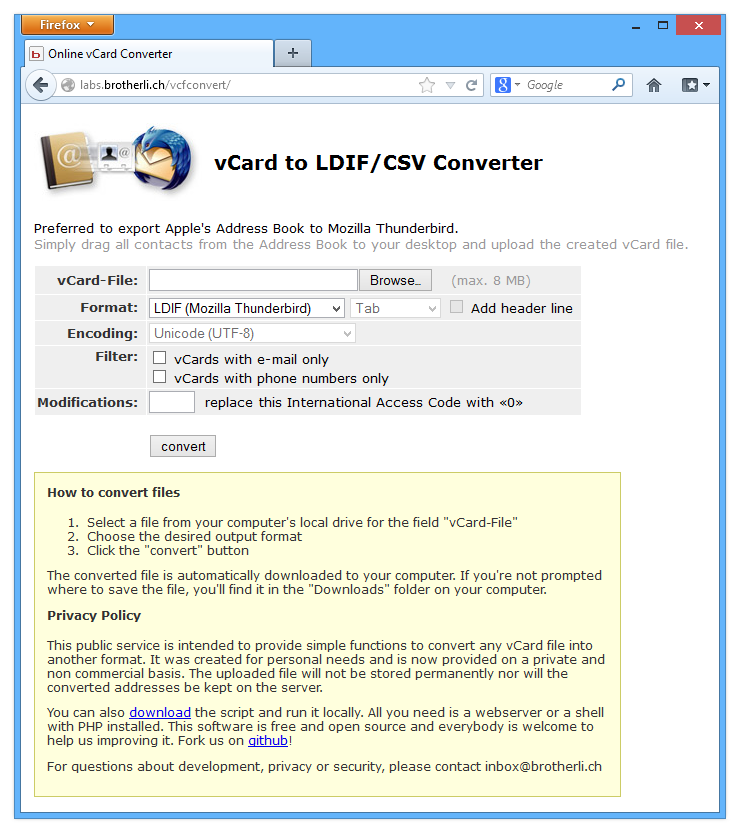 The tool is especially useful when you want your CSV to be compatible with various e-mail clients like Mozila Thunderbird, Gmail etc.
There are also various programs from individual vendors, such as Samsung Kies, that offer their users to convert their proprietary contacts format to VCF and then further to CSV.
Converting a .csv file to a .vcf file
The opposite situation, where your contacts are in CSV format and want to convert it to VCF. This can be done very easily if you own Gmail account, as it offers the option to import your contact from a *.csv file and then export it a .vcf file.
Microsoft's Outlook web service sadly does not offer this option and only allows exporting to CSV.
How to print VCF format
In both Windows and Mac OS X, you can easily print a VCF vCard. In Windows you simply right-click on the .vcf file and select print, in Mac OS X this is done via the Contacts (Address Book) app.