TIP: Play old video games on your PC!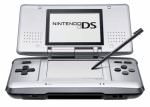 Nintendo DS is a very popular a portable game console with over 150 millions devices sold since it's original release in 2004. It is the successor to another another console from Nintendo - Game Boy Advance.
There exist hundreds of games for these devices and a lot of users would love to play them on their computers. To play these video games on computer you need a suitable emulator, as well as a ROM image of the original cartridge. These ROM images are in NDS format for Nintendo DS and GBA for Game Boy Advance. As for the emulators, there is several of them available on internet.
For our article about how you can run and play Nintendo DS and Game Boy Advance video games on PCs with Windows, we have chosen the No$gba emulator, because it is continuously upgraded and improved since its original release in 1997.
No$gba
No$gba is a Game Boy Advance and Nintendo DS Emulator that allows PC users to play video games from these portable devices on their computers. While No$gba is free in nature, you can only get the latest version if you donate few bucks to the project. A previous stable version is always available for free to download.
The program requires no special setup. Just download it and extract to some new folder.
How to play Nintendo games using No$gba
When you launch No$gba, you will be prompted to select a cartridge image. No$gba works with both NDS and GBA Nintento ROM images, so just browse to the one you have and select it.
In most cases, you will see an error, like the one you can see on the screenshot below.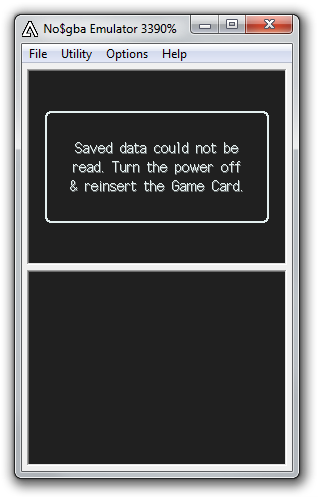 I know it's not a good start but don't loose hope. You just now need to tweak some settings. Every game has different needs so you need experiment a little with emulation setup, which you can access when you press F11 key.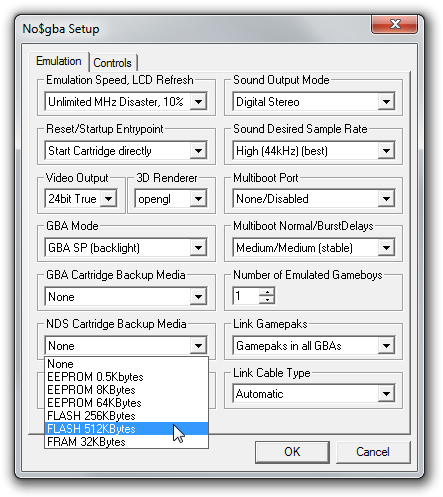 On the bottom of the emulation tab there is settings for NDS Cartridge Backup Media. Try to change it, save the settings and reset the cartridge File → Reset Cartridge or press the * on Numpad). Most games will run either with EEPROM 64Kbit or FLASH 512Kb. You can always google it for more info about your specific game, I'm pretty sure on some emulator forums there will be information available about which exact settings is needed, should changing the NDS Cartridge Backup Media settings not work.
If everything works, you should be able to play and enjoy your Nintendo video game.