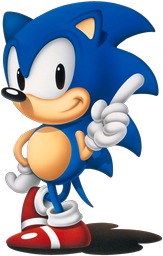 Many legendary game classic series, like Sonic the Hedgehog, Super Mario Bros., Pac-man, Donkey Kong, Zelda are available in modern 3D version for today platforms with better graphics effects, surround sounds and much more than it could have when computer games business was still in its infancy.
The original releases of these games with simple graphics, mono sounds, FM synthesis music for first video gaming consoles from Nintendo, Sega, Atari etc. are still perfect for relax gaming and old school feeling.
To play these game legends today, you don't need to search for old console and game cartridges and wonder how to connect it all to your new LCD full HD TV. You can play it on modern computers too!
Just install a console emulator, download a game ROM and turn your modern computer, like your Mac, to old gaming console.
How to emulate old gaming consoles on your Mac
First and foremost you'll need an software emulator of these old video gaming consoles. One of the best emulators for Mac is called OpenEmu - Multiple Video Game System. It is capable of emulation of many video gaming consoles from Sega, Nintendo, NEC and Neo Geo including those listed below.
Nintendo consoles and handhelds:
Nintendo Entertainment System (NES)
Super Nintendo Entertainment System (SNES)
Game Boy
Game Boy Advance
Nintendo DS
Virtual Boy
Sega consoles and handhelds:
Sega Master System
Sega Genesis (Sega MegaDrive)
Sega 32X
Game Gear
Other consoles and handhelds:
TurboGrafx-16 (NEC)
NeoGeo Pocket
Download the OpenEmu from developer website, unpack the ZIP archive and copy OpenEmu.app to your Applications folder.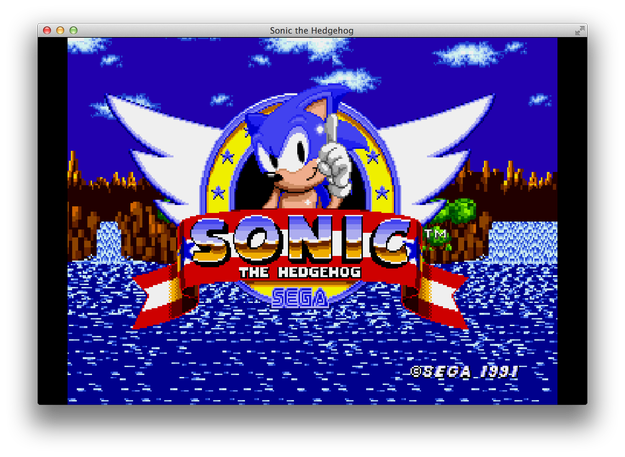 Of course you will also need video game ROM images captured from console game cartridges. The basic pack of few games is available on OpenEmu website, but they are various game ROM image archives available on the Internet, like FreeRoms.com and CoolROM.com.
Support for other video gaming consoles and old computer systems is still being developed. You can find more libraries for testing on the OpenEmu website → a part for developers.
Start gaming with OpenEmu
Start OpenEmu emulator and simply drag and drop the ROM image file to the main OpenEmu window. Your games will be sorted by their respective consoles in the left menu. You can also create your own game collections like game series, favorites etc.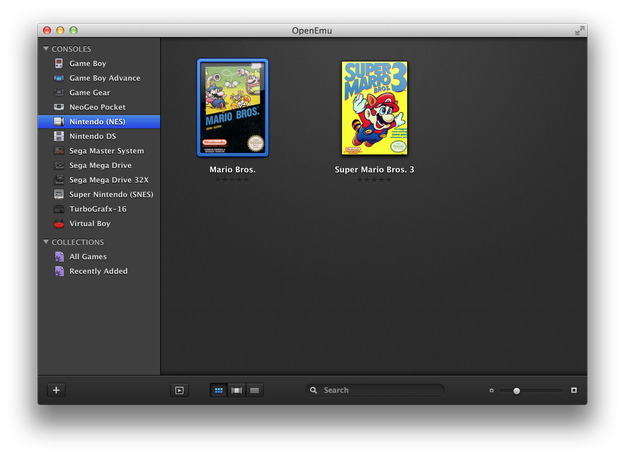 The ROMs imported to the OpenEmu game library are stored at the following location:
~Library/Application Support/OpenEmu/Game Library/roms
After you import the game to the OpenEmu, it is not necessary to store it in another directory on the disk.
The settings of OpenEmu are available in upper menu OpenEmu → Preferences, where can you change many settings of your games library, display settings, control settings etc.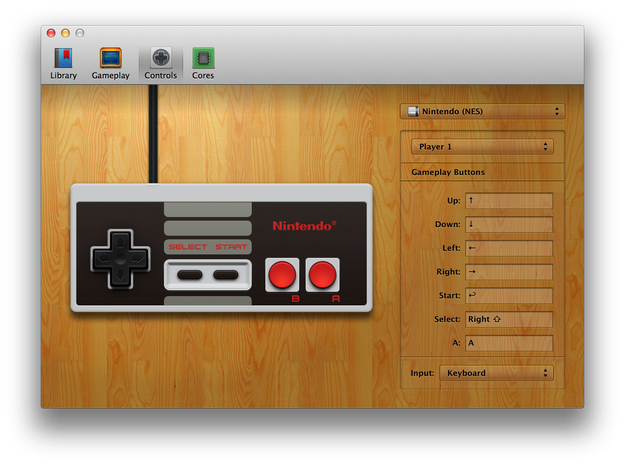 Now all is set for your gaming. Double click on the game that you wanted to play, wait a few seconds till the OpenEmu load the ROM and have a lot of fun with great old games.