Introduction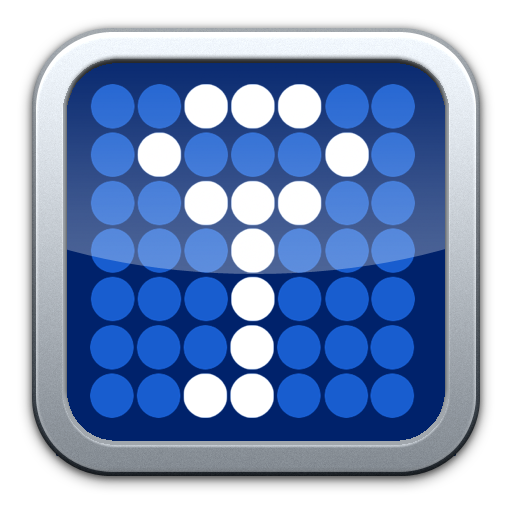 To the shock of many, the popular multi-platform data encryption software TrueCrypt was unexpectedly terminated by its developers on 29.5.2014. The official reason being some security bugs that have been occurred in the software and discontinued support of Microsoft Windows XP.
Some conspiracy theories talk about pressure of secret services to developers to put some kind of backdoor in the TrueCrypt and instead the team rather terminated the software. The truth will probably be never uncovered, but TrueCrypt as we knew it - is gone.
Whilst you can still download and install the latest version of TrueCrypt, it can no longer be used for encryption - just decryption of TrueCrypt protection data.
When the latest version is launched in Windows, you will get the same message as is on the screenshot below.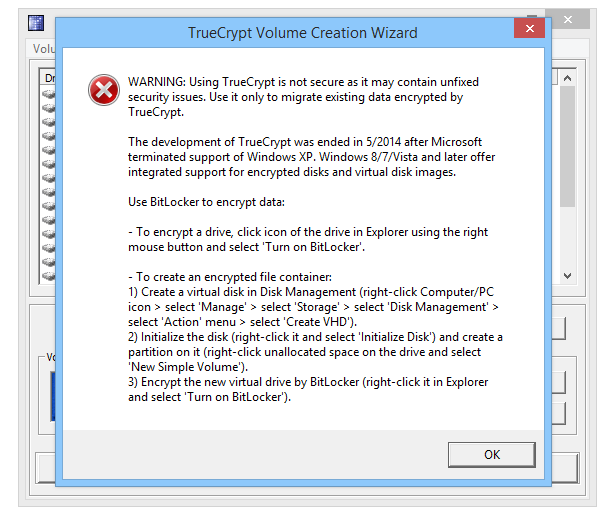 You can of course still find some previous version of TrueCrypt on popular download sites, but you won't have any support or any future bug and possible backdoor fixes.
Such older version downloads from untrusted sites might also be possible traps, full of malware, trojans and other crap that could compromise your computer.
Because of this, many users that used TrueCrypt now need to find another program for securing their data. Some might not be happy with the BitLocker and that's why we made a list of currently most popular encryption choices for TrueCrypt replacement.
TrueCrypt alternatives for Windows
BitLocker
Bitlocker is recommended by TrueCrypt developers as a substitute of their app. It is developed by Microsoft and integrated to some distributions of Microsoft Windows Vista, Windows 7 (Ultimate and Enterprise) and Windows 8 (Pro and Enterprise). Microsoft guarantees that there is no backdoor in BitLocker and praises its encryption capabilities.
With it, users can protect disk volumes (physical, and logical drives) as well as USB removable disks by powerful AES encryption. Data can be encrypted by using password, TPM (Trusted Platform Module), USB key, or by combination of these options together.
Probably ideal choices for users that want their data protected, but do not want to think much about it.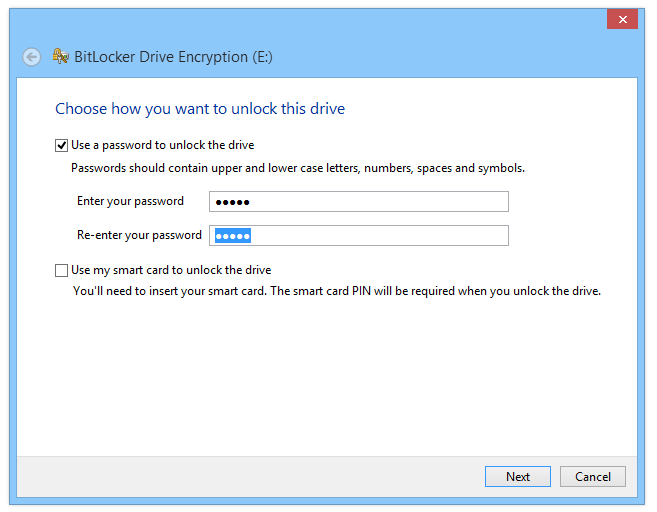 Encrypted File Service
Another encryption tool from Microsoft available in Professional and Enterprise distributions of Windows since Windows 2000. It is able to encrypt files, as well as folders.
To use this encryption tool:
Open up the Windows Explorer → Click on file with right mouse button → Click on Properties → General Tab → Click on Advanced button → Check the Encrypt contents to secure data box → and click on OK button.
Your data are now encrypted and secured by your EFS personal secure certificate generated by Windows.
It might not be the most powerful encryption, but it should be enough for the common user.
The content of EFS encrypted file is viewable only on the system, where it was encrypted. To view it on another computer, you will need to export your security certificate and import it that system. This certificate is also needed, whenever you re-install your computer.
To create a backup of your security certificate:
Open up the Windows Explorer → Click on encrypted file with right mouse button → Click on Properties → General Tab → Click on Advanced button → Click on Details button → Click on certificate → Click on Backup keys... button
Cryptainer LE
A free version of commercial Cryptainer ME security software. It is capable of powerful 448-bit encryption for single files, folders, partitions or even USB drives.
It can also be used to create secured virtual partitions on your drive to store case sensitive data (100 MB size for the LE version).
All in all, nice encryption package for Windows.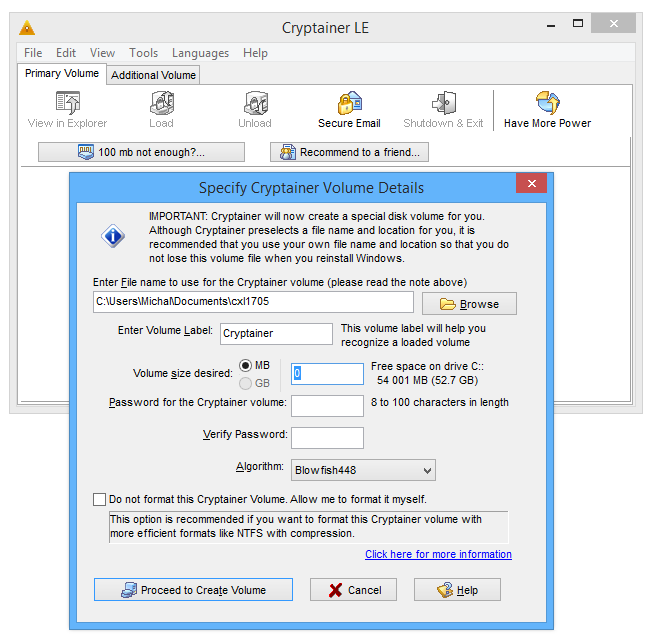 AES Crypt
AES Crypt is a cross-platform file encryption software that uses the industry standard Advanced Encryption Standard (AES) to securely encrypt case sensitive files with 256-bit encryption algorithm. It's popular mainly on Linux platform but works very well on Windows. You can download it for free.
Secure Folder
Another light-weight encryption tool that allows users to quickly hide, lock and encrypt folders through a simple interface. It uses 256-bit AES encryption and prevents it from being accessed, copied, moved or deleted.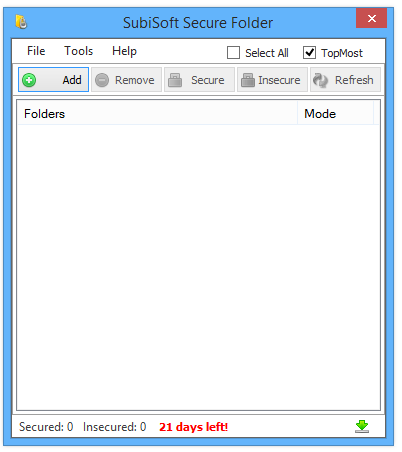 DiskCryptor
A free alternative of BitLocker for Microsoft Windows that allows users to encrypt of all disk partitions, including the system partition. Older versions of DiskCryptor were based on the TrueCrypt codes, but now the program its own encryption format with AES, Twofish, Serpent algorithms.
Great advantage of this program is that it is fully opened and free.
VeraCrypt
A fork of TrueCrypt that solves many vulnerabilities and security issues found after audit of original TrueCrypt application.
VeraCrypt is able to create a virtual encrypted disk (volume) which user can mount just like a disk image, encrypt an entire partition or USB storage, create a partition or storage drive that contains an operating system etc.
VeraCrypt uses own disk volume image format with (hc file extension) and it is also able to open TrueCrypt *.tc disk volumes.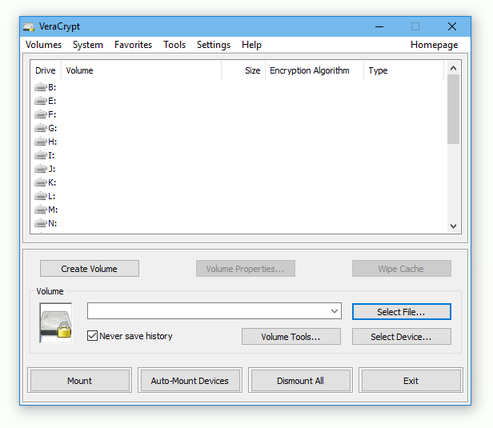 Conslusion
All these alternatives posses basically the same encryption capabilities as TrueCrypt, but their big disadvantage is that they are not multi-platform, or do not have compatible counterpart on other platforms. And exactly that was a huge advantage of TrueCrypt - you could use it on Windows, Mac or Linux computers.