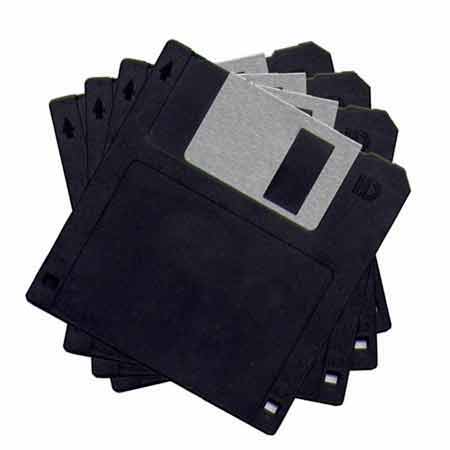 Multi-volume, also multi-part or split archives, were and are still used by many users. It is basically a one big compressed archive split to several small files. Originally, these files were created because by then widespread medium, the floppy disk, had only very limited capacity. There were no USB flash disk or portable drives, so the only option was to split and then merge big files so you could transport the data using diskettes.
As computers and software evolved, it produced bigger and bigger files. Another limitation that made multi-volume archives still needed, is that ISO 9660 standard for CD/DVDs has 2GB file size limitation. That means you had no way to burn such files on a standard ISO CD or DVD. Hence you needed to compress and split such huge files in order to burn them.
Another place where you can find these multi-part archives is internet. Because of various file sharing limitations, users split their files to smaller and shared the pieces via RapidShare or MegaUpload services so they do not need to buy the PRO service and can bypass the file size limitations. Split files are also often used for e-mail attachments because large files would not be send.
Split archives are common sight on P2P networks, and you can easily find some CD/DVD ISO image compressed and split to 50+ archives, especially as warez packages.
New computer users can sometimes be confused when they encounter multi-volume archivers and so in this article we present the common information about split archivers and how to work with them. There are many archivers that support the creation of multi-volume, but we will focus on the major ones, WinRAR, WinZip and 7-zp , which are probably used by majority of current users.
How to recognize multi-volume archive?
WinRAR multi-volume archives
WinRAR, and its ancestor RAR, used many different file sequences for its multi-volume archive throughout the years. The original file sequence was *.rar, *.r00, *.r01, *.r02, *.r03 etc. However you can also encounter sequences like *.rar, *.001,*.002, .*003.
The latest versions of WinRAR create a new sequence that always ends with RAR file extension and add the part number to the file name. The current WinRAR file sequence for multi-volume archives follows the *.part1.rar, *.part2.rar, *.part3.rar etc.
7-zip multi-volume archives
7-zip maintains its unique file naming. 7-zip split archive use *.7z.001, *.7z.002, *.7z.003, *7z.004 etc. file extensions. 7-zip is gaining popularity in recent years and so these files are pretty common on internet.
WinZip multi-part archives
WinZip maintains the same file sequence for its multi-part archives since old days of Zip archiver. You can recognize WinZip multi-part archive by its *.zip, *.z01, *.z02, *.z03 etc. file extensions.
Self-extracting (SFX) multi-volume archive?
Some archivers offer the option to create a self-extracting archive. That means you do not need the program to decompress these files. The first part has its file extension changed to EXE so its obvious that it is executable.
While WinRAR can create SFX multi-volume archives, neither WinZIP nor 7-zip is able to create them as well. So if you want to have a split self-extracting archive, you have to use WinRAR.
How to create multi-volume archive?
Creating multi-volume archives in WinRAR and 7-zip
Both WinRAR and 7-Zip all offer the option of creating multi-volume archives during the compression process. This done by selecting the size of individual parts in the window where you select the name and destination of the new archive. Instead of single big archive you will have several parts of multi-volume archive.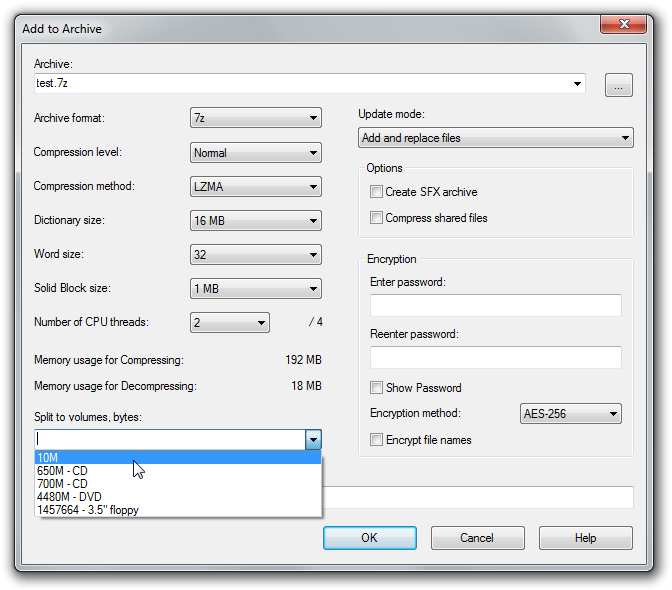 7-zip Add to archive window with highlighted volume split selection.

Making multi-part archive in WinZip
For WinZIP, you first have to create one archive, and then split it using Tools ► Multi-Part Zip file option. Just make sure you specify the split settings and size in Settings menu. The default settings would create parts that are just 1,2MB.
How to open multi-volume archives?
How to extract RAR, ZIP or 7Z multi-part archive?
No matter the format of the archives (RAR, ZIP, 7Z), the basic rule is to put ALL pieces in single directory and extract the first one. The program automatically looks for every next split part during the decompression process. If you would not put all files to a single directory, a popup window would appear every time the program cannot find next piece of the multi-volume archive.
Should one of the pieces be corrupt, you cannot extract the whole archive and have to reacquire (mostly re-download) the corrupt part.
If there was no problem and you have all parts of multi-volume archive the program will successful extract the content of your archive.
Multi-volume archives compatibility
It is generally advised to use the proper program for its default format ie. WinZip for ZIP. While most archivers have no problem working with single large archives, they might have difficulties to extract multi-volume archives. For example WinZip can open 7Z archives, but is unable to open and extract multi-volume 7-zip archives. Some goes for 7-zip, which is unable to open and extract latest WinZIP archives.
How to merge all parts to a single archive?
Merging all archive parts to a single archive is really simple. Once again you need to put ALL pieces to a single directory so the program has no problem finding all the pieces and use the one of the following options depending on the type of archiver you use.
Combining 7-zip multi-volume archives
For 7z archives , open the 7-zip program and browse to the folder where you have all the parts of 7z multi-volume archive, select the first part (*.7z.001), right-click on it and select the Combine Files... option, which you can also access via File ► Combine Files... menu option. A popup window will appear, where you can recheck the file sequence of the 7-zip multi-volume archive and you can also specify the output folder for the combined single archive.
Joining WinRAR multi-volume archives
WinRAR has no such handy option as 7-zip, so your only option is to decompress the archives and extract all files from them, and create single archive afterwards.
Merging WinZip multi-part archives
Much like in WinRAR, WinZip also lacks the direct way of combining split multi-part archive. You have to extract the files first out of multi-part ZIP archive and create a new single archive.