What is the mysterious AAE file?

Typically, iPhone (or iPad) users encounter aae files when they connect their devices to Windows computers or when they upload their photos to services not provided by Apple, such as the popular DropBox. The first reaction often is along the WTF? lines.
Many users are confused by these files and think that they are photos and wonder what program can open aae files to view them.
First a little history to demystify the aae files. When Apple introduced OS X Yosemite few years back, along with iOS 8 system for mobile devices, a new way to store changes (applied light settings, filters etc.) of photos was also implemented in Apple Photos.
What happens when you import photos from iPhone to Windows?
Every since, whenever you edit your photos on iPhone, a aae file is generated along the original photo, which shares same file name as the original picture but has different file suffix. When you import your photos from iPhone to Windows, you will see something like this.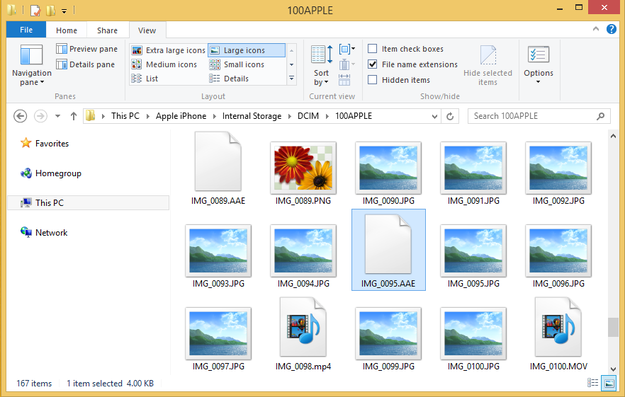 Examples of pictures imported from iOS device
What is purpose of AAE files?
One of the main advantages of these sidecar files is that the changes made on the photo will not alter the original file, meaning you won't lose the original pictures as taken by the camera.
The other, more practical advantage is that the .aae files are pretty small in file size, so using this function to store changes saves space. This can be crucial on devices with limited storage.
But let's take a look what exactly are these files.
AAE format overview
AAE format is based on Extensible Metadata Platform (XMP), which is an ISO standard used to create, process and interchange standardized and custom metadata for digital documents, developed by Adobe and introduced in 2001.
It is simple text file that uses XML schema with XMP tags. XMP can be used with TIFF, JPEG, JPEG 2000, PNG, GIF, PSD, MP3, MP4, AVI and other multimedia formats.
Although AAE format is based on the XMP schema, it is not compatible with standard editors of digital content, such as Photoshop, Photoshop Lightroom, XnView, Zoner Photo Studio and many more.
Unfortunately, this means that this file type is only working with Apple Photos apps and nothing else and it is exactly for this reason that many users have problems with aae files.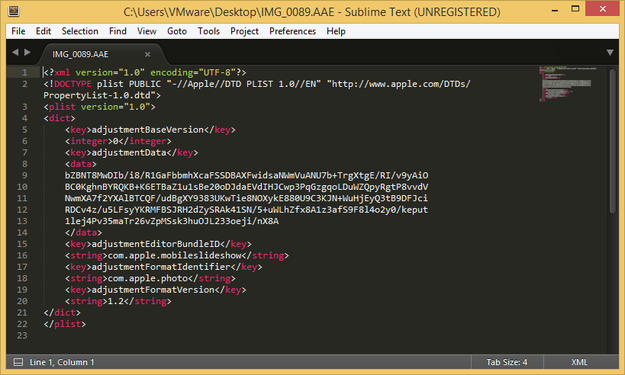 Content of the .aae file as seen when opened using Sublime Text
How to open AAE files?
On Mac computers
Most Mac users will almost never notice this file. Nevertheless, you can simply export your photos from iOS Photos to Photos for Mac with all the edits you have made. Once you connect your iPhone to your Mac, both the original photo along with the .aae files will be imported to your Photos library.
Once you have opened and edited the photo and applied the changes from corresponding .aae file, you can export it and save to some common graphics format, such JPEG.
In Windows
Working with .aae files on Windows is troublesome, however not impossible. You won't find photo editor that could read and apply .aae files on your pictures, so you are essentially presented with two choices.
The first choice would be to sync your iPhone with iCloud, which will automatically sync your photos by default. Now open iCloud in your web browser and look for the photos, which have been automatically adjusted by the changes saved in the .aae files. You will be able to download the altered versions to your computer with few clicks.
If you for some reason do not want to use iCloud, your second, and also only remaining option, would be to forget about the .aae file and edit your photo in some professional photo editor for Windows, such as Photoshop Lightroom.
This means all the changes you may have done on your iPhone will not be used and you will have to do it all over again in another software. You can also delete .aae files from your computer, because they will be useless to you.