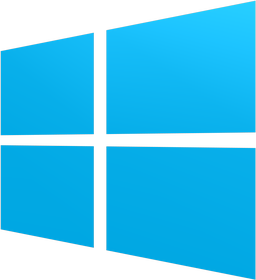 On 26th June 2013 Microsoft introduced new large update for Windows 8 called Windows 8.1 "Blue" and released it as a free public preview for beta testing. Final release will be available in late 2013 on Microsoft's Windows Store for Windows 8 and Windows RT (ARM version of Windows 8 for tablets).
If you want to try it, you can download ISO installation images on Microsoft Windows 8.1 Blue website. It is available in 32-bit and 64-bit version with various languages.

News and improvements in Microsoft Windows 8.1 Blue
Microsoft announced about 20 new improvements in Windows Blue. Now we will show you some of them.
Content:
Start button
In Windows 8 Desktop, Microsoft removed Start button from the left down corner. Windows 8.1 Blue has it back. Unfortunately, it again switches user to Modern UI (Metro) environment.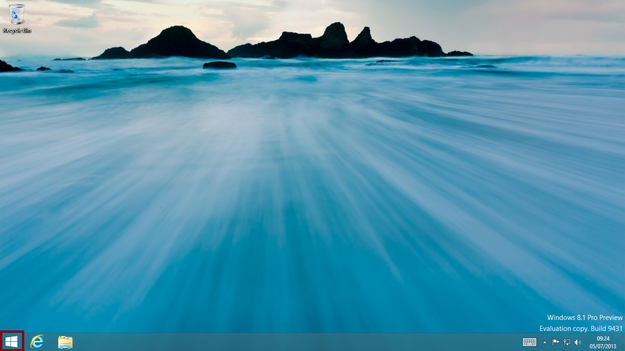 Windows 8.1 Blue Start button
If you want a classic Start menu like Windows 7, you still need to install a third-party applications, like Start8 from Stardock.
Booting to Desktop
Microsoft Windows 8 is booting directly to Metro. With third party applications you are able to set up booting to Desktop. Windows 8.1 are able to boot to the Desktop without any utility, only you set this option in Taskbar and navigation properties.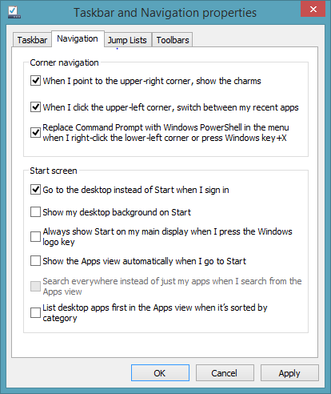 Windows 8.1 Blue boot to desktop option
Metro apps multitasking
Now you can run two Metro apps together on one screen (maximal is four on large screens).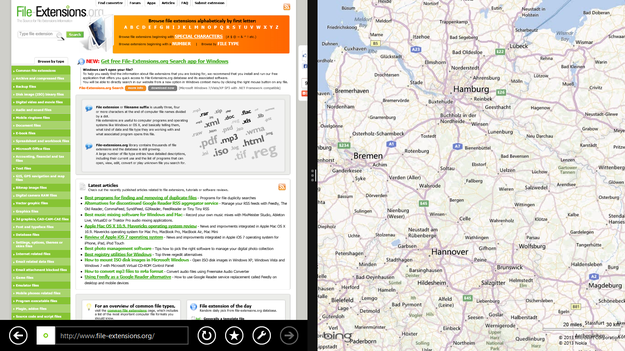 Windows 8.1 Blue multitasking in Metro
New size of Metro tiles
Tiles can be set to four ranges: Small, Medium, Wide and Large. It can be also "live" with information preview.


Windows 8.1 Blue tile size settings

Same and animation wallpapers
Metro UI and Desktop now can have the same wallpaper. Wallpapers for Metro can be now animated.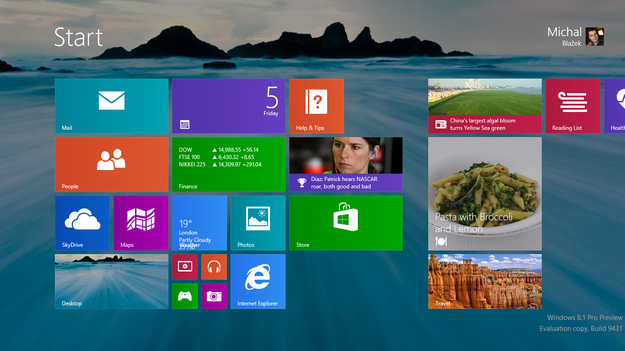 Windows 8.1 Blue Wallpaper same as desktop
New Apps sorting in Metro
All apps are now available by click on down arrow in the Metro left down corner. If you have a touch display (Tablet) you can view all apps by swipe up with your finger.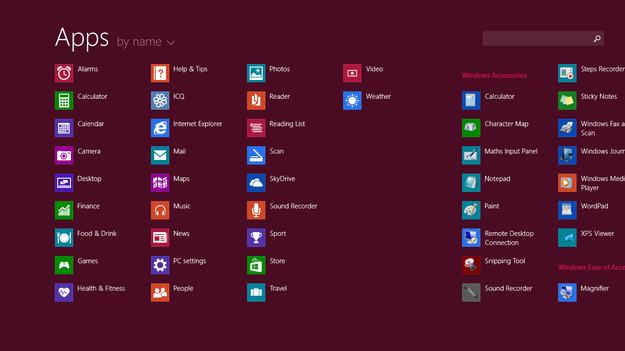 Windows 8.1 Blue apps sorting
Metro settings
Metro can manage much more settings of the computer and you don't need to use classic Control Panel in Desktop mode.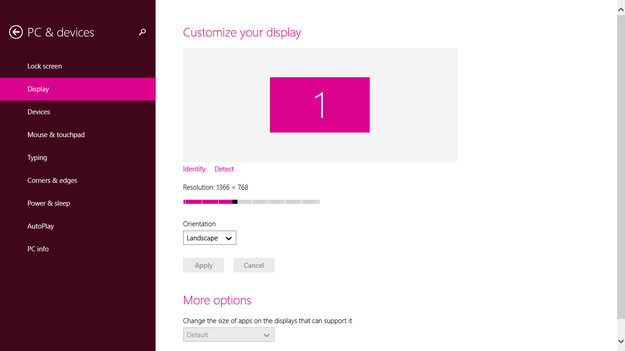 Windows 8.1 Metro PC Settings
New Search
New Windows 8.1 Search feature searching for information in all places in the computer as well as on the Internet with Bing search engine.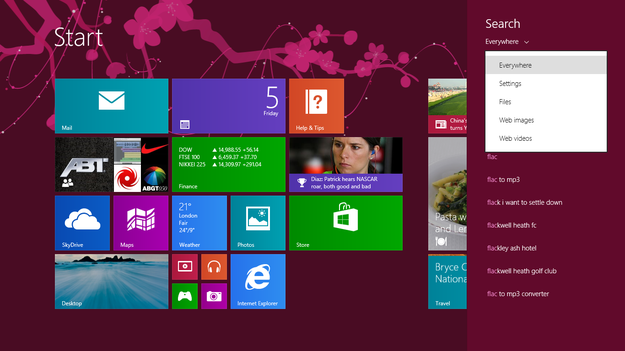 Microsoft Windows 8.1 Metro Search
Windows Store
Windows Store is now able to install updates for apps automatically and contains better search capabilities. Facebook and Flipboard announced new native clients for their services.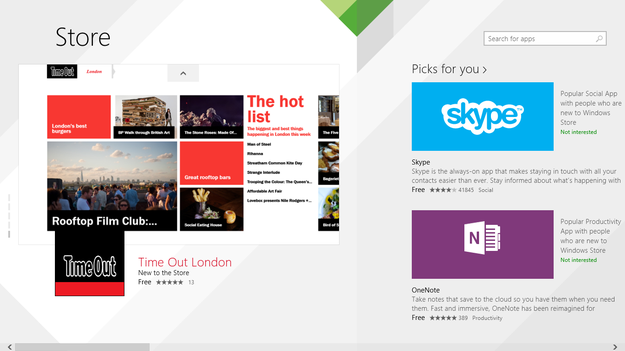 Windows 8.1 Blue Windows Store
Photo editor
Photos app in Metro contains easy-to-use digital photo editing features. You can auto fix photos, rotate photos, cropping, retouching, add effects, like vignette, selective focus etc.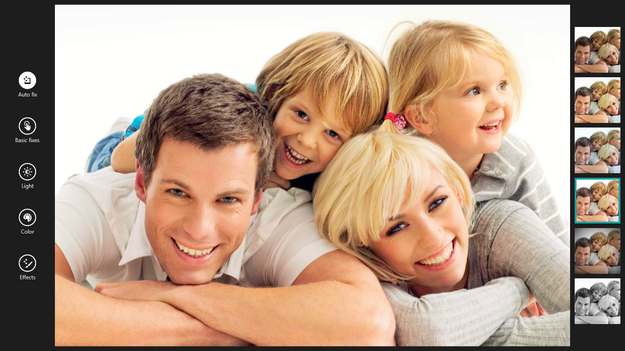 Windows 8.1 Blue Photo Editor
Calculator and Alarm
Microsoft improve calculator and Alarms Metro apps. They are more optimized for touch display. The calculator stores three different variants Standard calculator, Scientific calculator and Converter. Alarms is also able to working as Timer and Stopwatch.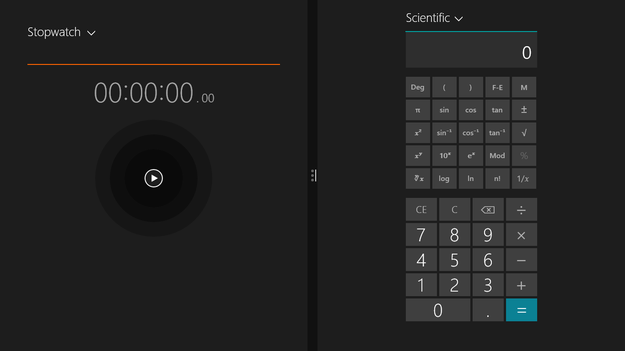 Windows 8.1 Blue Alarms and Calculator
Internet Explorer 11
New Internet Explorer is available in Metro and Desktop version. It contains new features to improve performance of visualizing web pages and integrates WebGL API to rendering 3D and 2D graphics.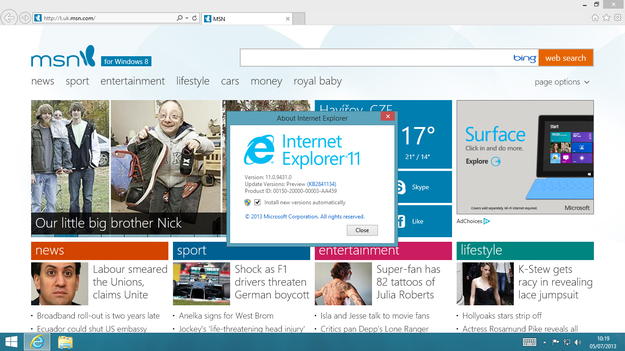 Microsoft Windows 8.1 Blue Internet Explorer 11
Smart Lock screen
Lock screen can view slideshow created from digital photos stored on local storage, or SkyDrive. You are able to answer a Skype call from notifications etc.


Windows 8.1 Blue Smart Lock Screen
Gestures without Kinect
Windows Blue stores new feature that is able to recognize gestures only with web camera. Now this feature working in Food and Drink app. However, through API it may be available for other applications.
Improvements for tablets
Some of the new features are available only for Windows 8, or Windows RT tablets.
Camera directly from the lock screen
Camera is accessible directly from the lock screen. Simply swipe down by the finger on display.
Spherical panorama
Camera in tablet is now able to capture spherical panoramas.
Optimizations for small touch displays
Windows 8.1 Blue is now optimized for 8" tablets and higher.