Remote Desktop Connection is really great tool, but it is especially handy if you frequently work on several computers. With this service you can work remotely on any computer in your local network, shutdown your work computer from home, send you files located on its hard drive and much more. With RDC you basically remotely control one computer from another one.
For PC beginners and everyone else who doesn't know about this feature and does not know how to work with it, we have prepared small tutorial that covers the basic about how to configure and connect remote desktop in Windows 7 Professional.
Configuration of your host computer for Remote Connection
First thing you need to do, is to enable the connection to your computer. To access the Remote Desktop configuration go to Start → Control Panel → System and Security → System and click on the "Remote settings" control panel. That will open System Properties window where you can allow connections to your computer. If for some reason the more secure setting does not work, you can always try the less secure option.
By default, your local user accounts are automatically given access to the computer from remote locations. If you for some reason want to add more users, click on the "Select Users..." option and add them. Just be careful to whom you give access to your computer.
In any case, you can always disable Remote Connection access by switching the settings to "Don't allow connections to this computer".
Establishing connection to the host computer from another computer
To connect to your computer from other computer you have to launch the Remote Desktop Connection window, which you can do via Start → All Programs → Accessories → Remote Desktop Connection.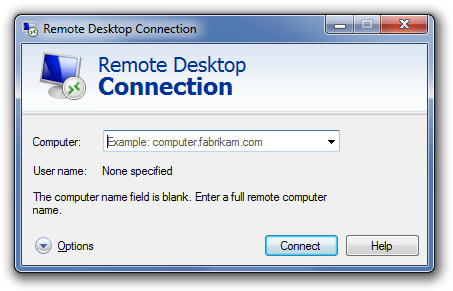 Now there are two possible situations that can happen. First, you are on another computer in the same local network. In this situation, you just need to know the network name of your computer and you can log in and start to work on it.
The other situation is when you are "outside" for example when you try to reach your work computer from home. In this case, you will need to known exact IP address or DNS name of the computer you want to reach. And also, the network/router through you will access your computer needs to have this function enabled, else you will be blocked by it and will never establish connection from outside your network. So make sure these options are enabled.
In this situations, you will need to connect to a VPN network where your host computer is located. You will need IP address of that network (router) and login access to this network. Connection to VPN is done through Start → Control Panel → Network and Sharing Center → Set up a new connection or network → Connect to workspace → Use my Internet Connection (VPN) option.
After you are successfully connected to the VPN network you will just need computer name like in the first situation.
In both cases if the connection is successful, you can just log in to the system, much like you would to your computer - with your user name and password. If everything works alright you can now use your computer to work on other.
You can save your Remote Connection settings to an RDP file so you do not have always to fill the IP address, computer name etc. every time you try to remotely connect to other computer. Double clicking on this file will result in opening the Remote Desktop Settings window, ready to be connected with previously saved settings.
Disconnecting
Much like you would shut down your computer, you can disconnect the remote connection. The only change is that the default shut down icon is replaced by huge X that terminates the connection.
Have a Mac?
You can also connect to your PC from your Mac if you install Remote Desktop Connection for Mac. This small app from Microsoft allows you to control your Windows-based computer from your Mac. You can get it for free from Microsoft servers and it is also included in Microsoft Office 2011 for Mac. The app works very much like its Windows counterpart.