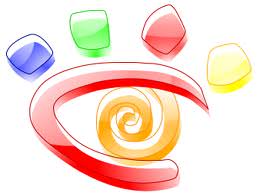 If you have a large number of digital pictures and photos in your Mac that you need to be convert, resize, edit or share, it can be very time consuming to do it one by one. However, there exist utilities, which are able to help you do this task very quickly.
In this short guide, we will introduce you one of the most powerful picture image editor and manager called XnView that will help you with view, convert, edit or otherwise organize digital images and photos on your Apple Mac.
How to convert and resize large number of pictures with XnView on Mac
XnView is available in two versions for Apple Mac OS X operating system. The first is a port of original XnView that is developed very slowly and can have problems with newer versions of OS X.
The second version is called XnViewMP. It is customized build that is compatible with latest OS X Mountain Lion and it is more simpler to work than original XnView.
Step 1 - Download and Install XnView MP for Mac
XnView is distributed as a simple ZIP archive. Unpack the archive and copy XnViewMP.app to Applications folder.
Step 2 - Convert and resize pictures in XnView MP for Mac
Run XnView MP from Applications directory. It will be opened in Browser mode. Navigate to the directory, where are stored pictures. Select group of pictures that you need to convert and resize.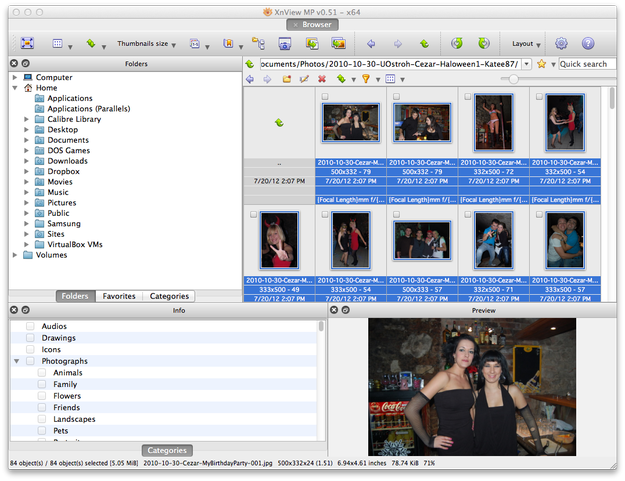 XnView MP for Mac picture image browser

Click on Tools options in XnView top menu (also can be used Cmd+U key shortcut) and you will be accessed to Batch convert service.
Set the output settings, such as output folder, output format, filename etc.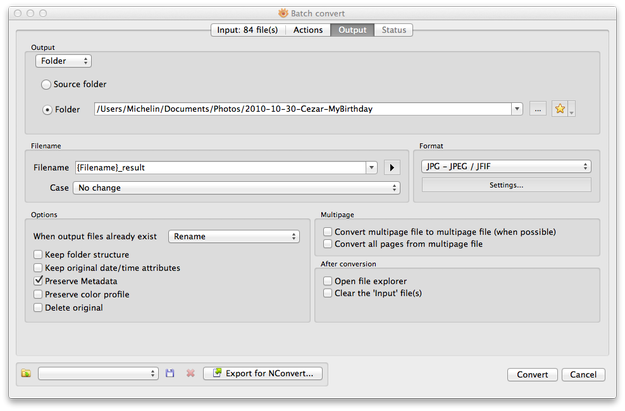 XnView MP for Mac Batch convert output settings

Click on Actions tab → Click on Processing options icon (icon with green +) in Processing area and select Image → Resize option. Set the Parameters (width and height) for Resize option and click on Convert button.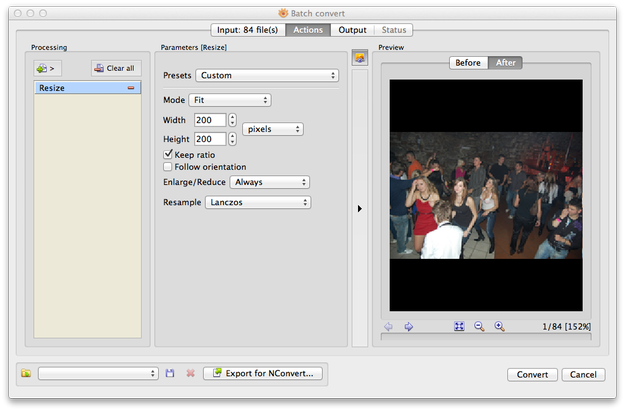 XnView MP for Mac Batch convert action settings

Now wait until the conversion and resizing process is finished and your pictures will be prepared for other editing, transporting or sharing on-line.